Hiking can be intimidating at first, especially when you see other hikers with fancy gear like expensive boots, backpacks, and GPS devices. If you are a beginner on a budget, the good news is you really don't a whole lot to get started. Keep reading and I'll show you how to get started hiking for cheap.
Beginner Hiking Gear on the Cheap
Before we start, an important note – this article assumes you are doing beginner trails in fair weather. These are hikes that can be done in an afternoon on established trails. Some of these gear choices are not recommended for longer or overnight hikes.
The following are my gear recommendations when it comes to beginners hiking on a budget. Remember, you'll still need to use common sense. If it's cold, bring extra layers. If it's a longer hike, bring more water. Bring what you need to be safe and comfortable.
Shoes
For a beginner hike, wearing running shoes or sneakers will probably be fine (see my article on hiking in running shoes). They won't be the best for any serious hikes, but they will get the job done. If you do plan on hiking more frequently though, you'll want to invest in a good pair of hiking shoes or boots.
When you are ready to buy some hiking boots, don't skimp out and go the cheap route. With boots, you'll get what you pay for. I once tried a cheap pair of hiking shoes from Walmart and totally destroyed the heels in a matter of weeks. Stick to name brands like Merrill, Keens, and other popular brands.
Your existing shoes: Free
Name brand hiking shoes: $100
Shorts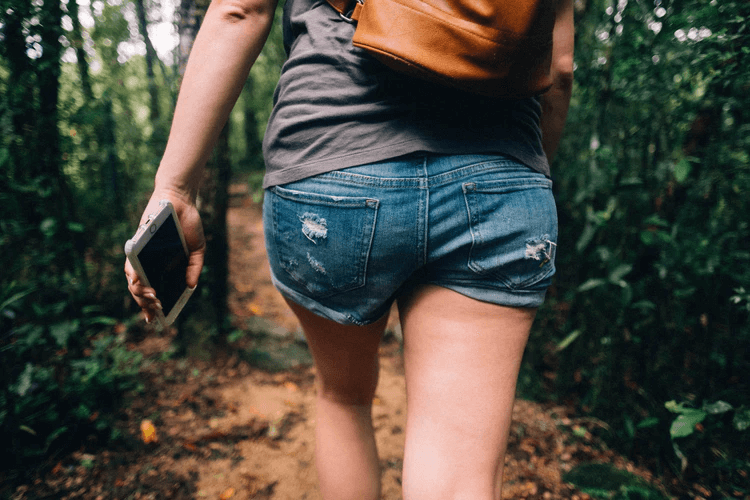 In warmer weather, shorts are ideal. Any kind of shorts that you feel comfortable in will work. Hiking in running shorts, gym shorts, swim trunks, and cotton shorts are all perfectly fine.
I've hiked in cotton for a while because I found it to be really comfortable. Some experienced hikers hike in swim shorts with the liner removed. This can be a pretty cheap and lightweight option.
Nylon shorts or swim trunks: < $10
Name brand hiking shorts: $30
Pants
If there's a lot of brush or you're hiking in cooler weather, pants might be a better option. But that doesn't mean you need pants designed specifically for hiking.
Some people wonder if hiking in jeans is okay. Hiking in jeans can be fine as long as it doesn't rain and isn't on a long hike. I have friends who've hiked moderate trails in the White Mountains wearing jeans and were fine.
Jeans or nylon pants: < $20
Name brand hiking pants: $40
You may also like Pants or Shorts for Hiking – Which Is Really Best?
Base Layers and Jackets
You'll want base layers in cooler weather, but that doesn't mean you need to spend a fortune at your local REI store. Walmart, TJ Maxx, and second-hand stores are great places to find decent base layers.
You'll want to long underwear and a fleece jacket. Any fleece jacket will work. Fleece is fleece and a cheap fleece will keep you warm. A hoodie for hiking will be fine too. If it gets too warm, take it off and put it in your bag.
Walmart/second-hand base layers: < $30
New base layers: $60
Daypacks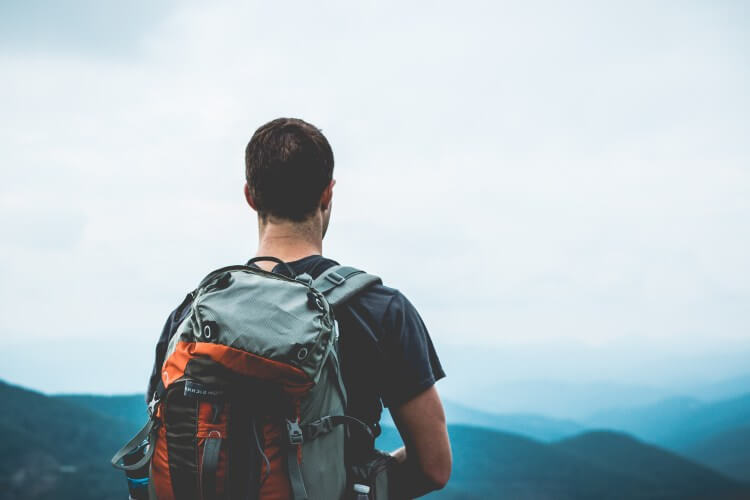 For day hikes, a daypack is best. But if you have a spare backpack laying around, chances are that's fine too. I've even seen people hike in drawstring backpacks. These packs can work for short hikes when you're just caring a few items. I wouldn't recommend drawstring backpacks for longer hikes though, as they can be uncomfortable.
Drawstring backpack: < $15
Name brand day pack: $40
Tip: REI often has really good deals on daypacks – sometimes as low as $20. Head over to see REI daypacks.
You may also like Are Chacos Good For Hiking? Yes, Here's Why
Water Bottles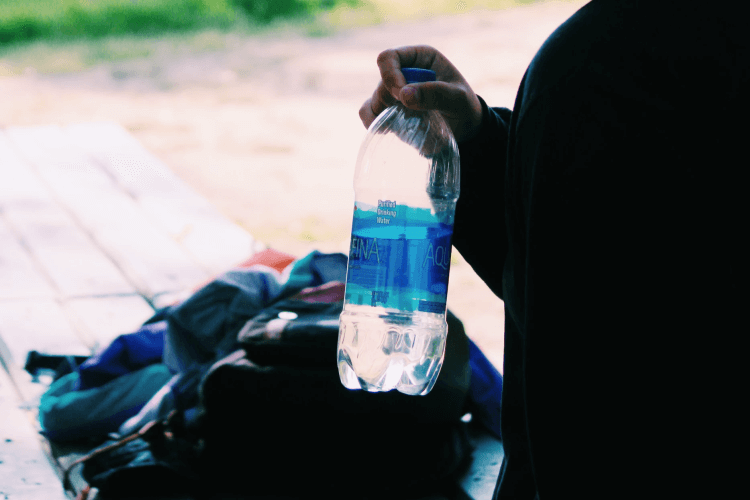 Water bottles are where you can really save money. You really don't need a bladder or Nalgene bottles. You could get a 32oz water bottle from Walmart for a few bucks, but if you really wanted to save even more, then reusing disposable water bottles will work great. Plus, they are super lightweight too.
Disposable water bottle: < $5
Nalgene water bottle: $20
You may also like Hiking Without a Backpack: 3 Pack Alternatives
Rain Gear
Rain gear is something I bring on every hike. I have a nice outer shell, but there are cheaper options for beginners. If you aren't ready to invest in something more expensive just yet, then a rain poncho will do the trick. You can get these for a few bucks either online or from your local Walmart. Even a big trash bag will be fine for emergencies.
Once you hike more frequently, investing in a good outer shell will be worth it. It's one piece of gear that can save your life in bad weather. The medium-priced outer shells come with some nifty features, like pit zips, inside pockets, and visors.
Trash bag or poncho: < $10
Name brand outer shell: $100
Tip: Some rain ponchos gave gourmets so you can use them as tarps. Check out the multiuse poncho on Amazon.
Headlamp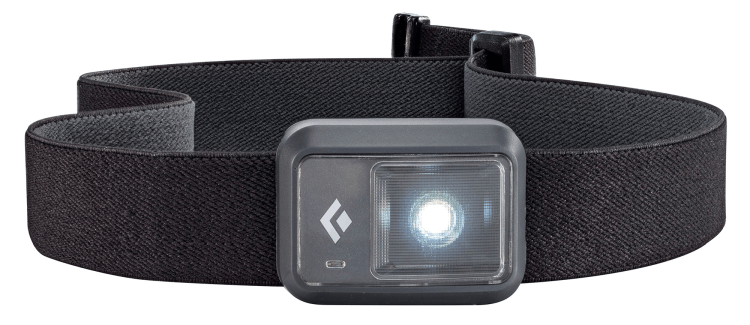 Carrying a flashlight is important if you ever find yourself hiking later than expected (getting lost, injured) and need to hike out in the dark. There's a lot of affordable flashlight options out there, but I prefer a headlamp to keep my hands free.
Cheaper headlamp: < $10
Name brand headlamp: $20
First Aid Kit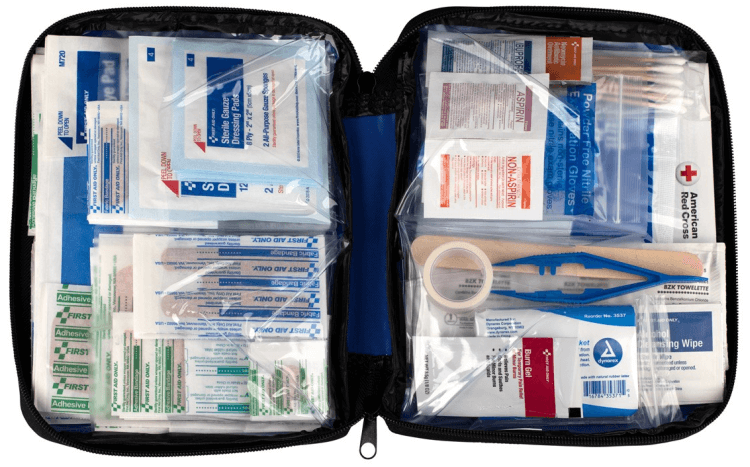 What you carry in your first aid kit can vary a lot. You could build your own, but this can sometimes cost more money because you're forced to buy entire packets of the items. You can order certain items individually online, but then you need to pay for shipping.
Most of the time it's best just to buy a kit. The best places to buy a kit is from Amazon (check here for the best deal I've found).
But if you do build your own, here are some recommended items:
Antibiotic treatment like Neosporin (healing)
Antiseptic wipes (cleaning)
Medical tape (sprains)
Fine-tip Tweezers (splinters, shards, ticks)
Gauze pads (cover wounds)
Bandaids (stop bleeding)
You can keep all these items in a little pouch, waterproof baggy, or a plastic container.
Custom kit: varies
Prebuilt kit: $15
Sunglasses
I used to not wear sunglasses but now I find them to be a necessity. Not only do they help you see better, but they help protect your eyes from harmful UVs.
Sunglasses can be bought for cheap, but you usually get what you pay for. I got tired of breaking and losing my sunglasses so much that I bought a pair of Shady Rays that come with free lifetime replacement up to 2 times.
Walmart Sunglasses: $10
Shady Ray Sunglasses: $45