Hiking in running shoes, how bad can it be? I get why someone might wonder if it's okay to go hiking in running shoes or even hike in every day sneakers.
Maybe you don't hike too often and don't want to buy a new pair of boots, or you are traveling and are looking for a shoe that is multipurpose, don't like hiking shoes, or for whatever reason, you just don't have a shoe specifically hiking. So what are your options? Do you really need hiking shoes?
Short Answer: Yes, you can hike in running shoes. Trail running shoes are the best type of running shoes to hike in and are often recommended by experienced hikers. Road running shoes won't perform as well as trail runners but can still work.
Why You Don't Need Hiking Boots
So usually when it comes to footwear, a lot of it comes down to personal preference. I love wearing my Bedrock Sandals. Light, waterproof, and comfy. Heck, I even I hiked Mt. Washington barefoot. Others like hiking in trail runners and some hike in their heavier Timberlands (why I don't recommend hiking Timberlands). Footwear is quite personal!
Whatever footwear you use, it's important that you are safe and comfortable.
If you are just doing a simple nature walk or easy hike, any footwear short of high heels is going to be fine.
Hiking boots are heavy and in most cases, pretty overkill. That's why hiking shoes and running shoes are becoming so much more popular on the trails.
When it comes to hiking in road running shoes, they can be fine but there are certain running shoes that are going to be better.
You may also like Kahtoola MICROspikes
Not All Running Shoes Are Equal
If you search online to see if it's okay to hike in running shoes, you'll find that a lot of people are doing it. And for experienced hikers who are putting on a lot of miles, it's actually becoming the go-to recommendation.
You'll often hear people say they hike "all the time" in running shoes. Even the most experienced hikers like Ray Jardine recommend hiking in running shoes.
So hiking in running shoes must be okay, right?
Well, not so fast. Before we automatically say that running shoes are a good idea, there's something you should know.
When people talk about hiking in running shoes, they usually mean trial running shoes. Trail running shoes, or "runners" as they are commonly called, are a lot more suited for hiking.
Road running shoes aren't going to be nearly as good as trail running shoes for a few reasons, most notably, grip and protection. Let's look at some differences.
You may also like Hiking in Converse, How Bad Is It Really?
Road Running Shoes vs Trail Running Shoes
So what's the main difference between road running shoes and trail running shoes, and does it really matter? Let's compare.
Grip
Let's start at the bottom, which is grip. Road runners are going to offer less traction and are a lot smoother than trail running shoes. Especially when the tread gets worn down, they will become even smoother.
Road runners are going to be more slippery, especially if you encounter any muddy areas. You'll want to be more careful.
Compare a typical running shoe sole to a trail running sole and see the difference in tread grip.
Road running shoes have a smoother tread designed for pavement.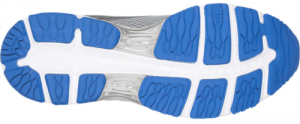 Trail running shoes have aggressive grip for dirt, mud, and rock. You can even use some trail runners in the snow. Check out my tips on wearing boots in the snow along with waterproof tips.

Toe Protection
You know the saying, you're not a real hiker until you lost some toenails. Actually, I just made that up. But either way, it's not a bad idea to have some toe protection. Especially on longer hikes when you are tired and your feet are dragging, bumps and stubs are going to happen.
The typical road running shoe doesn't have any specific toe protection.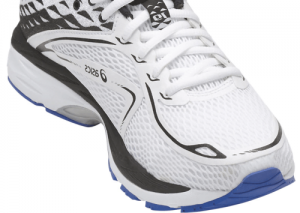 While trail running shoes often have some type of toe guard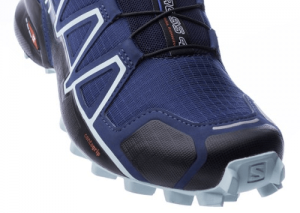 Mesh Design
When you're out in the trail, you're shoes are gonna get wet, muddy, poked, bumped, and scraped. Trail running shoes are going to offer some extra protection.
Notice the wide mesh design on a typical road running shoe.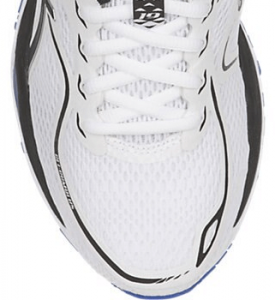 Trail runners, like the Salomon Speedcross 4 have nylon anti-debris mesh uppers that are quick drying and breathable, perfect for hiking.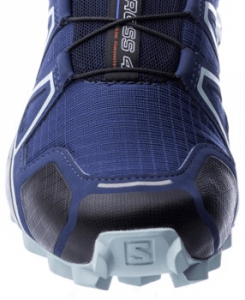 High Tops
Not all trail runners have these, but an added option on trail runner are high tops. These high tops help keep tiny rocks kicking up into your shoes and offer some rain protection.
If you have low tops, you can always buy trail gaiters.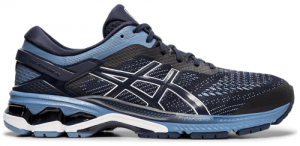 The La Sportiva Uragano GTX trail running shoe offers a flexible bootie to keep out debris and your feet dry when it's raining.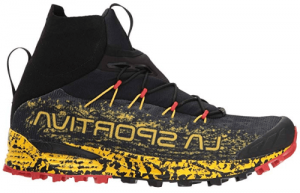 When Running Shoes Are a Bad Idea
I won't say that running shoes are a bad idea for everyone. As I said, people hike in all kinds of footwear. But for running shoes, if that's all you got and you want to hike with them, they might be fine most of the time.
If you are wearing road runners, I would just be careful when it comes to grip. Up here in the White Mountains, there's a lot of steep rock that can get slippery. Here, I would not wear road running shoes, and if they get muddy, they are going to harder to clean.
You may also like Are Chacos Good For Hiking? Yes, Here's Why
Conclusion
So many people wear different shoes on their feet. If you're just starting out and going on an aggressive hike, I would not recommend sneakers. Road running shoes can be fine, but still aren't the best option. Trail runners are going to be the best choice for most hikes.
If you are wondering if a certain shoe is okay to hike in, try it out first on some local hiking trails or go to a park and put a couple miles on. If they hurt on the shorter hike, they won't be good on a longer hike.