Timberland is the most iconic work style boot today. The easily recognizable yellow leather boot was first introduced in 1973 and is still quite popular. Originally built to "cope with the hard, wet, snowbound winters of New Hampshire", it has found a place in outdoor fashion. But are Timberlands good for hiking?
Are Timberlands good for hiking? The Classic 6″ Timberland boot is not designed for hiking due to its weight and construction. However, Timberland does offer other boots designed for hiking, which many hikers enjoy and recommend.
Timberlands – Good for Hiking or Not?
First, I want to be clear on the different types of Timberland hiking boots. The Classic 6″ boot that Timberland is most known for is not ideal for hiking. If you are doing any serious hiking in these Classic boots, they probably aren't going to be the best choice. Let's take a look at Classic boot before getting into other hiking models.
The Classic Boot
The Classic boot is much more a work boot than a hiking boot. You can still technically hike in these boots, but they will have their disadvantages.
The primary reason is that these Timberland boots aren't designed for hiking. For one, they weigh a lot. The Classic boot weighs a whopping 1lb 13 oz per boot or 3lb 10oz per pair.

Compare that to a typical Merrell style hiking shoe, such as the Moab 2, which weighs only 2lbs 2oz per pair. That's 1.5lbs less than Tims. If you are comparing Timberlands to Merrell's more rugged 8-inch all-weather high tops, then they weigh pretty much the same. Still, Merrells are going to function better because they are specifically designed for hiking.
You might not think weight is a huge deal, but 1 pound on your feet equals 5 pounds on your back. And the longer the hike, the more important weight becomes. I can tell you that once you switch to a lighter shoe after a long hike, you can instantly feel the difference.
Another point to consider is temperature control. The Classics come with 400 grams of PrimaLoft® insulation to keep your feet warm, so if you're hiking with them in warm weather, your feet could get hot and sweaty.
The Classic Timberland boot, while not ideal for hiking, it probably fine for short hikes and nature walks. So if you already do have a pair of Tims that you enjoy and want to take them out for a few miles, why not? If you are doing any frequent or more serious hiking though, then it's best to get some footwear designed specifically for hiking.
You may also like Hiking in Converse, How Bad Is It Really?
Timberland Hiking Boots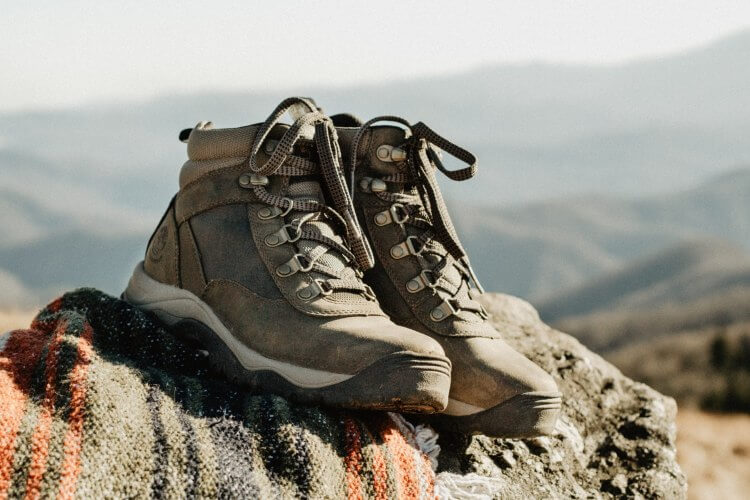 Timberland does make boots, that unlike the Classic boot, are specifically designed for hiking. These Timberland hiking boots actually get a lot of good reviews. I've checked Amazon, Zappos, and the Timberland website and most people who buy Tims seem to really enjoy them. Even on outdoor specific sites like REI and Backcountry, reviews were still favorable. After talking to a few hikers, here's what some of them had to say:
Timberland now sponsors me and I won't hike the AT in anything else. They are truly waterproof, though I have sprayed them a dozen times in as many days. As long as you wear socks at least 85% wool your feet stay dry from sweat as well. May need gaiters in the rain though. Great choice!
And another experienced hiker…
I hiked the entire Adirondack High Peaks 46 high peaks in a pair of Timberland boots no tread left when I finished rest of boots were in great shape.
I've picked out some of the more popular hiking boots from Timberland. Here are a few of them:
Timberland White Ledge: One of the most popular Timberland boot for hiking. This boot is made from premium full-grain leather and is waterproof. One thing to keep in mind is while these are rugged boots, the full leather doesn't offer much breathability.
Reviews: Men's | Women's
Timberland Mt. Maddsen: The Timberland Mt. Maddsen comes with even more features, including the TimberDry Eco-conscious Waterproof Membrane to keep your feet dry and an internal TPU shank for even more strength and support.
Reviews: Men's | Women's
As a note, while many shoe manufacturers may advertise their footwear as "waterproof", they may still get wet. This is because "waterproofness" really depends on the boot material as well as water pressure and exposure. The only truly waterproof boots are rubber boots.
Timberlands are rugged boots that are meant to last a long time. One potential downside is that they can be a little on the heavier side. Many experienced hikers now are moving toward more lighter footwear and even hike in running shoes.
You may also like Can You Hike in Doc Martens?
Conclusion
So are Timberlands good for hiking? If you're talking about the Classic boot, not so much. The Classic boot is heavy and is better as a work boot than a hiking boot. The Classic boot is probably fine though for shorter or easy hikes.
If you're looking to get into some more regular or serious hiking, Timberland can be a good choice. A lot of people like the security that a heavy more rugged boot provides, but those features aren't always needed in a hiking boot.
What it comes down to is this – People wear all sorts of footwear when hiking. Every foot type is different and different boots are just going to feel more comfortable to certain people. If Timberland boots fit you comfortably and they work fine for you, great. The important thing when it comes to footwear is that it's safe and comfortable.