If you're used to wearing military boots or have an old pair lying around, you might be wondering if they are actually good for hiking. Well, not having worn them myself, I spoke to several military veterans and asked them if hiking in combat boots is a good idea.
Is hiking in combat boots a good idea? While you can hike in combat boots, the large majority of military veterans do not recommend hiking in them. Combat boots are heavy, uncomfortable, and not optimized for hiking. Many hikers are now favoring lighter footwear like hiking shoes and trail runners.
Why Combat Boots Aren't Good For Hiking
So after interviewing a few people who have worn combat boots a lot, it definitely seems like a poor choice of footwear to hike in.
Here's what a few military personnel and hikers had to say:
I've worn them for over 30 years. Don't do that to your feet. They have improved but are not as good as those on the civilian market.
I don't recommend after wearing for years in the military. They are heavy and not built for long-distance. I remember so many injuries and strains in boot camp alone from women wearing those.
I saw a few of them on the Application Trail down here in Georgia, but a few of them were sending them home and going to try some true hiking boots.
Combat boots are designed for combat, not hiking. Just a few weeks of military use will abuse your footwear more than years of hiking and backpacking. This is why they have to comply with specific regulations when it comes to construction and appearance. These boots are rugged, heavy, and while not always comfortable, they will get the job done.
One of the biggest downsides I keep hearing to wearing combat boots on hikes is the weight. One hiker went as far as to say hiking in combat boots was like wearing ankle weights. However, there are certain types of combat boots that are lighter. Some hiking boots I've found weigh only 14oz (see the recommendations below).
Why Combat Boots Might Be Okay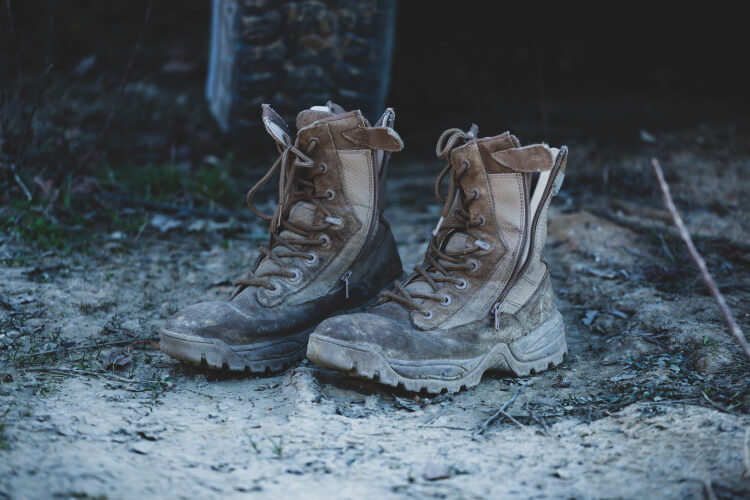 Not everyone I spoke to had negative things to say about hiking in combat boots.
There was a point that I would say NO. But tried them last summer. Was comfortable for me. I like the ankle support. Used to wear them for work all day and never had a problem. Part of it comes to your comfort and personal choice.
I spent 20 years wearing combat boots as an infrantry soldier. I marched in them, went on maneuvers, deployed in them, and went to combat wearing Army black leather boots and tan suade boots. If your boot fits, is comfortable, is broken in, doesn't rub your feet or leave blisters, then you are good to go.
If you're comfortable wearing combat boots and prefer to hike in them, then rock on. In most cases though, traditional combat boots are going to be a bit overkill.
One important point to note is that there are different brands of combat boots that are compliant. Some of these boots are going to feel much more comfortable than issued boots.
All that being said, there are some good things about combat boots. For one, they are rugged, have stiffer soles, tougher exteriors, and will be better suited for carrying heavy loads. If you prefer having extra protection, combat boots will hold up well. The higher ankle will provide more support, keep out rocks and debris, and keep you dry when crossing small streams.
You may also like Hiking in Converse, How Bad Is It Really?
So, Should You Wear Combat Boots?
For most instances, combat boots aren't going to be the best choice. There's lots of modern hiking footwear out there and many experienced hikers now prefer to hike in trail runners.
One thing to keep in mind is pack weight. Combat boots are typically heavier, which makes them great for carrying heavy loads. Here's a little reference guide to use:
| | |
| --- | --- |
| Pack Weight | Type of Shoe |
| 0-25lbs | Trail runners or hiking shoes |
| 25-50lbs | Midweight, midheight hiking boots |
| 50+ | Heavyweight or combat boots |
Yet another factor is terrain. If you're hiking in lots of gravel or in the jungle, you'll probably want to wear a studier boot.
And some pros and cons of wearing combat boots…
Pros
More protection
Better ankle support
Keep out debris
More durable
Cons
Typically heavier
Not as cushioned or comfortable
Don't let your feet breathe
Less appropriate for casual wear
Tips for Hiking in Combat Boots
If you do go hiking in combat boots, follow these tips to keep your feet happy:
Make sure your boots are broken in. Lots of people get blisters with a new pair of boots. Wearing two pairs of socks will prevent friction that causes blisters.
Experiment with Dr. Scholls. It might just give you the relief your feet need (find them at Amazon).
Learn to take care of your feet by making sure they are clean and dry. Military OneSource has 9 ways to protect your feet during training.
You may also like Are Timberlands Good for Hiking?
Best Military Boots for Hiking
The boots you were issues don't necessarily need to be the same boots you go hiking in. There are other combat boot brands that do have really good reviews. Here are a few I found.
Garmont T8 Bifida Tactical Boot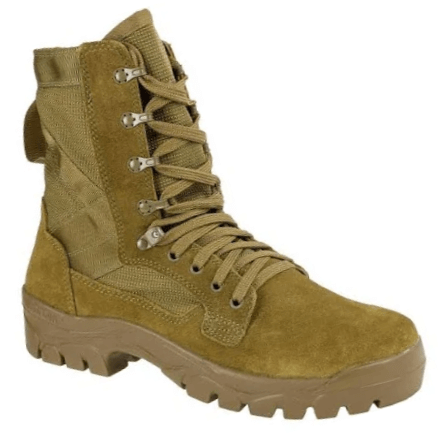 This Garmont T8 Bifida Tactical Boot is not only one of the most popular military boots, but it's also authorized for wear with OCP uniforms for Army and USAF members.
The boot is fitted with hookless rigging-proof hardware to make sure your laces stay on and provide a snug fit for extra ankle and shin support. Along with being abrasion-resistant, the Garmont provides excellent fit and stability. The footbed cup has built-in retention technology to support you on uneven surfaces.
One service member raved that is was "One of the best boots I've worn in my 15+ years in the Army", while another claimed to have put one thousand miles of hiking on a single pair.
See the Amazon Price
Oakley SI Light Assault 2 Boot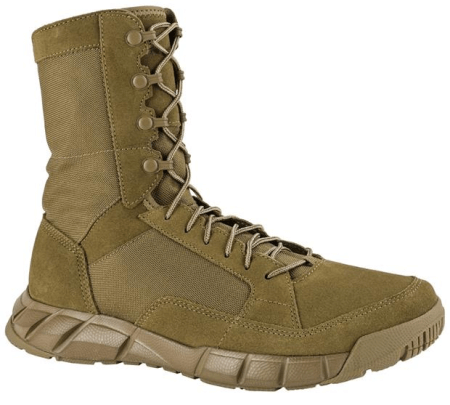 If you're looking for something lightweight, the Oakley SI Light Assault 2 Boot is another great choice. And yes, this boot is AR 670-1 compliant as well.
Made from an EVA midsole and outsole, the boot adapts to your feet providing shock absorption. The lightweight synthetic upper provides protection and ventilated comfort.
Some claim they are the most comfortable boots they have ever worn, while others say the weight gives them an edge while running in uniform.
See the Amazon Price
Vasque Juxt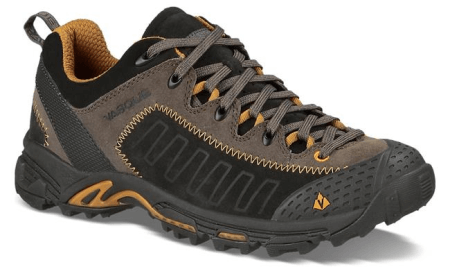 While the Vasque Juxt isn't a combat boot, it's still worth mentioning. How come? This was the boot that was worn by SEAL Team Six during the Bin Laden raid. And yes, it does get rave reviews for hiking.
These shoes fit like a running shoe but provide the support and functionality of a hiking shoe. You'll get both the comfort from the molded EVA and support from the TPU plate midsole for added stability. It also comes with a rubber toe bumper for extra protection.
One of the downsides to this shoe is that while it does dry fairly quickly, it will get slippery when wet. If you expect to hike in the rain or in wet conditions, this shoe probably isn't for you.
While this shoe is not waterproof, If you're looking for something that's light that you can move quickly in, the Vasque Juxt can be a good choice.
See the Amazon Price