Figuring out how to carry your cellphone when hiking should be simple, right? Well, not quite. There's a lot of ways to carry your phone on the trail. Not only that, but you also want to protect your phone while having easy access to it. While many hikers try to get away from technology, smartphones are often an invaluable tool for checking the weather, navigating, looking up trail guides, and emergency calls.
Here are 6 ways to carry your phone hiking:
1: Hip Pocket
Hip pockets are a standard feature on many larger hiking packs. What makes hip pockets so appealing is that they are right in front of you and are already attached to your pack. You don't need to buy any additional gear.
A huge problem though is while hip pockets are the most convenient and accessible way to access smaller items, they are often too small for smartphones. Carrying a phone in a hip pocket is possible, but often you need to set your phone vertically sticking out. This might work if you have a deep pocket, but it allows the risk of your phone slipping out. You also have to be careful with this method if you are taking your pack off and on.
Some manufactures have started created external hip pocket attachments to add to your pack. While some of those attachable pockets are able to hold your phone, cell phones are getting larger and don't always fit. After reading the reviews of the REI Co-op Packmod Hipbelt Pocket, you can see it can't accommodate certain phones. If you do go with a pocket like this, make sure you find the dimensions of your phone first.
You may also like 7 Ways to Carry Your Tripod Hiking
2. Hip Belt / Running Belt
Hip belts are another option and are popular among runners. As such, a lot of these options on the market are snug, secure, and don't bounce around. If you're looking to carry your phone hiking as well as a few snacks, keys, and cash, these are great options.
One such belt is Sport2People Running Pouch Belt. This running belt comes with generous room to hold your phone and other items. If you are using it for running, it even has reflective visibility and is water-resistant. I probably wouldn't wear it in the pouring rain unless you had some extra waterproof protection.
3. Shoulder Pouch
Another convenient way to carry your cellphone hiking is by using the shoulder pouch. Most hiking packs don't come with these, and if they do, they might be too small for a cellphone.
Similar to hip pockets, attachable shoulder pouches also exist. Shoulder pouches are good for quick access and they don't get in the way. The downside is, if you are doing any fast pace hiking, these might bounce around a bit.
One of the very popular models is the Urvoix Phone Belt Pouch. This pouch comes in 3 sizes to hold even those larget phones. The Urvoix is rugged and waterproof, being constructed with military-grade straps. Not only can you fasten it to your shoulder strap, but also your belt.
You may also like Best Portable Bluetooth Speakers for Camping
4. Fanny Pack / Waist Pack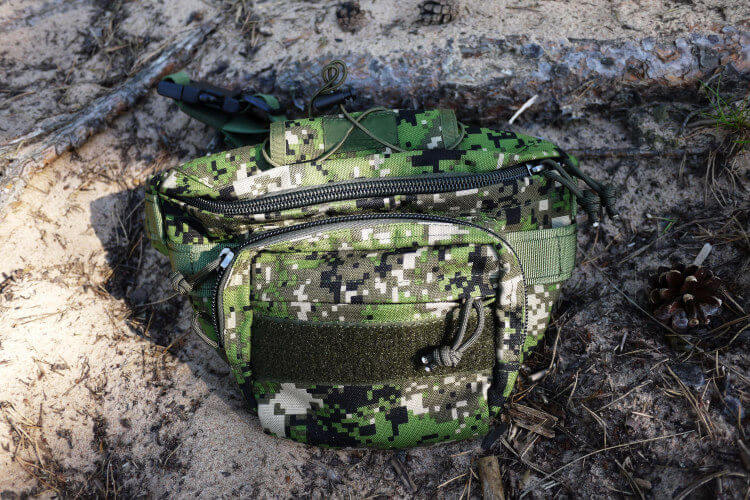 Come on, you didn't think we were going to skimp on one of the most practical (and fashionable) accessories of all-time, did you? Not only is the fanny pack a status symbol, but you may find it more convenient than it's cousin, the hip-belt.
And yes, there are even fanny packs designed specifically for hiking. Larger waist packs are often worn by hikers with shoulder issues. We even wrote an article about hiking without a backpack and backpack alternatives.
While waist packs can be convenient, they might not fit well while wearing a pack with a large hip belt.
Some popular models include the Patagonia Ultralight Black Hole Mini Hip Pack and the FREETOO Waist Pack. What's good about both these types of packs is that they can be worn over the shoulder instead of the waist.
You may also like Can You Use a Mini Fridge for Camping? Here's How…
5. Pants / Shirt Pockets
Though it might be more cumbersome, carrying your phone in your pocket when hiking is another option. Some hikers carry them in their pant pockets, while others carry them in their breast pocket. All these are options to try out.
Keep in mind, if you're doing any technical hikes, hiking in bad weather, or are just a clumsy hiker, a pocket might not be the best place for your phone.
You might think cargo pants are an option, and they are. The risk is that the cellphone bounces around when your hiking and rubs against your leg. Still, it's something worth trying out if you have a pair.
For the ladies, there are many tights and leggings too with side pockets. We even put together a list of the best hiking leggings with pockets. Our top pick on the list is the Fjallraven Abisko Trekking Tights, which was awarded the 2018 Backpacker Editors' Choice Award.
6. In Your Pack
A simple solution for having to carry your cellphone on your person is to simply keep it in your pack.
While your phone is safest in your pack, it does lack the benefit of convenience. If you need to access your GPS, see the forecast, or make an emergency call, you will have to undo your pack and locate your device, which could be cumbersome if you want quick access.
You may also like How to Attach Sleeping Pad to Backpack
More Tips for Hiking With a Cellphone
Here are some more tips for carrying your cellphone on the trail:
If you don't plan on using your phone and are just using it for emergencies, keep your phone off. Phones that are constantly searching for nonexistent service drain the battery quickly.
Wrapper your phone in a glove, tshirt, or another piece of clothing can help protect it. Just remember where it is when you go to take it out.
Keep your phone in a waterproof bag or container. Not only for unexpected rain but also for river crossings. Ziplock bags are cheap and work great. If you want to get something more durable and waterproof, check out the JOTO Phone Dry Bag.