The Ozark Trail 2 Burner Camp Stove is one of the more affordable camp stoves from Walmart. There are better stoves out there, but the Ozark is popular because of its cheap price point and it does a decent job.
I recently reviewed this Ozark Trail stove myself at a camping trip when a friend had brought it along. I found a few things that could be improved. Let's kick off with this Ozark Trail 2 burner camp stove review.
Ozark Trail Stove Review
If you're doing any car camping and looking for something quick and easy to set up, this can be a good stove. It's not the highest quality, but if you are camping now and then or want a backup stove for emergencies or if the power goes out, this stove will be fine.
It's a propane stove, so you can expect this to put out some great heat and cook and boil water really quickly. If you're doing any heavy cooking or using the burners for a long period of time, you could run into some issues (more on that below).
Quick Specs
Here are some quick specs about the stove:
Two 10,000 BTU stainless steel burners (3.15 in. each)
Uses propane fuel with regulator included
Burn time is up to 1 hour with a 16-ounce cylinder propane canister
Independent temperature control on both burners
Built-in wind guards for starting and to keep flame burning
Weighs less than 8lbs (no handle though)
You may also like WindTAMER Camp Stove Companion Review
Compact and Foldable with Easy Assembly
Setting up your Ozark Trail two burner stove is really simple. Even if you never worked with a stove before you'll figure out how to assemble this in seconds.
The stove folds up well and doesn't require any tools to put together. The legs on either side rotate so that when the stove is folded, it prevents the top from swinging opening. When you want to use the stove, just rotate the legs downward. The legs keep the stove off the group by a couple of inches, which is nice to prevent surfaces from getting hot underneath.
Unlike other stoves like the Coleman (compare Amazon price), it doesn't have a handle. It weighs less than 8 pounds so the lack of a handle isn't a deal-breaker but would have been a nice feature to have.
Here's what the Ozark Trail camp stove looks folded up. It's pretty thin and compact: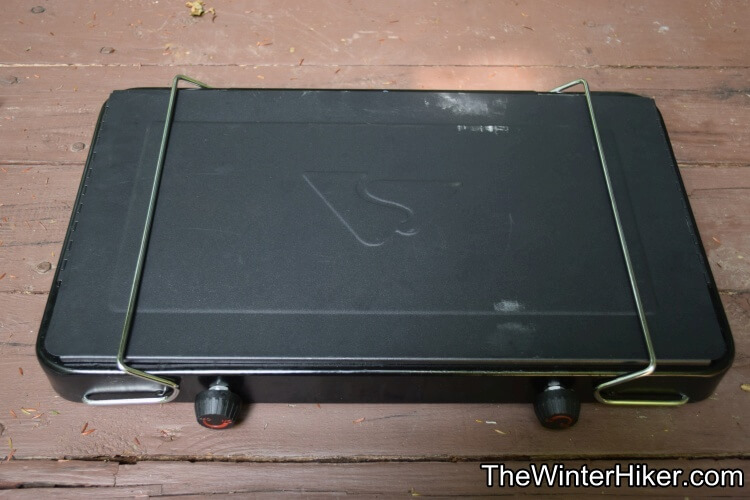 The grate and regulator are stored underneath the stove. They both snap into the bottom. This is one negative thing in this review that I don't like. The clips that hold the grate and regulator in place aren't very strong and don't hold well. If you're moving this a lot, these pieces could fall out.
When reading other reviews, you'll find that others have the same problem as well. My suggestion is, if this happens to you, to try to tighten the clips with a pair of pliers so they hold better.
Here's what the bottom looks like: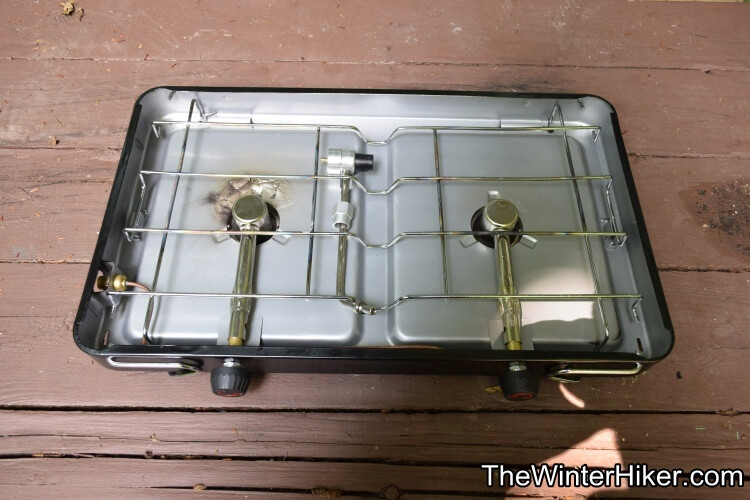 And here's a close-up shot of where the regulator is stored, attached to the metal clamp: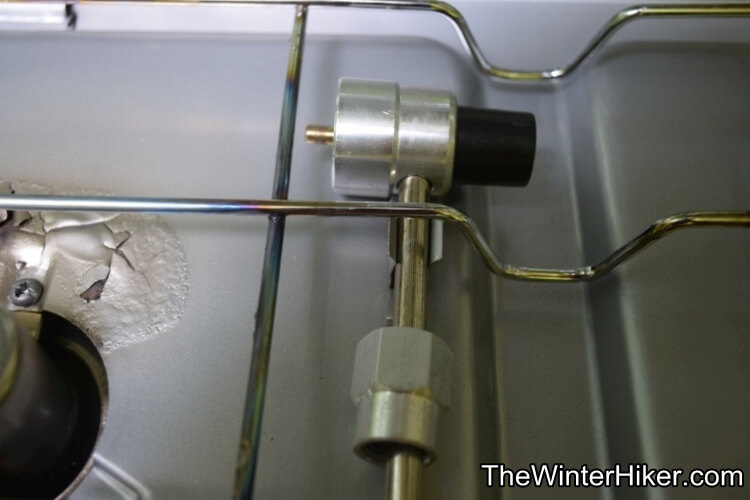 Attaching the regulator is easy. Just plug it into the side and hand screw the stove fitting to secure it to the stove. There are no tools involved and easy to attach.
Here is what it looks like with the regulator plugged in without the fitting secured: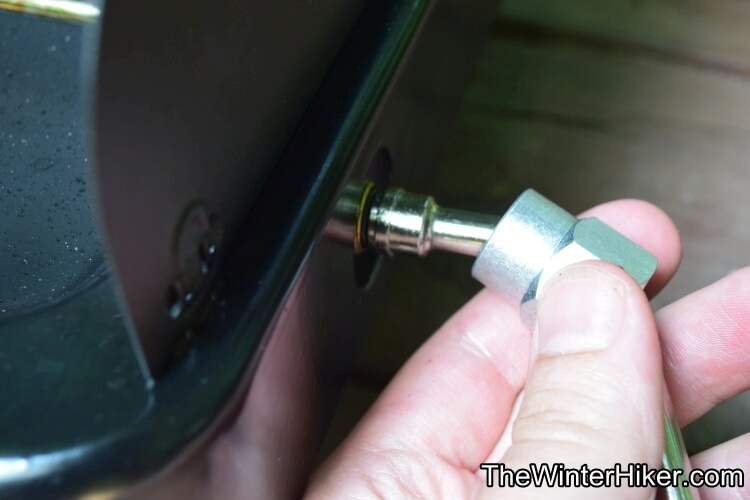 Once the regulator is attached to the stove, the fuel canister attaches to the other side. In this photo, I'm using the Coleman propane fuel, so don't think you have to buy Ozark brand fuel. All you need to do is screw it in. Easy peasy.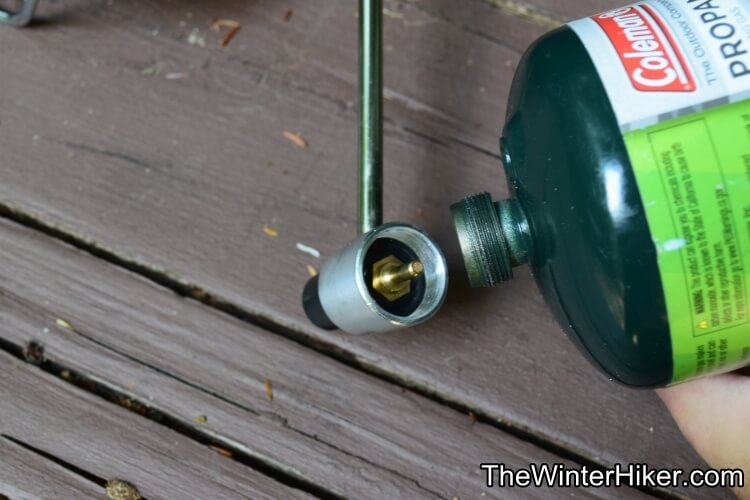 Windguard Protection
The Ozark Camp Stove has a built-in 3-way wind guard to make sure the propane stays lit in windy areas and in bad weather. Wind guards help make starting the burner easier and to keep the flame from being blown out, especially on lower settings.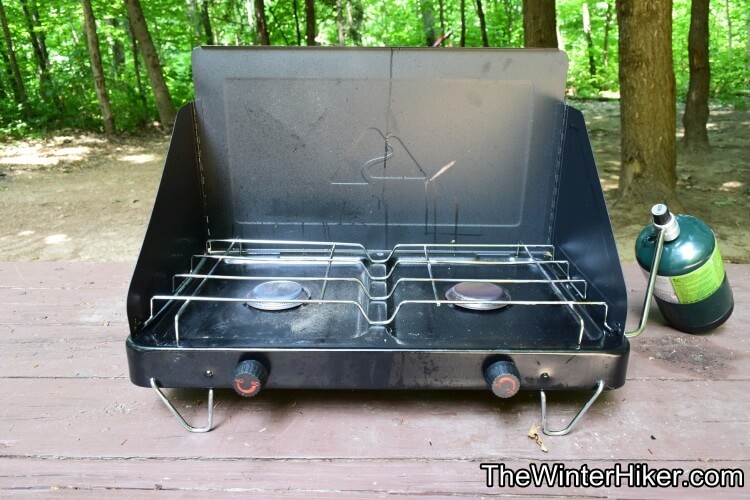 The wind flaps on the Ozark Stove are easy to connect to the sides. On each wind guard, there's a metal connector that squeezes into the side of the stove. The fit is fairly snug and strong so I wouldn't worry about them coming out.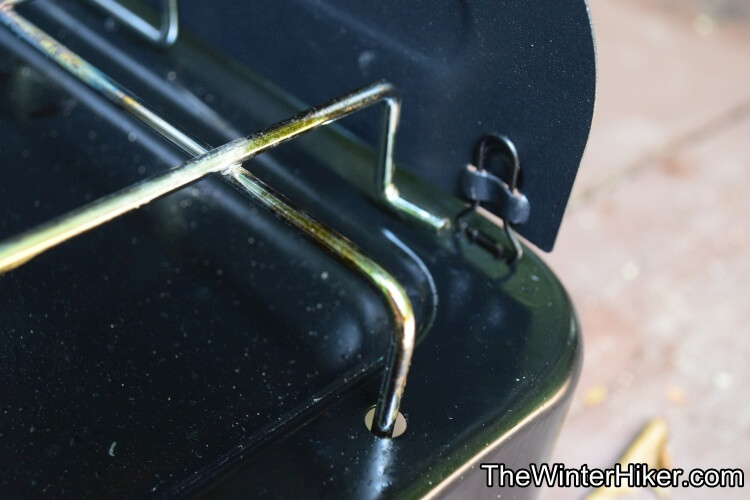 You may also like Does Camp Fuel Go Bad? Does White Gas Have a Shelf Life?
Fuel and Temperature Control
Proper temperature control is something that you'll want on any stove. You'll want to avoid stoves that are "all or nothing" for heat. If there's too big of a flame, you're going to burn whatever your cooking. For boiling water though, this won't be a problem.
The Ozark two burner stove does an okay job at temperature control. A friend did have problems with the knobs which is why they are off-center. Another thing I don't particularly like is that the knobs bounce back sightly when trying to fine-tune the temperature, making it harder to adjust small flames.
I haven't had the grill burning for a super long time, but based on other reviews I've read, cooking longer meals with heavy pots can actually warp your grate.
Before I started with this Ozark Trail camp stove review, I noticed that there was some burn damage underneath the cooking top. This wasn't a problem when cooking (yet) but does make me think about the longevity of the stove.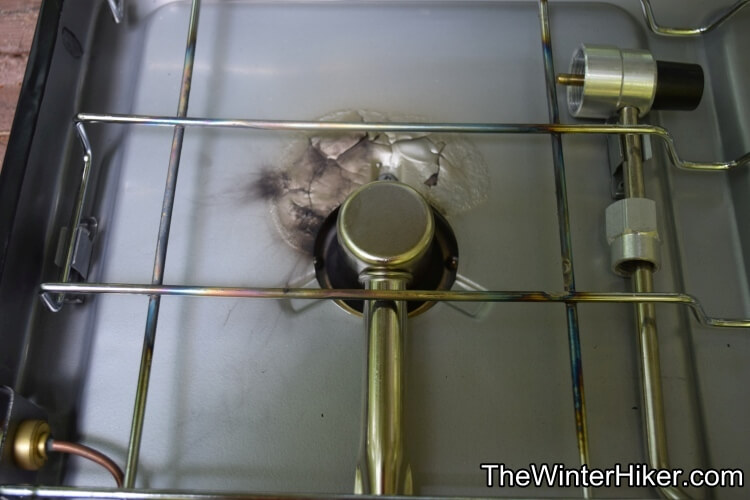 For fuel, the Ozark camping stove uses propane. The user manual to use only certain size fuel cylinders:
Use only 14.1 oz. or 16.4 oz. propane fuel cylinder as approved by United States Department ofTransportation (DOT)

Ozark Trail two burner camp stove user manual
From reading other reviews, I have heard of people hooking up bigger propane tanks to their Ozark stove. It could probably work with the right connection. Just understand any risk when doing this.
When it comes to cooking, anything that you cook on a normal stove at home, you'll be able to cook on the Ozark Trail stove. The stove probably won't fit a massive wok (maybe if you folded the wind guards down), but a 10-inch frying pan fits perfectly.
You may also like How Much Is a Bundle of Firewood?
Warranty and Replacement Parts
The stove comes with a 1-year limited manufactures warranty. It doesn't cover things like scratches or heat damage to the finish, which is considered normal wear and tear. Make sure you keep your receipts for proof of purchase and read the warranty information to make sure.
If you are looking for Ozark Trail 2 burner camp stove parts, unfortunately, they are very hard to come across. Your best bet is to contact the manufacturer.
There are quite a few people who want to replace their Ozark Trail camp stove regulator. I spent some time searching for such a part with no luck either. I even looked at the Coleman regulator (here on Amazon) to see if it could be used, but lots of reviews say that the Coleman regulator does not fit Ozark's camp stove.
With no other place to look, I emailed Walmart customer support about replacement parts and am waiting for a response. If I hear anything, I'll be sure to update this post.
EDIT: I did hear a response from Walmart:
Hi Benjamin,

If you require information regarding replacement parts please contact Blue Rhino Global Sourcing at 800-762-1142

Thank you for contacting Walmart where we are always happy to help!
EDIT 2: I did hear from a reader of this blog who sent me this response:
I've had one of these Ozark Trail camp stoves I bought at Walmart in one of our cabins for about 25-30 years. Recently the rubber gasket on the regulator began to fail and leak propane. You cannot get a replacement regulator through Blue Rhino or MrBarBQ. They don't even handle them.

I was able to remove the rubber gasket that failed using needle-nose vice grips to turn out the brass nut and simply flipping over the gasket. No more leaking. I'm hoping that will last me another 25 years. Otherwise, the stove works perfectly.

Dennis
Overall Review
If you're looking for a cheap stove for light use or to use as a backup, this Ozark Trail burner stove is a decent choice. It's compact and assembly is easy.
While this Walmart stove is fine to use every now and then, it does have its drawbacks that you shouldn't ignore. The construction and design aren't that great and if something does go wrong, replacement parts are non-existent.
My recommendation is if you are going to buy a two burner stove, do yourself a favor and spend the little extra money and get a Coleman instead. The Coleman stove is better designed and does have replacement parts.
Interested in Coleman? Compare the price and reviews on Amazon.
If you are looking for more camping stove Most Efficient Camping Stoves and The Complete Guide To Winter Camping Stoves.