So you just found yourself a great pair of leggings for hiking… but there's one issue – no pockets! A complaint by pretty much every woman everywhere. And no, those little fake pockets don't count. This is why I compiled a list of some of the best hiking leggings with pockets.
Hiking leggings aren't your ordinary leggings. A lot of these leggings offer protection from bugs and brush, wick moisture, and can be used as a base layer if needed. And yes, pockets you can actually fit stuff in.
What to Look for in a Good Pair of Hiking Leggings
If you think all leggings are the same, then you're in for a pleasant surprise. Hiking leggings are going to come with a lot more features than your everyday leggings or yoga pants. They'll be more durable, breathable, water-resistant, and functional.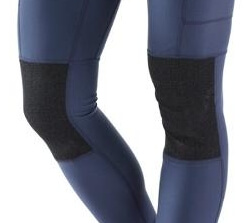 Durability – Leggings for hiking are going to be made from more durable material. During your hike, you're going to be rubbing against rocks and brush and the last thing you want is to rip your leggings. It's not uncommon to see leggings with reinforced knees and rear. These come in handy when scrambling up mountains or hanging around camp.
Pockets – Leggings with pockets are a huge plus when hiking. Many hiking leggings come with side pockets that hold your phone, keys, and snacks. These pockets should hold your items snugly so they don't bounce around. You might even want to consider leggings with zipper pockets. A huge convenience when you want to access snacks or your phone quickly.
Sun and Bug Protection – One problem with leggings is because they are so thin, they are more susceptible to bites and sunburns. Hiking leggings often come with UPF 50+ sun protection and sometimes even orderless bug protection.
Breathability – Looking for more breathable leggings? Some hiking leggings have mesh for ventilation to help keep you feeling cool.
Moisture Wiking and Water Resistance – If you're hiking, there's a good chance you're going to get wet. Good hiking leggings will wick away sweat and dry quickly for those rain showers or river crossings. Some even wear hiking leggings for skiing.
Easy of Movement – When you are scrambling on rocks, you'll want a pair of leggings that hold up and are flexible. A full gusset is preferred.
Fjallraven Abisko Trekking Tights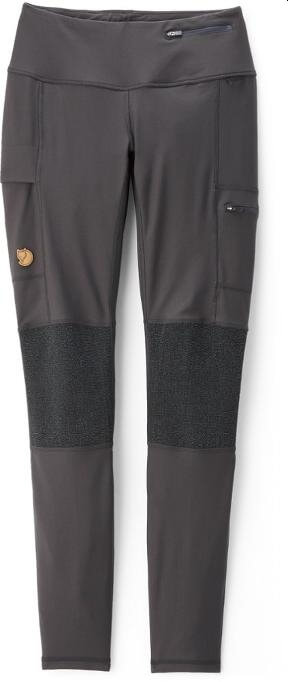 Highlights: Technical tights that won the 2018 Backpacker Editors' Choice Award
Where to Buy: Amazon.com, Backcountry.com, REI.com
If there was a perfect hiking tight, these are them. Abisko Trekking Tights by Fjallraven are an absolute hiker favorite. Hikers love them so much that they were given the 2018 Backpacker Editors' Choice Award. These are true hiking tights that we're super excited to review.
What you probably notice first about these tights is the reinforced knees and rear. These reinforcements are made from a bury poly blend that's water-resistant. If you're scrambling or sitting down in damp areas, you can stay dry and not worry about ruining the fabric.
The fabric itself is made from a remarkably strong, dense, high-performance stretch material, so you'll get the durability and fit you need in all the right places. Yep, you'll feel comfy too.
You'll also stay warm and dry with its moisture-wicking abilities. And unlike other tights, these come with an adjustable inside drawcord that remains hidden. The wide waistband is great to prevent rubbing when backpacking.
When it comes to storing your cell phone, map, key, and snacks, these pants also have you covered. There are 3 pockets strategically placed on these trecking tights. Oh, and there is even a clip loop for attaching gear likes gloves or GPS tracking devices.
The first pocket on the right side is the map pocket – it's large and offers easy access with a flap that folds over. The pocket is large enough to fit a map book. The 2nd pocket on the left side is the smaller zippered pocket perfect for snacks or a cell phone. And lastly, the small security pocket on the waist, perfect for cash, credit cards, or keys.
These are no skimpy leggings. The Fjallraven Abisko Trekking Tights are not just rugged but will keep you warm in cool weather. Some people even wear these tights for skinning up mountains and Nordic skiing.
With a gusset at the crotch and low-profile flatlock seams, the minimize the risk of chafing and truely all for a great range of motion. If you are doing step-ups or scrambling, these tights will move with you.
Fjallraven Abisko Trail Tights

Highlights: High-quality tights for fast hiking in the summer
Where to Buy: Backcountry.com, REI.com
If the Abisko Trekking Tights are a little too technical for you, then the Trail Tights might be what you are looking for.
The Trail Tights are made from a durable stretch fabric but have better insulation around the waist, crotch, and the back of the thighs making them better suited for summer and spring hiking.
Like the Trekking Tights, they are also reinforced at the knees and rear with ceramic print. Unlike the Trekking Tights, these reinforcements blend in to look more casual.
They have a high waistband with an inside drawstring and 3 strategically placed pockets. There is a large map pocket on the right leg, a zippered pocket on the left leg, and a smaller pocket in the back of the waist. This rear pocket is great for fitting your smartphone so it doesn't bounce, even if you wanted to trail run in these tights.
The flatlock seams minimize chafing, making these tights a great fit for fast-paced hikes or trail running on hot days.
Mountain Hardwear Tonsai Tights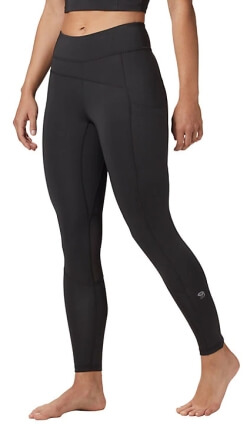 Highlights: Great fit, climber friendly, and ventilation behind the knees
Where to Buy: REI.com
Tonsai Tights by Mountain Hardwear are high rise tights that are comfy, snug, and great for hiking.
They have a lot of great features you would look for in a pair of hiking leggins, such as snug fit, ventilation behind the knees, water resistance, and a single side pocket big enough to fit your smartphone and other essentials.
Part of what makes these tights so great is that they were also tested by deep water solo rock climbers. This means they were designed to be rugged, agile, snug, and water-resistant. So if you wanted to use these leggings for climbing, they are also harness-compatible.
When it comes to fit, these leggings have a high thick waistband that stays up well and stops a couple of inches above the ankle.
Whether you are using Tonsai Tights to hike or climb in, these leggings are designed to move with you. The full gusset construction prevents rubbing on the inner thighs and keeps you chafe-free.
The North Face Utility Hybrid Hiker Tights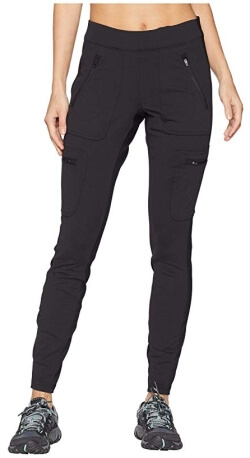 Highlights: Rugged design with 6 zippered pockets
Where to Buy: Backcountry.com
If you're looking for leggings with lots of pockets, then you're in luck. The Utility Hybrid Hiker Tights by North Face are designed to be super functional and come with all the pockets you need.
Exactly how many pockets? 6 to be exact – two zippered hand pockets, two zippered side pockets, and two back pockets. Enough room to store your iPhone, map, and snacks without falling out.
These Utility Hybrid Hiker Tights are designed to be rugged. They come with FlashDry-XDâ"¢ technology to resist moisture and stains. And they are thick enough to prevent mosquito bites while still being surprisingly cool and breathable.
The high rise waist doesn't twist or fold and is thick enough to prevent hip belt rash when backpacking. These leggings are snug, but not as snug as true leggings. While they are a little bit roomier than normal tights, they offer some stretch for a flattering fit while the crotch gusset allows for freedom of movement.
Columbia Titan Peak Trekking Leggings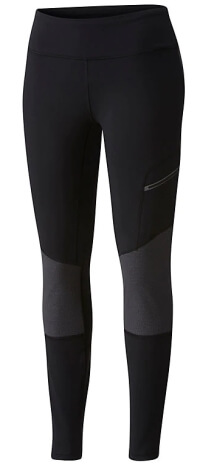 Highlights: Reinforced knees and rear
Where to buy: Backcountry.com
The Titan Peak Trekking Leggings by Columbia look like a simple hiking legging, but there's a lot to what makes these legging great for hiking and trail running.
For starters, these are moisture-wicking leggings with reinforced knees and rear which also adds a bit of flair. If you are sitting down or doing any scrambling, you can be sure these leggings will last longer.
These leggings come with 1 side zippered pocket on the left thigh to hold your phone and other essentials.
These leggings are fairly agile, offering a 4-way stretch that moves with you and gussets that offer you a full range of motion all held up by a thick waistband.
Arc'teryx Sabria Pants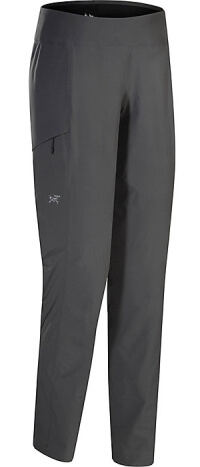 Highlights: 
Where to Buy: Amazon.com, Backcountry.com
While the Arc'teryx Sabria Pants technically aren't leggings, they are fairly slim and too good to pass up for a review.
What makes these pants so popular is they are lightweight (6.5oz), breathable, and dry super fast. They also offer UPF 50+ sun protection for those who are sun conscious consumers. And even though they are lightweight, they are made from abrasion-resistant fabric to protect against everything you might find on the trail.
There is one downside to these pants. While the mobility is great with the gusseted crotch and four-way stretch, the waist has very little stretch which can make certain body shapes tough to get into. But if you need to make the waist tighter, you can with the internal drawstring.
These pants come with two mesh-backed zippered thigh pockets to store your phone and other gear. And a nice touch is the flap pockets to help keep everything dry.
Patagonia Pack Out Tights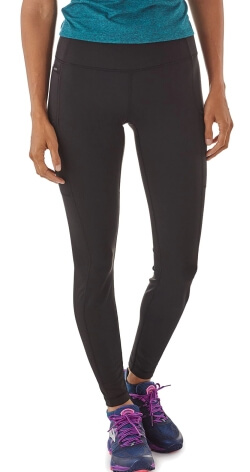 Highlights: Super soft Fair Trade Certified fabric with 3 pockets
Where to Buy: Backcountry.com
Another hiker favorite is the Patagonia Pack Out Tights. These tights can be work for hiking and trail running, but they can be work for yoga, shopping, or just lounging around the house.
Patagonia Pack Out Tights are made from a super soft, stretch fabric that fits great, moves with you, and doesn't sag. The fabric itself is also Fair Trade Certified and made from Bleusign approved fabric, so you can be sure the production was done ethically and sustainably. They are made from thicker material, so they might be best suited for cooler weather rather than warm.
These tights come with 3 pockets. Two of the pockets are deep pockets on either side of the lower hip, perfect for fitting your cellphone. The other pocket is just below the waist that has a zipper, which is perfect for storing keys, cash, or other valuables.
Despite now having a drawstring, these leggings stay up well and retain stretch. And if you're backpacking, the waistband lies flat under your pack.
Icebreaker Comet Tights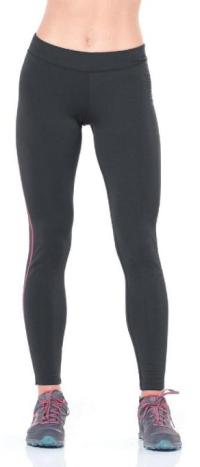 Highlights: Made from responsible Merino Wool to keep you warm
Where to Buy: Amazon.com, Backcountry.com
If you're looking for something to keep you warm on the cool hikes, then the Icebreaker Comet Tights have just what you need. These super comfy tights are made from 38% Merino Wool to keep you feeling cozy.
Don't limit these tights just for hiking though. They can even be used for trail running, snowshoeing, or Nordic skiing. They also make for a great base layer.
While they do have pockets, they are limited on these tights. They have one zippered stash pocket on the back for holding small items. It's not huge, so don't expect to fit your oversized smartphone in there.
These tights are rated at UPF 20 and come with a low profile internal drawcord.