As much as I love more traditional camping and appreciate minimalism, there's something really exciting about camping in a yurt. But before you go yurt camping, you probably have a lot of questions like "how does yurt camping work?", "do yurts have bathrooms?", and "what do I need to bring yurt camping?". Keep reading because I'll share some tips for making your camping trip in a yurt awesome.
What Is Yurt Camping?
Yurt camping is camping inside a yurt, a semi-permanent tent-like structure. Yurts are rounded dome-topped dwelling, typically consisting of a wooden platform, wooden frame, and canvas. Yurt camping offers a lot of comforts similar to cabins but in less permanent structures.
So why would you want to stay in a yurt over a tent or typical cabin?
Yurts offer a lot of conveniences compared to tent camping. For one, there is a lot less packing and set up that you need to do. You don't need to set up your tent or bring an air mattress as there are already comfy beds to sleep on. If you are renting a yurt and arrive on a late night, it's great not to have to fumble around in the dark. And when you are ready to leave, it's much easier to pack up.
While you can get all these comforts in a cabin, yurts have a special feel to them that makes them more cozy and exciting. Because they are less permanent and gentle structures, they feel more like "real" camping rather than being indoors as you would inside a cabin.
Yurts are simplistic and earth-friendly. The walls and roof are made of canvas, which allows the ambiance of nature to come through with its sights and sounds. You're much more connected to nature inside a yurt compared to a cabin. Some yurts even come with a dome skylight which can offer a great view of the stars.
Though yurts can be fun, some people still prefer tent camping. As one camper says:
We did our first time yurt camping. Any camping is better than no camping, but I think I'm more of a tent camper than a yurt-er. I like more air flow and a view of the sky. It is still warmish in the south (USA), so I could see the appeal of the yurt when/if it gets below freezing.
While yurts might not be for everyone, they are fun to try out.
Finding the Perfect Yurt to Camp In
Not all yurts are the same. Not only will they vary in location and size, but they will also vary in amenities. You'll also want to take into account the time of year. Some yurts are going to be more comfortable during certain seasons than others.
The first step to yurt camping is to plan your trip. At some campgrounds, yurts may fill up quite fast. At popular campgrounds, sites are often booked a year in advance! The sooner you are able to plan your trip, the sooner you'll be able to make reservations and get the yurt you want.
Finding yurts to rent in your area can be done in a few different ways…
Google 'yurts near me' – This will bring up a listing of some of the yurts in your area. Click on the listing to see the location and yurt availability.
Search Airbnb – Airbnb isn't just for rooms, but for campsites, including yurts! Be sure to use the advanced filter options to see only yurts. If you are new to Airbnb, feel free to use my invite to get up to $55 off your first booking.
HipCamp and GlampingHub are two sites similar to Airbnb but for camping. There are lots of neat places you can find in addition to yurts.
When planning your yurt camping trip, there are a few things to consider depending on when you go…
You may also like Best Tent Air Conditioners
Yurts in the Summer
If you are camping in the summer or in a hot climate, you'll want to make sure there is enough airflow or air conditioning inside the yurt. Having the yurt being too warm in the summer is one common complaint.
One camper shares her experience:
It was "expensive†and too hot! I imagine it is nice in the winter. But, I prefer tent camping with better airflow and starry sky views.
And another camper:
We stayed in a yurt at Stone Mtn and loved it! It came with AC, which is necessary for summer in the south. We still cooked and ate outside and used the bathhouse, but at the end of a long day at a theme park, it was awesome to sleep in real beds.
If you do decide to go camping in a yurt during the summer, make sure you pick a yurt that you'll be able to stay cool in. Often times, yurts have domes that open up, windows that zip open, and screen doors to help circulation.
Yurts in the Winter
If you are staying in a yurt during winter, having a wood stove inside the yurt can be really cozy. Some wood stoves also burn coal, which burns hotter and longer than wood. Make sure you find out if the stove can use coal and if it can, bring a bag of your own.
Bringing a snow shovel will come in handy to clear off the deck and make paths to the outhouse and wood storage areas. I even put together a guide to using snow shovels and how they can be used around camp.
The winter is a fun time to go snowshoeing, sledding, and even ice skating. As your campground, host, or park ranger about activities in the area and about any winter preparations.
How Much Does It Cost to Stay in a Yurt?
The average price to rent a yurt in the United States is $106 per night. Yurt camping prices range as low as $30 per night for smaller yurts and as high as $400 for large luxury yurts. Luxury yurts often come with king-sized beds and full bathrooms. If you're not looking for anything luxurious, you can camp in a nice yurt for about $60.
You may also like Best Extreme Weather Tents
What to Bring Yurt Camping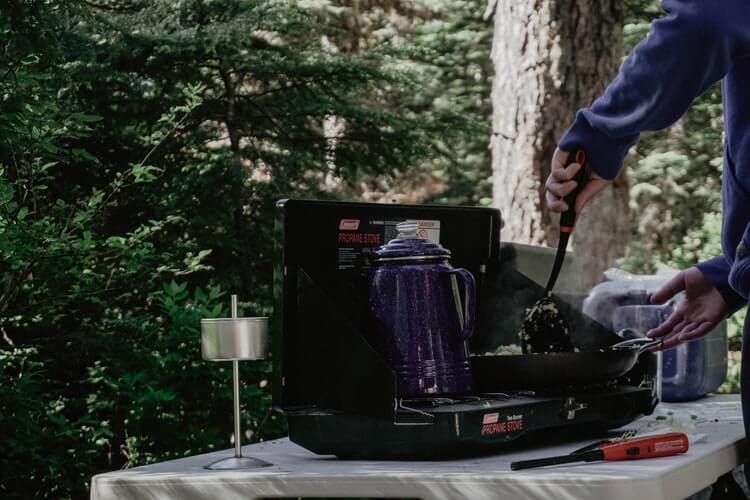 With any yurt you stay in, you're going to want to bring certain items. But before you start packing everything you think you might need, it's best to look at your yurt rental and see what's already included. Some yurts will have a lot on hand all ready to make your stay a lot easier.
Here are some yurt trip essentials:
Personal toiletries – towels, facecloth, toothbrush, toothpaste, deodorant, etc…
Bedding – Sleeping bag, blankets, pillows, and sheets.
Slippers – Especially in the winter, the floor can feel cold.
Warm clothes – It can get cool at night and the temperature can fluctuate. In the winter, be sure to bring enough layers to stay warm.
Firestarter/matches – Either for gas or wood stoves and for campfires.
Kindling – I like to bring newspaper, cardboard, and pencil size pieces of wood kept in a plastic bag to keep it dry.
Gas stove and propane – If your yurt doesn't have a gas stove, you might want to bring one. I prefer to use a two-burner Coleman stove. Be sure to turn the gas off when not in use and store it properly.
Electric kettle – If you have electricity, an electric kettle is a great easy way to make some warm tea or hot chocolate.
Headlamps and lanterns – If you don't have electricity in your yurt, it can be dark, especially in the winter. Make sure you bring some lighting like lanterns and a headlamp for outside.
Fold up chairs – These can be used indoors or outdoors either on the porch or around the fire.
Pop up gazebo – If you think it's going to rain and want to cook outside, pop up gazebos are quite handy. You can set it over a table and prepare all your meals.
Tablecloth – If you're eating outside on the picnic table, a table cloth is an inexpensive way to make your dining experience a lot better.
Cooler – In the summer, you'll want a way to keep all your food cold. During the winter when it's cold enough, you can just bring a tote. Careful, if it gets too cold, certain foods can freeze. Check out my winter camping food recommendations.
Kitchen equipment – pots and pans for cooking, and plates, knives and forks. I like to bring real utensils as I hate wasting plastic.
Dish soap and cloth – Bring a washing basin to wash your dirty dishes in.
Bug spray – A must-have in the summer.
Working gloves – These are multipurpose for carrying firewood, using as oven mitts, or for stoking the fire up close.
Rain jacket – Anytime I go camping, I always bring a rain jacket. You never know when it will rain.
Trash bags – You'll need a place to throw away those wrappers and dirty napkins. Bring one bag for recycling and one bag for trash.
Some yurts will come "fully loaded" with kitchens, chairs, tables, trash cans, brooms, and lots more. Make sure you contact your host or campground and find out what you need and don't need.
You may also like Best Tents with Porch
What to Expect When Camping in a Yurt
Yurt camping is a lot of fun. While there are lots of luxuries over typical camping, most yurts aren't going to be as "easy" as sleeping in a hotel.
Bedding: Most yurts are going to come with some type of bedding or cot to sleep on. Some luxury yurts will come with complete bedding, but most of the time you'll need to bring your own. This means bringing blankets, sleeping bags, and pillows (check out my sleeping bag alternatives).
Woodstove: If you're camping in cold climates, it's very likely you'll have a gas or wood-burning stove to keep you warm. You'll want to bring a lighter and if you have a wood stove, some kindling to get the stove started. Expect to be cold for a little bit indoors while the stove heats up the yurt. You'll probably need to wake up once or twice during the night to feed the stove as well.
Some woodstoves can burn wood and coal. Coal burns hotter, longer, and more steadily than wood, making it a great choice for stoves. Make sure to check and ask if the stove can handle coal, as not all stoves do.
Electricity: Will your yurt have electricity? Some yurts do while some don't. If you don't have electricity, you may need to bring your own lighting like a lantern. If you want to bring some power with you to charge your phone or Bluetooth speakers, consider bringing a power bank. The Anker power bank carries an extra 92 hours of power.
Bathrooms: Some luxury yurts have indoor bathrooms, but chances are you'll be using the outhouse outside. Make sure you bring all the toiletries you need.
Kitchen: Some yurts come with a mini kitchen area to prepare food. I've seen some yurts with stoves inside. If you don't have a stove in your yurt, you can bring a 2 burner Coleman stove (here's the own I own on Amazon). It's recommended that you use it outdoors only, but if you must use it indoors, make sure you have lots of ventilation.
Lighting: Battery-powered lanterns are the best to bring. Candles are an option, but they pose a fire risk and not all yurts allow open flames indoors. Definitely check out the Vont lanterns. These little guys are relatively inexpensive and pack a powerful punch of bright light – plus they come in a 2 pack.
Weather: Yurts can be noisier compared to cabins due to their construction. High winds and heavy rainfall can cause leaks in some places. If you are expecting heavy rainfall, it's not a bad idea to try to keep your gear off the ground and away from the walls.
Bugs and critters: Just because you're inside a yurt, doesn't mean there won't be the possibility of bugs and critters. After all, you're still out in the woods.
You may also like 6 Ways to Camp Without a Tent
Yurt Camping With Kids
A lot of times, people find that camping with kids in yurts is much easier than tent camping. And it makes sense. While kids can always play outside, there typically isn't much room inside a tent for extra activities.
Yurts offer much more space to relax, play games, getting dressed, and eat and prepare meals. And in the case of bad weather, it won't be nearly as bad as staying inside a tent all day.