When you think of camping in the backcountry or even hiking in the mountains during winter, a backpacking snow shovel might not be the first piece of equipment that comes to mind. If you're setting up camp or in avalanche country, a bringing a shovel should be one of your top priorities. In this article, we'll discuss why you should carry a shovel when camping, and what features to look for when buying the best backpacking snow shovel.
Do I Need a Shovel for Winter Backpacking?
You most certainly do! Shovels make life at camp and other chores a lot easier. Here a just a few reasons why you need to carry a shovel in the backcountry:
Creating a Tent Site
One of the most common uses for a snow shovel is for building a tent site. After you choose a tent site, the ground can be leveled off and wind barriers created. Creating kitchen areas, fire pits, and seating areas are made a lot easier with a shovel.
Gathering Drinking Water
One trick for using a snow shovel is to dig out snow for drinking water. Drinking water is more easily obtained from rivers or ice, but sometimes you have to resort to snow for drinking water. Using a shovel to collect snow is quick and easy.
You may also like How To Choose Crampons
Avalanche Rescue
Aside from all the other uses and reasons to carry a snow shovel, nothing is more important than carrying a snow shovel for avalanche rescue. If you're in avalanche areas, everyone in your group must carry a snow shovel. If there are only a few shovels to go around, it's possible that the members carrying the shovels may themselves get buried.
Checking Snowpack Study
Another purpose for snow shovels regarding snow safety is for digging pits to determine snowpack conditions. At times during a trip, the group should stop to dig into the snow to check the snow conditions. This helps find weak layers in the snow that may cause an avalanche.
Building Emergency Shelters
If things take a turn for the worse, a shovel can help build immediate snow shelters. If you are out on the trail and unexpectedly need to stay overnight, a shovel can help build a quick shelter or a snow cave.
Car and Snowmobile Safety
Whether you are off the trail in your car, or on your snowmobile, a shovel can help get you unstuck.
You may also like Best Discount Outdoor Gear Websites
What Features To Look For In A Snow Shovel
The features you will be looking for in a snow shovel will depend on what you will be using the snow shovel for. Will you be traveling far distances or hiking a short ways to camp? Will you be in avalanche areas? Will you be using a snowmobile?  The answer to these questions will help you decide what the best snow shovel is for you.
Blade Size And Shape
Every shovel can move snow, but the efficiency at which it can move snow will vary. If you are concerned about avalanche rescue, you'll want something strong, comfortable to use, and can move a lot of snow quickly. If you have a small pack or will be traveling light, you may consider trading being able to move a lot of snow for a smaller blade that will save space and weight. Generally, bigger shovels are ideal for bigger people.
One thing you may notice about different kinds of snow shovels is the ferrule (the part of the shovel that connects the blade to the handle). On some models, the ferrule is extended far from the blade, while other models have the ferrule more integrated into the shovel.
Extended Ferrule Snow Shovel


Extended or longer ferrules may be stronger, but will take up more space and won't be as packable.

Embedded Ferrule Snow Shovel


Embedded ferrules will take up less space and be more packable.
The blade top is one important blade design consideration. There are two types of blade tops: flat and sloped.
Sloped top blade shovel

The sloped top blade makes it more difficult to push down with your foot, which wastes energy.

Flat top blade shovel


The flat top blade makes it easy to plant your foot on top of the blade to push down into the snow. Some blade tops are sharp and may cut into your boots, damaging them.
Another design variation is the blade bottom. There are 4 main types of blade bottoms:
Triangle Blade

The triangle blade, in theory, should be able to puncture through the snow more easily. In practice, however, blades that have more prominent points are more susceptible to twisting.

Rounded Blade


The rounded blade is good for cutting through snow, but it still has some slight instabilities that can lead to twisting.

Flat Blade


The flat blade is very stable when chopping snow, and this blade type has the most stability.

Serrated Blade


The serrated blade offers good stability and is great for cutting through snow.
Handle Type
One feature to consider is the handle. Some handles are extendable, making it easier to reach places deep inside snow caves. Some handles are completely removable, giving you more space saving options.
When it comes to grip, there are primarily three types:
T-grip – This grip is shaped like a T and is held between the fingers, although it may be more difficult when wearing mittens or overmitts. One advantage to this grip is that it light and saves space.

D-grip

 – This grip is shaped like a D and is larger than the T grip. For most people, this is a more comfortable grip and it's easier to grip when wearing mittens. This grip will take up more space in the pack. One consideration is to make sure the grip opening is large enough for your hands.
L-grip – This grip is curved, similar to a vacuum cleaner handle and offers a lightweight option.
Shaft
Shafts may seem pretty straightforward and simple, but there are some aspects that are worth the mention.
Connection: When adjusting the length of a shaft, rounded shafts offer the least resistance. However, round shafts are also more susceptible to rotating. If the shaft rotates, it will require more effort to ensure the holes and alignment pins are lined up. Shafts that are not round, such as oval shafts or squared shafts are more resistant when being adjusted, but don't rotate, making alignment of the pins and holes easier.
Length: A shorter length shovel or shovel without extendability may save some weight, but if the shovel gets any regular use, you'll want to have an extendable shaft. Shorter shafts cause the shoveler to be in more awkward and inefficient positions when shoveling, which is uncomfortable and wastes time and energy. An extendable shaft will be worth the extra weight.
On extendable or telescoping shafts, it's important that there is a strong overlap between the two pieces. This will ensure the shaft does not break under stress. The opening of the shaft should be covered so that snow will not get lodged inside. This may cause issues to the locking mechanism and may transfer snow unwanted snow to your pack. On some shovels, there is an additional grip on the shaft to make shoveling easier.
You may also like Best Tent Footprint
Weight And Durability
If you will be trekking far, you'll be counting every ounce and making sure you have enough room in your pack (sleds allow you to move more equipment easily).
Most shovels are made from aluminum, and you may be able to find shovels made from tempered plastics. When it comes to avalanche rescue, plastic shovels won't be as strong or reliable and aren't recommended. If you are looking for a durable shovel for avalanche safety, be cautious of anything that isn't specified as 6061 alloy with T6.
Additional Features
Some shovels have some pretty neat features. One example is snow saws being stored inside the handle. Other shovels can have the handle be swapped for an ice-axe head.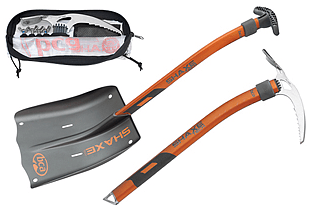 There are also some models where the handle and blade can be oriented so that the shovel acts like a hoe, which is handy for chopping snow or clearing debris.
You may also like Best Lock Laces For Camping
Snow Shovel Reviews
This article will cover some of the best backpacking snow shovel reviews on the market. For a very thorough and interesting review of shovels that were reviewed for avalanche safety, check out the research article entitled Shovels That Span the Divide Between Heaven and Hell by Manuel Genswein and Ragnhild Eide. The article composes a study that was carried out under the patronage of The Austrian Alpine Club.
Black Diamond Transfer 3 Shovel Review

The Black Diamond Transfer 3 Shovel is a shovel designed for moving lots of snow while keeping a low profile. The aluminum blade is has a smooth bottom, giving you clean cuts through the snow. The shaft is extendable for working in deep snow and is also collapsible and completely removable, giving you more storage options for your car or pack. Using the holes in the blade, the shovel can be turned into a sled for emergencies.
This shovel may be fine for keeping in the car, keeping around camp, or a making a base jump, but this shovel should not be used for avalanche rescue due to the durability of the blade. The top of the blade is also sharp, which can ruin your boots when stepping down onto the blade when digging.
B-2 EXT Avalanche Shovel Review
The B-2 EXT Avalanche Shovel is constructed from 6061 aluminum and has a strong weight strength to weight ratio. It packs relatively well having a T-grip and embedded ferrule. The shaft can be quickly attached and removed easily.
Voile© XLM Shovel Review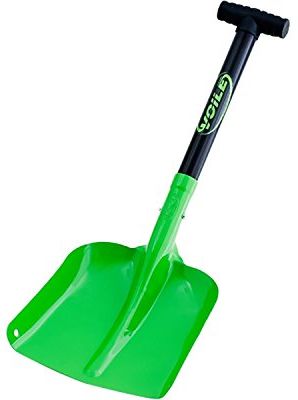 The Voile XLM shovel is one of the sturdiest and lightweight shovels on the market. In independent tests, it was the only shovel that did not yield any damage under harsh conditions. Other shovels by Voile that held up to such tests were the Voile Telepro T6 and Voile XLM Pro.
One downside to the Voile is that is has a short staff and T grip handle, which makes it uncomfortable for some users.

Photo credit: U.S. Army Alaska on Visual Hunt / CC BY