First of all, let's be clear: if you can reuse the outdoor gear that you already have, there is nothing like it. I know that every year outdoor goods companies come out with new products with new-fangled terminologies and thingamabobs that solve problems that you didn't even know existed last year. But most of the time, it is better to know what you are going out with rather than having every feature that the marketing guys are selling you.
That said, outdoor gear wears out quickly, and replacements are expensive. So you need to keep an eagle eye on the best discount outdoor gear websites to save on that extra five percent which can make a difference.
Unfortunately, most such websites are like scams if you don't know where and what to get from. I've spent days straining my eyes on the internet and carefully analyzing what websites are best for getting discounts. 
These are my top 12 websites that offer amazing discounts on outdoor gear. I reviewed them based on a few important features: discounts, return policy, and shipping. So to summarize, in this article I will be giving you: 
Best discount outdoor websites
The kind of discounts you can get, their return policy, customer service, and shipping.
Some Tips and Tricks on how to get discount through other ways
Hopefully, that camping/outdoor gear you have been eyeing much cheaper than you thought!
#1 Steep & Cheap 
Features
Discounts: The best bar none
Return policy: 30 days return with flat $6.99 for unused products.
International shipping: Yes
This website is a Backcountry.com online outlet among their range of sites for big discounts on outdoor gear. It offers great deals on brands, even up to 80% off deals.  This website will provide eco-friendly shipping options and also calculate shipping fees at checkout. They also offer international shipping along with a 30 days return policy only on unused items. The return shipping rate is flat, $6.99. It also provides international shipping. 
In other words, they provide reliable quality products but at a discount. There is one problem, the sizes and styles of certain items are limited because it is a clearance store. We also have a solution for it; you can switch on price alerts on a particular product and wait for prices to drop before investing. 
They offer deals and discounts on great brands like Patagonia and even their own Backcountry products. These deals are frequently changed and are limited. I would suggest you try this website every time you are looking for discount camping gear online. 
One thing this website doesn't do is they don't free ship anything, but the discounts will not let you feel that. One unique feature of Steep and Cheap is their price match policy. Here is how this feature works:
If you find the same listed product on another website for cheaper than steep and cheap, they will match the price.
Even if you found the cheaper option within 48 hours after your purchase, they will credit the difference for you.
They have a Sale Price Guarantee, i.e., if you purchased a product from them and put the same product for sale after a few days (within 30 days of your purchase). All you will have to do is contact them, and they will credit the difference to you.  
Visit the website here: Steepandcheap.com.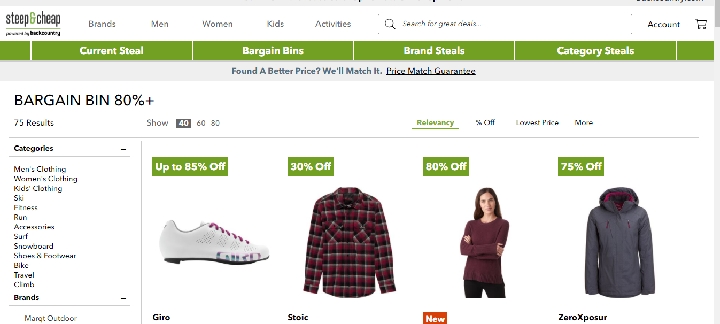 #2 REI Outlet (Recreational Equipment Coop)
Features 
Discounts: Good, but you have to become a member
Return policy: Full refund, one year for unused and 30 days for used products.
International shipping: Yes
REI outlet is probably the biggest outdoor gear store based in the USA since 1938, and so are their deals and discounts. They put their last season's colors, camping gear, and other products on sale. Last season or not, the quality is still REI level. They have free shipping for purchases of $50+ but only in the US. You can easily return or replace a product from their physical stores near you, whether you bought it online or offline. That does mean they don't have international shipping; they do. 
They are a solid competition when it comes to shipping speed and stock consistency. They have a little different return policy than other websites, i.e., they do promise a 100% full refund with a satisfaction guarantee. Unlike other websites, they have their return policy open for one year but only for unused gear. The policy is for 30 days if it's used gear. 
They frequently update the deal and products on sale. They have a virtual outfitting feature, where you can schedule a session with a gear expert and get answers to all your questions. The session can last anywhere from 30-60 minutes over a video or audio call, and the discussion could be about backpacking or gears used in primitive camping. 
They have additional benefits with their lifetime memberships that come only at $20. When you become a member, you will receive emails about new deals and sales and receive dividends from gears purchased with a member-only coupon.     
Visit the website here: REI.com.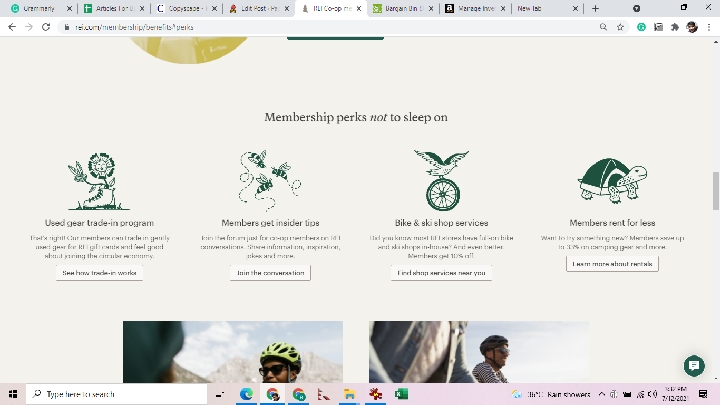 You may also like Complete Guide to Backpacking Snow Shovels
#3 Moosejaw
Features
Discounts: They offer price matches to every other site
Return policy: Returns made in 60 days will have full refunds. The lifetime option will give you store credits after 60 days.
International shipping: Yes 
Moosejaw is indeed a top outdoor retailer, but their LITHIC brand is set on a mission to offer more affordable "enthusiastic" level camping gear to help make your outdoor experiences exclusive.  
The shipping is free (only US) if your bill is above $49 and at $12+ for Moosejaw branded gear. They also provide international shipping free to Canada on orders $199+. They also have a lifetime/60 days return policy, i.e., you will get a full refund if you return within 60 days but for store credits.
They frequently come with exciting deals and updated products. Moosejaw is famous for selling small parts like new tent poles, bike parts, boulder walls, and T-nuts, you name it. They allow you to search for items during a sale. 
Their price matches, you find the same product for cheaper on any US website, and they will give you at that price, and you also earn Moosejaw reward dollars. This reward program is a free program that you select at checkout. Here is how it works:
Every time you purchase from Moosejaw, you earn 10% rewards dollars which are 2.5% for items on sale. 
You can collect these rewards in your account until your next purchase.
You can choose where to use reward dollars, either online or physical Moosejaw store.     
Visit the website here: Moosejaw.com.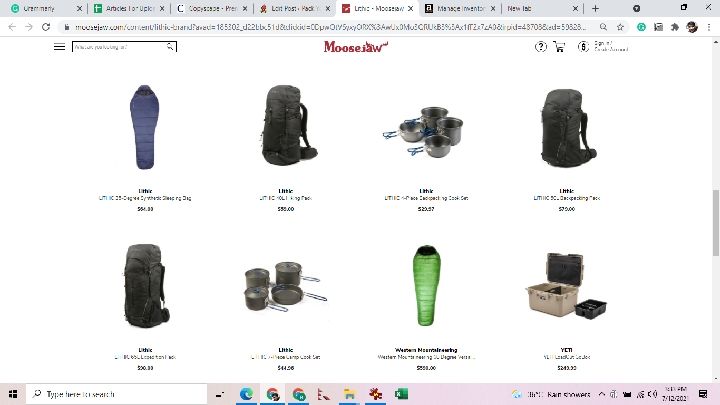 #4 EVO
Features
Discounts: Price match even after purchase (within reasonable limits)
Return policy: return in 366 days for unused items.
International shipping: Yes
Evo specializes in snow sports gear, but they also have a range of tents and sleeping bags that are affordable too. They offer free shipping for orders worth $50+ only in the US. They also have international shipping and a 366 days return policy for unused products with the original packaging. 
They frequently update the deals and products on their sale. They even have a large collection of products that are specially designed for road/mountain bikers. Their snowboard and ski collection is unmatched. Other products involve bikes, bike components and accessories, wakeboards (with accessories), and surfboards.  
EVO also have a price match feature; here is how it works:
Just find the same item on another website(including taxes and shipping prices), and EVO will beat the lower price by 5%. 
Even after you purchased something from them, and then you find the same product at lower prices or you found it on sale. You have to contact them, and then they will credit the difference to you.  
Visit the website here: EVO.com.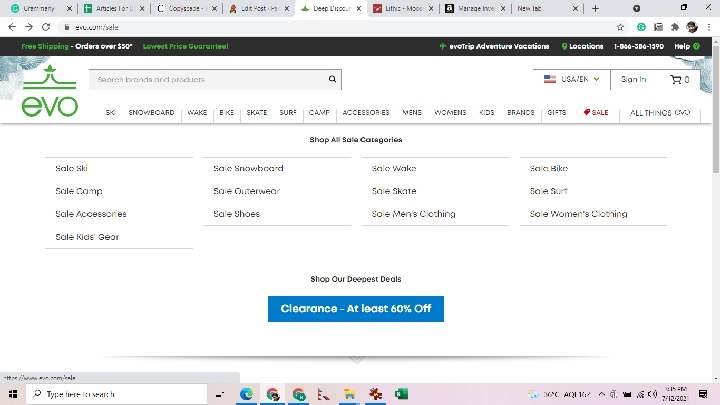 You may also like Ways to Attach an Ice Axe to Your Pack
#5 Gear Trade
Features
Discounts: It's like the eBay of outdoor gear
Return policy: Depends on sellers
International shipping: If the seller agrees
This is one of the websites that cut out the middle seller, and owners sell directly to the buyers through the website. You can get some good deals here, and also, you can sell your old gears so that new gears pay for themselves. 
You can consider this as an eBay but for outdoor gears. You can even get something brand new for a great discount. They also sell returned(used ones) items from websites like backcountry.com.   
One amazing thing about Geartrade is that it drops the price of a product every day until it gets sold. Keep an eye on the item you want, but don't wait too long so that someone else buys it. The rate for selling old gears is 13%.  
Visit the website here: GearTrade.com.
#6 Backcountry
Features
Discounts: They have a nice 50% off section where you can find a lot of good stuff.
Return policy: Lifetime for new, unused products and 30 days used gears.
International shipping: Yes
After REI, Backcountry is second on my list to get outdoor gears. They are always loaded with good sales and especially the sales section on their website. You can search through various brands and types of outdoor gear you want via filters. They even offer to search through a 50%+ off section where you can find deals as good as a steal. 
If you purchase for the first time, we have a code for you to get 15% off your first buy- FRESHOFFTHEGRID.     
They offer free shipping for orders worth above $50 only in the US. They frequently update their sales items and also offer international shipping. They also provide a Lifetime return policy for new and unused gears and 30 days for used gears but for store credits.  
Backcountry is based in Utah and is a homegrown company. They also run a few other websites like Competitive Cyclist, Moto Sport, Steep and Cheap, Berg Freunde, and Europeans. 
Not only are they at the top of their gear games, but they also sponsor events. They have an event of their own called the Healthcare Workers Program that offers a 20% discount on all their gear.
You can easily sign up for their mail alerts for 50-75% off flash sales. The return process is also relatively easy; call in to get your label printed when you reach them or get your label printed from your backcountry account and then drop it off at the mail. They do charge a flat $6.99 shipping rate for US returns.   
Visit the website here: Backcountry. com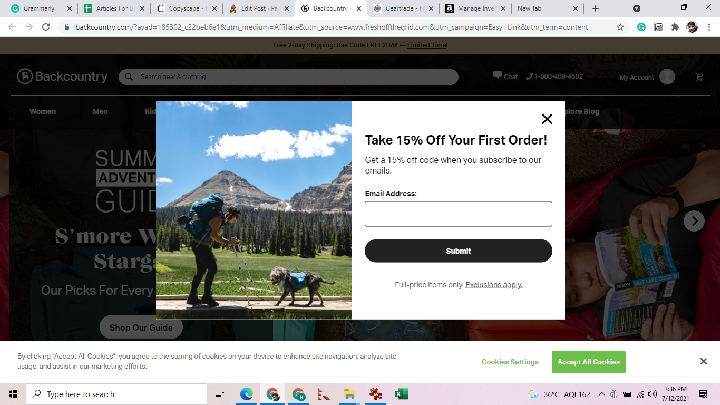 You may also like One Trekking Pole or Two, Which Is Better?
#7 MEC Clearance
Features
Discounts: Wait for their clearance sales
Return policy: Lifetime
International shipping: Yes
MEC Clearance is one of the best outdoor gear websites in Canada. You can even get a 60 % off on your selected products in their Clearance Cabin.  MEC works just like REI (as a coop), but in Canada, i.e., being a member can get you special deals and offers. Just as high quality.
They are free shipping for purchases above $50 within Canada. They have a price match guarantee, where if you find a lower price for the same item within 30 days from the purchase. You can even get to sell and trade old gears on their MEC Outdoor Gear Swap.  
Visit the website here: Mec.ca/clearance. com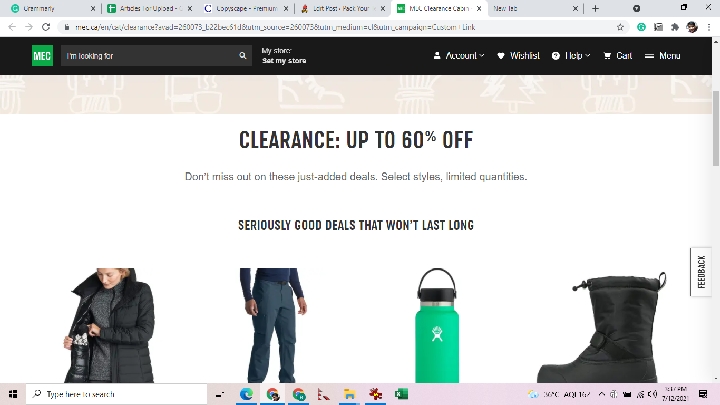 #8 CampSaver
Features
Discounts: Great discounts on winter gear
Return policy: full return in 60 days and lifetime return for store credits. 
International shipping: Yes
Camsaver is a discount website that has name brands on sale. They provide free shipping in the US for orders $49+. They also provide international shipping calculated at the time of checkout and update sales, discounts, and items from time to time.  
They usually sell winter outdoor gear along with hiking/backpacking gear. Currently, the camp saver is focusing on discounts and offers, and sale items. A unique feature is the Campsaver Shed. The Shed is the sale of demo products and vendor samples that will be up for sale at big discounts, and the quality is as good as new but might not come in new packaging. 
They offer a free return policy with a full refund if you return the item within 60 days of purchase. This policy is only applicable to new and unused items and the original packaging and tags. The label is available to be printed on their return page if you request it. After 60 days, you can return the used product but in exchange for store credits.  
You can even earn camp saver rewards that you get once you sign up. You get 5% of your purchase as a reward that can be used in further purchases. 
Visit the website here: Campsaver.com.
You may also like Cork vs EVA Trekking Poles – Which Is Really Better?
#9 Outdoor Gear Exchange (GearX)
Features
Discounts: Second-hand stuff in good condition at a really good price
Return policy: 90 days and 30 days
International shipping: Only in Canada
This website is for second-hand closeout or discontinued gear where you can get your hands on the big discounts. They provide free shipping only in the US for orders of $49+. They also offer international shipping only in Canada, and they update their sales list regularly. They are considered as one of the first websites for online outdoor gear at a discount.
GearX. Com is the name of the website launched in 1996 by Outdoor Gear Exchange. You can return new and unused products within 90 days of purchase, original packaging and tags included for their return policy. They will require you to fill a return form without flat rate shipping prices. They offer 30 days return for used gear in exchange for used gear.
They also have a price match; here are the conditions:
You will have to find the exact product for cheaper before you buy it. 
If you already purchased it and then found out, just let them know within 48 hours, and they will refund the difference amount.   
Visit the website here: GearX.com.
#10 (EMS.com) Eastern Mountain Sports
Features
Discount: Good discounts on accessories and spare parts
Return policy: Within 60 days- full refund, one year- store credits
International shipping: only in Canada
This outdoor company has been there since 1967. They offer shipping at a flat $7.99 that too only in the US. their international shipping is only in Canada. They do update their sales and discounts frequently. This website can give competition to sites like REI and Backcountry as well. 
Their selection of items ranks on top, with their massive collection of accessories and loose parts of the gear. You have access to both the sales page and outlet page to get you discounts up to 70 % off. 
When it comes to shipping prices, they do not provide it for free; they charge you $7.99 if you live in the US. The price is $12.99 if you are in Alaska and Hawaii. They even have 2-day express delivery at the rate of $19.99 but only applicable to a certain area. They ship to Canada (for $27.99) and APO/FPO addresses as part of their international shipping. 
Return policy is quite easy; you can return the new and unused items with packaging and tags within 60 days only for a full refund. Anything returned after that should be done within a year, and you will get store credits worth the full price of the item. The members do not have to get a receipt for returns. 
They have a reward system, and here is how it works:
You will get 1 point for each dollar spent on the purchase. 
When you collect 200 points, that will be counted as $10, and you can use it for future purchases. 
The members also get birthday rewards with offers and events made only for them. 
Visit the website here: EMS.com.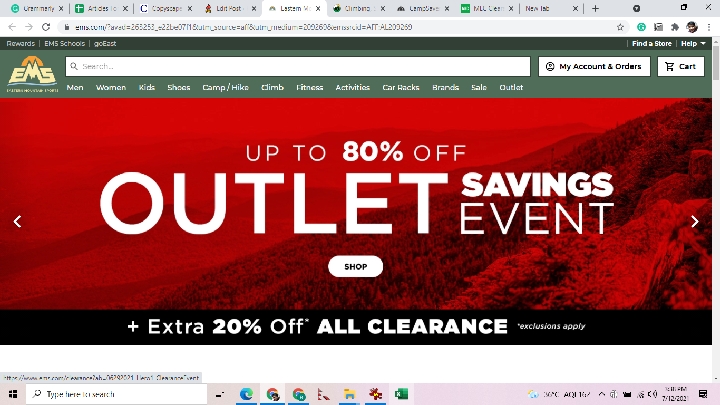 You may also like How to Attach and Use the Bungee Cord on Your Backpack
#11 The Clymb
Features
Discounts: Get a membership for great offers
Return policy: 90 days
International shipping: Yes
Clymb offers daily and weekly deals on outdoor and brand-named gear. They do not have the best and vast collection, but the deals are worth a try, especially if you are in a hurry. 
They have a membership system where you can sign up for free, and then you can get up to 80 % off from some items. 
They price the shipping when you place the order by calculating the charges on each item in your order. 
Although most of the items include clothing, they do have some great options for hiking, climbing, and snow sports gear. 
Their generous 90 days return policy allows you to return in exchange for store credit with free shipping on return. If you do not choose the store credit option, you will have to pay $8.95; if the item is from another brand, it is $7.
They also have a clearance page where you can get even better discounts. The climb also organizes these adventure travel packages around the world. The adventures include kayaking the San Juan Island, Inca Trail backpacking, surfing in Portugal, to everything. You can read more about their adventure trips on their blogs with travel stories. 
Visit the website here: Theclymb.com.
#12 Sierra Trading Post
Features
Discounts: Factory seconds
Return: 40 days for new and unused, a lifetime for used ones. 
International shipping: Yes
This company is a closeout that purchases factory seconds and overstocks from the outdoor industry and then sells them at a discount to the buyers and hence is called Sierra traders.
They offer shipping rates of %17.95 on orders above $200. A little bit expensive as compared to others. You will find a detailed specs list of each time available on the website, and when compared to other sites, the prices are always low. 
Visit this website here: Sierra.com.
You may also like When Does Camping Gear Go on Sale (And More Saving Tips)
Other Great Ways To Get Deals
Craigslist
Can you get cheap and even free camping gear on craigslist? Yep! Though there are a few tricks that can help. What you'll want to do is go to your local Craigslist site and do a search for the gear item you want.
To find free gear, in particular, you'll want to use a variety of search terms when searching. Here are some words to try:
The trick here is not just to search for "camping" and "hiking", but for more specific items as well. In my local area alone, I was able to find EMS branded backpacks and even a snow saw in the free section!
Garage sales can also be a hit too. Many people list items they are selling at their garage sales which include camping gear.
Facebook Groups and Facebook Marketplace
There are two ways to get camping gear on Facebook:
Facebook Groups
Facebook Marketplace
The first and better way is to use the gear exchange groups. People sell all sorts of gear in these groups, and a lot of gear is in good or fair condition.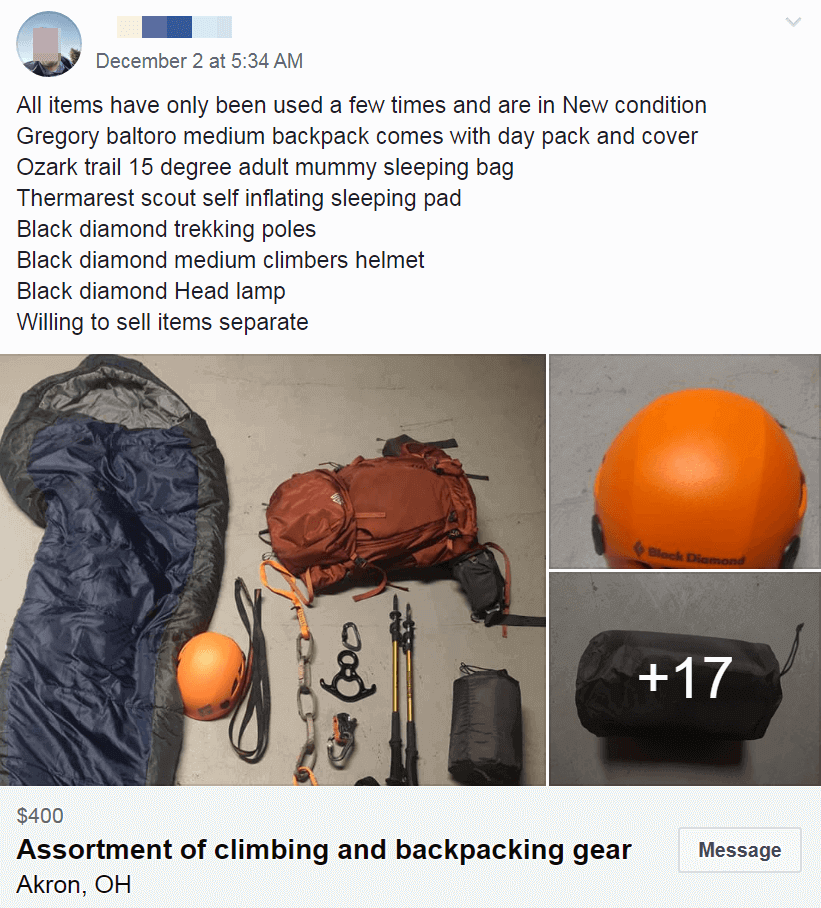 How do these groups work? If you are looking to buy items, you can browse through the feed, use the group's search function, or you can make an ISO (In Search Of) post like "ISO 70L backpack". If you are browsing through the group feed and find something you want to buy, comment on the post saying you want to purchase the item. Transactions are then handled individually outside the group between the buyer and seller.
Each gear exchange group will have its own rules, so be so to read them before you start interacting with the group.
Some of my personal favorite gear exchange Facebook groups are:
Bearfoot's Hiking Gear Flea Market – This is a very well run and moderated group with over 28k members! The group occasionally has PIF (Pay It Forward) posts, where members give away free gear items to those who need it.
Outdoor Adventures Hiking Gear Flea Market – Another very active group with over 17k members and lots of gear items on sale. Definitely another group to check out.
GearRat Outdoors – A public group with 14k members and with great gear. Everything from bicycle fenders to backpacking hot tent stoves.
The second popular way to buy outdoor gear on Facebook is to use the regular Marketplace. This is somewhat limited because unlike the Facebook groups, you are searching in your local area only. People won't always want to ship items to you and you might have to sort through a lot of nonrelevant items before you find what you want.
REI's Garage Sales
What are REI's Garage Sales? REI Garage Sales are sale events on used and returned gear items. These sale events are held at local REI stores and aren't held online. To participate in REI Garge Sales, you must be an REI member.
These events are quite popular so make sure you get there super early to get the best deals. To find out when a sale is happening in your area, see the REI Garage Sale schedule.
REI Online Used Gear
Another place to buy used camping gear online is from the RIE Used Section. The used section sells camping gear, often in excellent condition, for about half price.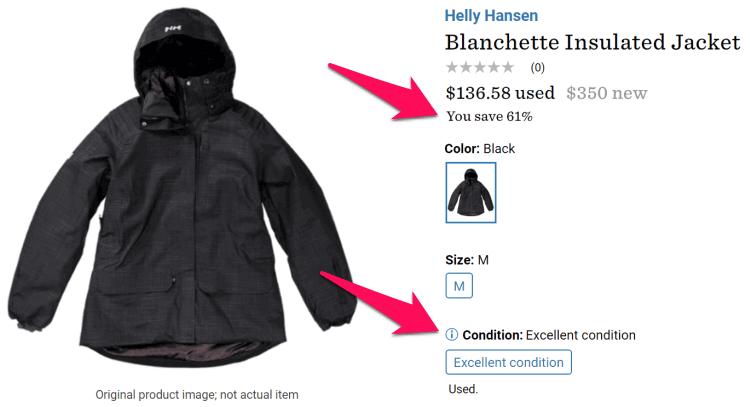 You may also like The 5 Best Lock Laces For Camping
Patagonia Worn Wear
Another great place to find used gear that is professionally inspected is Patagonia Worn Wear. Patagonia Worn Wear is a program where people trade in their used gear that is then sold online.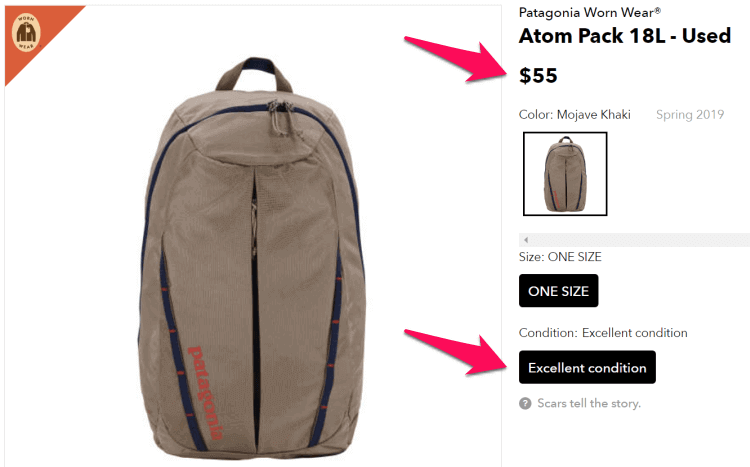 What is really good about this program is that Patagonia takes pictures of every piece of used gear, so you know exactly what you are getting.
AliExpress and Wholesale Camping Websites
If you're looking for mass quantities or basic items like carabiners, hand warmers, or kitchenware, then AliExpress and Alibaba are two websites to check out. These are marketplaces that connect consumers to direct manufactures. While you won't be able to get name brand items, you can score some good deals.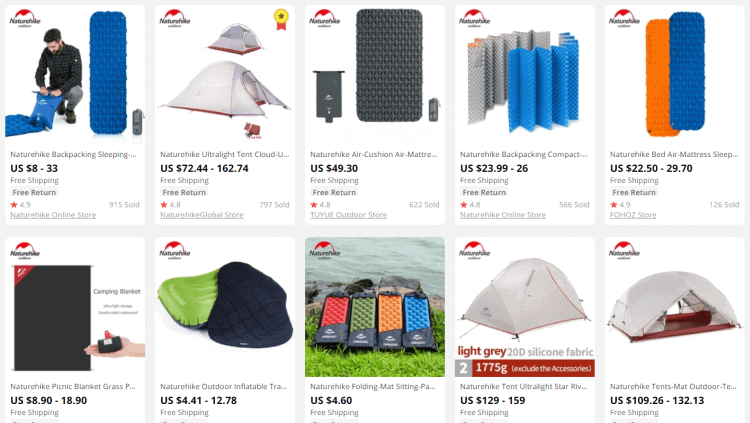 Just be aware, some items are cheap for a reason. Be sure to use the search filters to search by rating and most orders.
You may also like Ways to Carry Cellphone When Hiking
Non Buying Methods
Renting Gear
While I like to have my own gear, if I know I'm only going on a special trip, then I'd much rather rent gear than buy it. Buying a $300 sleeping bag for a trip that you'll never use again seems rather much!
Lots of local outdoor gear companies like REI and EMS will have gear rentals. And it's not just limited to sleeping bags and tents. REI even has rental gear for climbing helmets, car racks, and mountain bikes.
Borrowing Gear
Going on a trip and don't have a piece of gear you need? Asking your friends and family is one of the cheapest options. Even if you don't know many people who do go camping, making a post on Facebook asking to borrow gear just may do the trick. People are often more generous than you think if you ask.
Using Cheap Alternatives
You don't always need to have the fanciest gear. Places like TJ Maxx and Wa
Other Sites
Amazon – Not everything needs to be name brand. There are plenty of quality alternative brand products on Amazon. I like to look for products labeled "Amazon Choice", which feature highly rated, well-priced products available to ship immediately.

Campmor – These guys were born in a garage in 1978, way before the internet was invented, and they are still known as one of the best camping stores around. They generally have good deals and you may even find an extra coupon online.
GearScan – GearScan is a site that searches other sites like BackCountry.com, REI, and Steep and Cheap for deals. New deals are posted every 10 minutes. A great way to shop for sales specifically.
GearTrade – Looking for the eBay of outdoor gear? Then these guys are it. This is a 'buy and sell' marketplace for all things outdoor.
The Clymb – What is The Clymb? The Clymb is a unique outdoor flash sale site that offers flash sales up to 85% off name brand items. These flash sales are often for a limited time. The Clymb also offers outdoor events, like 8-day treks through the Alps and expert guided bike tours through Maine.
SteepNCheap – Looking for absolute steals on outdoor equipment? Steep and Cheap is one of the most popular places for discount camping gear, offering up top 90% discounts on gear items. They also have a $10 bargain bin.
Sierra Trading Post – When you think of discount camping gear, this is one of the first retailers to come to mind. Sierra offers brand name and other high-quality outdoor and activewear apparel, footwear, and gear that are 20%-60% below full-price retailers'. Check them locally or visit their online store.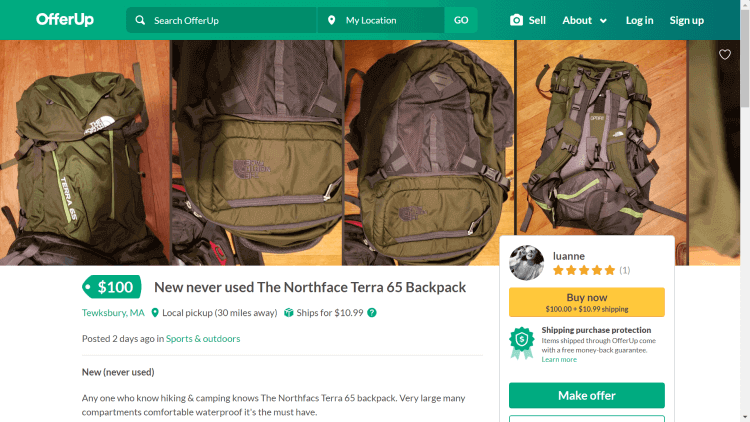 Finding Coupons
Retrail me not https://www.retailmenot.com/
Waiting For The Right Time
On average, camping and outdoor gear are around 24 percent off in June. The month is prime time for campers to capitalize on two holidays' worth of sales: Father's Day falls at the beginning of the month and stores gear up for Fourth of July at the end, Skirboll says.
If you've waited until mid-summer to plan your trip, you'll find that camping gear is an average of 20 percent off, according to RetailMeNot. "Shoppers are still able to find strong offers in August if they do their research, especially in the back half of the month leading up to Labor Day Weekend sales," Skirboll says.
You may also like Best Headlamps For Camping
Conclusion
I hope you liked my list of the best discount outdoor gear websites. I am not saying that you should look for second-hand or discounted outdoor gear, but it would not hurt to get your favorite gear on a budget.  
Let us know if you have any other websites or tips and tricks that would offer even better discounts in the comments section. And please share this article with your family and friends who are also looking for outdoor gear for camping.
Happy Camping!