Sometimes it doesn't make sense to carry your ice axe in hand. Knowing how to carry or attach an ice axe to your backpack is important. By attaching the axe correctly to your pack, you will prevent further injuries during falls and protect other team members during sudden movements.
There are two ways you can carry the axe on your pack:
The first way is by using the loops and traps that are on a lot of winter and overnight backpacks.
When attaching the axe to your pack using the straps, it's important to keep the pick facing downward and pointing to the center of the pack. It's also best to keep the rubber or leather guards on for further safety.
2. The second way of carrying the axe is to carry the axe between your back and the pack so that the spike faces downward. Carrying the axe this way should be temporary and done on short stretches when you want your hands free. With this carrying method, you will be able to access the axe when you need it. When you are about to take off your pack, remember to first remove the axe, so it doesn't fall.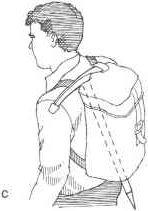 We also wrote guides on how to attach a bungee cord and sleeping pad to your backpack.
Other articles that might interest you: