For those who like to shop, you know it's all about finding the right gear deals at the right time. The trick is being able to watch for sales and know when those sales happen. If you're asking "when do tents go on clearance?" or are just looking for camping sales, I'll let you in on some secrets when camping gear goes on sale and some tips for finding cheap gear.
When does camping gear on sale? Camping gear goes on sale at the end of the season. Summer gear will go on sale around September and winter gear will go on sale around March. During this time, many merchants discount items to make room for new inventory. Black Friday and Cyber Monday also offer huge discounts.
The Best Time to Shop for Camping Gear
The best time to shop for discounted camping gear is when the season ends. This is to make room for new inventory for the next season, especially brick and mortar stores like REI and EMS. However, there are a few other times of the year when you can expect even bigger savings…
At the End of the Season
Summer items like tents, shorts, etc, typically go on sale when the season is over, usually around September (see when camping seasons starts and ends). As for winter camping gear like snowshoes, boots, and jackets, these items are usually on sale around March.
You may also like How Long Should a Camping Trip Be?
Black Friday And Cyber Monday
Black Friday and Cyber Monday (and beyond) is another time you may want to wait for too. You'll want to shop online during this time so you can easily compare deals between merchants.
I contacted Backcountry for when they have their best deals and this is what they had to say:
Generally, the biggest sales are around Black Friday and Cyber Monday, but I would also take a look at our clearance site, www.steepandcheap.com for the best sales year-round! 

Backcountry Customer Support
At the End of the Year
A lot of times you will find stores that have sales during holidays and at the end of the year. Stores like EMS, REI, and BackCountry all have year-end clearance sales up to 50% off.
Here is one example of an end of year sale going on with REI: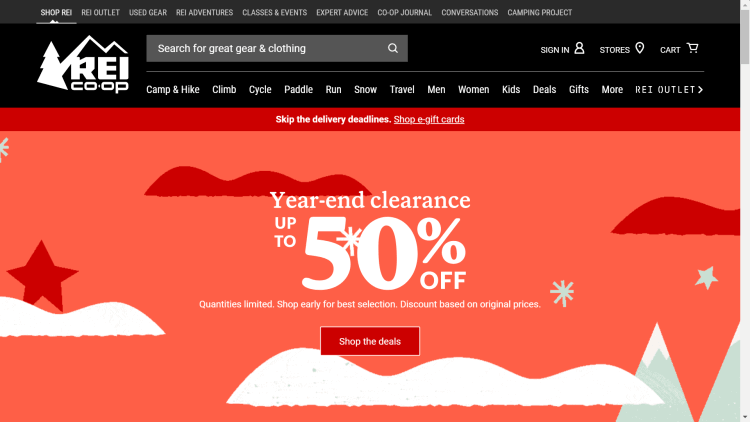 You may also like Best Discount Outdoor Gear Websites
Subscribe to Mailing Lists to Stay Informed
Lots of merchants often have sales throughout the year, especially places like Bass Pro Shops & Cabella's. The best way to be in the know about these sales is to subscribe to their mailing list. These emails might eventually get a little annoying, but hey, you can always unsubscribe and it will save you a lot of money on new gear.
Finding Coupons
If you're buying something online, you should always look for coupons. There are a few ways to find coupons online:
Honey App – Honey is an app that automatically applies coupons when you are shopping, even when you think there aren't any! You can download it for your phone or install it as a chrome extension on your desktop.
Ask – You might be surprised what kinds of discounts are available if you just ask. Places like EMS provide 10% discounts on new items for members of Veterans Advantage.
Find coupon pages – Many sites have coupon and sales pages that list all the discounts you can get. Not sure how to find their coupon page? I've gathered a list for you below.
Coupon pages:
You may also like The 5 Best Lock Laces For Camping
More Tips on How to Find Camping Gear on the Cheap (And Even Free)
Well, they don't call us 'gear junkies' for now reason. Those who love hiking and camping often love gear, which doesn't make our wallets happy (see my guide to hiking on a budget). I'll share some tips I've learned on how to find cheap camping gear, and even how to get outdoor gear for free.
1. Shop Discount Stores
Aside from discount stores like Backcountry, other sites like SteepAndCheap offer flash sales on gear that can be as much as 80% off. Thrift stores can be great for clothing especially.
2. Use Craigslist and Local MarketPlaces
You'll need to keep an eye out on these, but lots of people are selling used gear in great condition on places like Craigslist, Facebook MarketPlace, Facebook Gear Exchange Groups, Ebay, and more. Sometimes you can even find free camping gear in the free section of Craigslist.
3. Ask About Used Gear and Returned Items
Box stores sometimes resell used and returned items that are in good shape. They might not always be immediately obvious so make sure you ask.
In Conway NH, International Mountain Equipment has a downstairs consignment shop with lots of great gear. They make sure everything is in good shape and working properly.
Do you have more tips for shopping for discounted camping gear? Let us know by leaving a comment!