Let us talk about the best lock laces for camping. For a quick run-through, go through the table below:
Best Lock Laces For Camping
Special Features
Stainless steel anti-rust locking system, Reflective surface.
7-stranded durable laces.
Strongest lock and springs
No one likes getting loose laces, especially not on a camping trip. Loose laces are time-consuming and even dangerous because they might cause you to trip and fall.
How can you save the time and effort spent on tying laces time and again? You can do so by using lock laces for camping. 
Many lock laces are available in the market, and you will be surprised to know that all lock laces are not the same! Each has certain features, strengths, and weaknesses. I pored through nearly 20 of these products over 5 hours and selected the four that I am sharing below.
Lock Laces® is the original and most popular brand. They have custom-built products with consistent, high quality. From their range, the flagship Lock Laces® elastic no-tie shoelaces are the best ones, as per my research. 
In this article, you will learn:
The four best lock laces for camping
Buyer's guide on what to look for in a good no-tie lace
Answers to questions
Hopefully, the lock laces that you will buy next!
So, let's dive right in.
What To Look For In Lock Laces
When buying no-tie shoelaces for camping, you need to ensure that it has some basic features. Some features to look out for are as follows:
Elasticity
You must see the stretchability of the no-tie laces before buying. During camping, the shoes will go through multiple challenging trails. Good stretchability is essential for maximum support to your feet. Secondly, if you are elderly or have wide feet, the elasticity of no-tie laces gives you a lot of comfort as compared to normal ones.
Length
Most no-tie laces on the market are 48 inches in length. If you have oversized feet (size ten and above), you should check the length carefully because sometimes they will be too small for your shoe. Lock Laces is the way to go because they are stretchable upto 72 inches.
Diameter
Check the diameter of your shoe eyelet carefully, especially if you are buying the laces for a kids' shoe. Sometimes the eyelets are too small as compared to the diameter of the laces.
You may also like 7 Ways to Carry Your Tripod Hiking
Durability
I am sure you would not want to keep purchasing no-tie laces after every camping trip. So you need to make sure that your camping laces are durable enough to last the wear and tear of multiple camping trips. Check the material with which the lock and clip are made and how strong the spring is. Also, check if the laces are waterproof.
Reflective
If your no-tie shoelaces are reflective, that's an added safety plus, especially for trails and hikes during the evening.
Easy Installation 
You surely do not want a complicated installation process for your no-tie laces. Not all no-tie shoelaces are easy to install because some have smaller locks and others have clips that are hard to attach. Look out for remarks from other reviewers online to check if the installation of the laces is easy so that you can use them on the go hassle-free and without spending much time.
Budget
Sometimes there are multipacks of these tieless laces available from different brands. If you require more than one pair, you should buy multipacks that will be budget-friendly.
You may also like 6 Ways to Carry Cellphone When Hiking
The 5 Best Lock Laces For Camping
#1. Lock Laces® Elastic No Tie Shoelaces: Best Overall
Features
48 to 72 inches length
6-strand laces
0.08-inch diameter
Adjustable tension
Compatible with sneakers and shoes
Available in 8 color variants
Pros 
Simple installation.
Stretch-fit, elastic. Easy to install.
Durable six-strand laces
One-size fits all
Lifetime Guaranteed
Cons
The lock can be a bit tight sometimes.
Details
Durable
These no-tie laces have a six-fiber design, interwoven together to give you a very durable product.
Smaller Diameter
One thing that I love about lock Laces® is that they have a smaller diameter than other products on the market. You can fit them on almost any shoe, including kids' shoes, because they will fit even in smaller eyelets.
Easy Installation
One of the reasons why Lock Laces® is the industry leader and continues to be the first choice of almost every camper is the ease with which you can install them. Apart from tying the laces themselves, there are just two extra steps, and the whole thing takes hardly four to five minutes. Watch how easy it is yourself:
Elastic Design
The stretch-to-fit nature makes it easy to use on any foot size.
Water-Resistant
These laces are water-resistant. You don't have to worry about the laces becoming wet and therefore difficult to open during the rains.
You may also like Best Discount Outdoor Gear Websites
#2. AMLY Elastic No Tie Shoelaces: Value For Money
Technical Specifications
48-inch laces
0.12-inch diameter
High elastic strength.
Waterproof.
Stainless steel anti-rust locking system.
Reflective surface.
Elastic strands – Adjustable tension.
Pros 
The laces are waxed for waterproofing. It makes it easier to open and close them during rains
Stainless steel clips ensure a firm grip.
The reflective surface on the laces adds a layer of safety while camping at night.
Amly gives you an extra locking clip.
Super value for money. Two pairs at nearly the cost of just one.
Cons
Despite Amly's claims, some users have mentioned that the lock is hard to open. 
Details
Strong Lock Springs
The lock spring on these no-tie laces has been designed with anti-rust stainless steel. They will endure many camping trips, and despite being strong, they are easy to open as well.
Reflective
These no-tie laces have reflective designs on them. Reflective shoelaces add a layer of safety to you, especially if you are moving around at night. 
Reusable
You can reuse the product by opening the clip with the help of a sharp object such as a screwdriver. Opening and reinstallation of the clip are quick and easy. The below clip shows how to do it:
Tight fit
On installation, this product creates a tight fit on your feet, making it a perfect camping accessory. Be it for kids or adults; this no-tie lace is a perfect fit for all.
Beautiful Colors
One thing I love about this product is the colors and designs that you can get. It is a great option for those of us who wish to keep our style while camping.
#3. Lock Laces® Premium Elastic Boot Laces: For Camos
Technical Specifications
7-stranded durable laces.
0.10-inch diameter
Stretchable from 72 to 108 inches
Waterproof
Available in 4 variants
Compatible with Camo boots
Pros 
It is suitable for heavy-duty boots.
Comfortable for the foot always by reducing tension on the feet.
Easy installation makes it a hassle-free alternative to traditional laces.
Stretch-to-fit laces.No matter how big your boots are, the 72-108 inches strands will fit.
Cons
Some reviewers mentioned that the lock gets stuck at times, and it becomes difficult to open them if needed.
Details
Waterproof
If you camp mostly on damp campgrounds or in the rainy season, it is a great idea to purchase these lock laces. They are certified waterproof, so you don't have to worry about them corroding due to rain. Neither will they let water into your shoes.
Durable
These laces have seven strands which makes them very strong. The locking lace can last you for many camping trips without degrading in quality.
Quality
Lock Laces® guarantees their products for the life of your boot. If you ever have a problem, you can get them exchanged very quickly.
Easy installation
Easy installation (explained earlier) makes it a good buy for kids and adults alike. 
You may also like How to Attach and Use the Bungee Cord on Your Backpack
#4. RJ Sports Elastic Tieless Laces: Strongest No-Tie Laces
Technical Specifications
48 inches length
0.09 inches diameter
Available in 21 color variants
High elasticity
Waterproof
Compatible with sneaker and ankle-tops
Pros 
RJ sports no tie laces have larger, stronger locks and bigger springs. This is great, especially if you have a big
These laces are more elastic than competitors. 
Wide variety of solid colors that I could not find in other competitors
Friendly customer support makes sure you are 100% satisfied with the product.
Cons
The length is a bit small, especially if you have a large shoe size. They could have made them a bit larger than the standard 48 inches.
Details
High Elasticity
What most people love about this product is that it's a lot more elastic than other competitors. This is particularly important for the elderly, who may find it difficult to stretch the laces when tying them.
Heavier Locks
Another thing that sets these lock laces apart is their locks. These are much bigger and use larger springs than others, including Lock Laces® themselves. While it does tend to make them difficult to adjust, these locks will not let your laces slip out at all, so once you have the perfect fit, you almost never have to adjust them, no matter how active you are on the campground.
After-sales support
These laces have great after-sales support, as mentioned by many online reviewers. The manufacturer aims at providing 100% product satisfaction to all their customers. 
#5. UGY Elastic Locks Shoelaces: Most Stretchable
Technical Specifications
48 inches length
High elasticity
Water-Resistant
Reflective
Available in 22 color variants.
Compatible with sneakers
Pros 
Super stretchable elastic
Strong buckle and clip, with high precision molding.
One of the largest colors ranges that I have seen.
Cons
There are no instructions on how to install them
The cam buckle does not open easily at times.
Details
Stronger Buckle and Clip
These no-tie laces use high-precision molded buckles and clips, which makes them stronger and less prone to breakage.
Strong Elastic
These laces are quite stretchable. You can see that adjusting them is not going to be a problem in this video:
Reusable
Unlike many other tieless laces, this one from UGY is reusable. You can remove the clip easily with a ½ inch screwdriver and trim the lace to reuse it. 
You may also like Best Safe Tent Heaters
Frequently Asked Questions
Q: Is it necessary to have elastic no-tie laces for camping shoes?
Ans: Most no-tie places for camping have elasticity to some extent. However, it is not necessary to purchase elastic no-tie laces. Non-elastic no-tie laces for camping shoes are also available in the market, and they serve the purpose just right. 
Q: Are tieless shoelaces suitable for all types of laced shoes?
Ans: Most tieless shoelaces are a perfect fit for one and all. However, there is a size difference when it comes to adult and kids shoes for obvious reasons. Based on who you are buying the laces for, look for the features of the no-tie laces.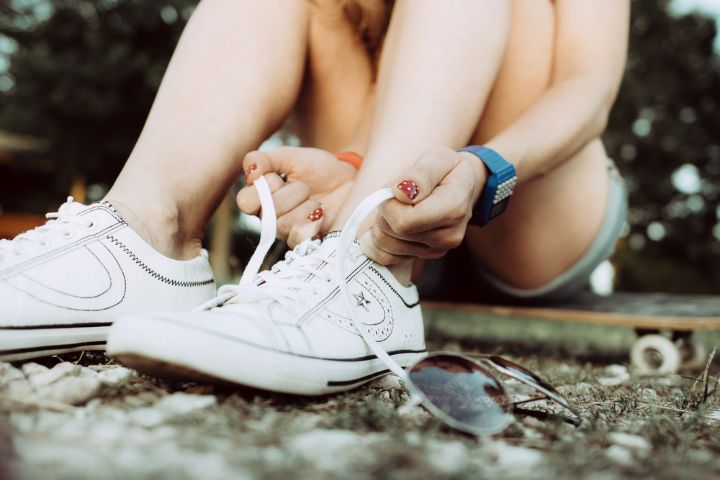 Q: Is there a standard size for the tieless laces?
Ans: Most laces come in length 48 inches and diameter about 0.09 inches. That is a standard size that fits all. You can use the clip and trim the lace as per your requirement. 
However, if you have oversized shoes, you must check out the size availability of the no-tie laces at which you are looking.
You may also like Best Tent Footprint
Wrap Up
Choosing the perfect lock laces for camping may be time-consuming. You need to purchase these shoelaces based on the requirement, budget, and features you wish to have. Here we have discussed some of the top-selling lock laces and the reasons to buy them. Purchase the best lock laces for your next camping trip and save time and effort of tying loose laces.