If you are hiking on snow, then the right footwear can give you comfort and warmth. You can forget about your feet and concentrate only on walking. That is why you need to choose the proper footwear during hiking. 
Hiking boots, as the name suggests, are perfect for hiking. You can use these boots in all weather conditions. They are available in the market in all shapes and sizes, and they are the de facto choice for most hikers. 
Snow boots also have good insulation properties, and they are waterproof. So if you are walking on thick snow, mud, or in the rain, snow boots will protect your feet and keep you warm. But unfortunately, they don't have great traction (well, most of them). So then, are snow boots good enough for hiking? Can you hike in snow boots? If you already have a nice pair of snow boots, do you need to go out and buy a separate hiking shoe, just for the summers?
Let us discuss these questions and, once and for all, decide which shoes are the best for hiking.
Are Hiking Boots And Snow Boots The Same?
No hiking boots and snow boots are different from each other. Let's discuss each of the boots individually.
Snow Boots
Snow boots are specially designed to walk in snow. But besides that, you can also walk in thick mud with them. They are 100 percent waterproof and insulated. On the bottom of this boot, you will find rubber soles that do not allow water to enter into the boots. 
You can clean the lower portion of the boot quite easily. The upper portion of this boot is slightly extended up to the calf to protect you from snow. Snow boots have a tight cuff that will not allow snow and freezing air to enter your feet from any direction.
Most snow boots consist of leather and nylon to provide comfort to your feet. You will indeed feel warmer by wearing them.
You may also like Snow Blindness: Symptoms, Treatment, and Prevention
Drawbacks Of Snow Boots
The snow boots seal your feet from all sides. So they can cause your feet to sweat if you wear these boots in the summer. Excess sweating may cause itching in your skin or rashes. To avoid this, you need to choose socks that have moisture-wicking capability.
Another drawback of these boots is they are very heavy. Although these boots provide warmth to your feet, wearing them for a long time can become uncomfortable.
You cannot walk for long distances while wearing snow hiking shoes. They don't have good traction. So you can slip on any uneven surface.
Hiking Boots
Hiking boots are designed to grip the ground well. That's why you can travel for a long distance while wearing them. You can use these boots both for climbing as well as walking. So, they are best for any outdoor activity. The hiking boots are available in insulated and non-insulated versions. So choose the hiking boots according to your preferences. These boots are lightweight. So, it becomes easier for you to wear for a longer time.
Drawbacks Of Hiking Boots
The hiking boots do not have support near the ankle. Again, they are not entirely waterproof. So you will feel uncomfortable if you walk on thick snow or mud. The snow will enter into the boots and will add extra weight. So, it becomes difficult for you to walk.
Winter Hiking Boots
Winter hiking boots are slightly different from regular hiking boots. A winter hiking boot can be of three types, i.e., mountaineering hiking boots, insulated hiking boots, and Pac boots.
Let's discuss the basic properties of winter hiking boots.
#1. Waterproof
The winter hiking boots are waterproof. They prevent water from entering your feet, which can cause frostnip and frostbite. Frostbite is a condition that causes the upper layer of the skin of your feet to freeze. The frostnip may numb the skin of your feet. Both the conditions require medical attention, and it needs several days to recover.
#2. Insulation
The ability to tolerate cold weather varies from person to person. It depends on various factors like age, metabolism, health, and various others. Insulation helps to protect your feet against cold. The winter hiking boots can have insulation in between 40 to 800 grams. You can choose the insulated winter hiking boots according to the temperature of your locality.
#3.Sturdy
The winter hiking boots are sturdy near the ankle. The soles of these boots consist of rubber and have good grip features, which enables you to hike for larger distances.
You may also like Can You Hike in Running Shoes?
What Things Should You Look For When You Buy A Winter Hiking Boot?
It is the tongue of your winter hiking boot to prevent the water or snow from entering your boot under the laces.
#2.Toe Cap
The toe cap in winter hiking boots helps you to wear micro spikes and crampons.
#3.Removable liners
It is an excellent feature in winter hiking boots. If your boot gets wet in winter, then you can remove the liners and allow them to dry completely. If there were no removable liners, it would not be easy to dry your winter hiking boots completely.
#4.Heavy Weight
The winter hiking boots are a bit heavier than your regular hiking boots. It is so because of the insulation thickness, material on the sole, and waterproofing capability.
But in the market, you can find light winter hiking boots. The people who are mountaineers or bag packers prefer to buy these boots.
#5.Proper Fit
The winter hiking boots which you intend to purchase should be comfortable, warm, and cozy. It should fit on your foot correctly so that you can walk large distances. If your winter hiking boot is too tight, it may stop the blood circulation on your feet and cause pressure points. As a result, your feet will hurt a lot. There may form blisters which can be painful.
Some people have bigger feet or swollen feet. So there should be at least some space to accommodate the expanded feet. So always try to purchase boots after trying them in your local shops. Your winter hiking boot should be too loose or too tight.
Your feet mainly swell to the maximum in the evening. So you can try winter hiking boots in your local shops at this time to choose the proper footwear for you. While purchasing boots, try to buy hiking socks along with them to provide you comfort during winter.
You may also like What Do I Need to Get Started Snowshoeing?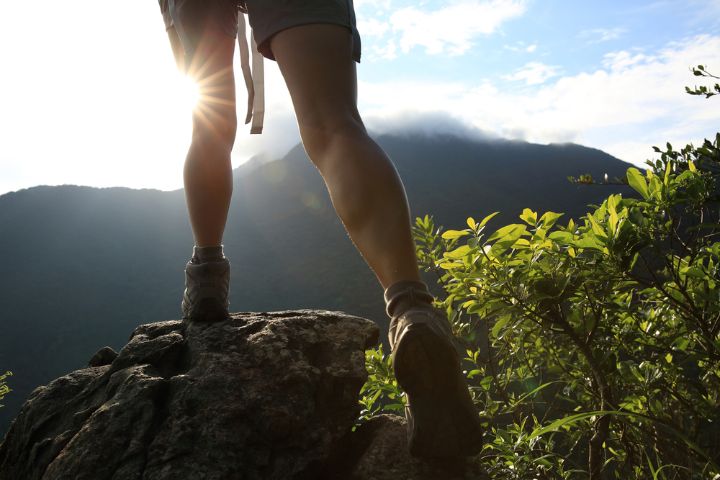 Winter Hiking Boot Accessories
#1. Wool Socks
You can purchase thick wool socks. It has moisture-wicking capability. Again it has good insulation. So you will feel warmer after wearing these socks.
#2.Gaiters
You can easily attach gaiters at the top of your boot. They are available at different heights and protect your winter hiking boots from mud or snow. Even they keep mosquitoes and other insects away from you.
#3. Crampons
If you are interested in mountaineering, then you need to purchase winter hiking boots, which go well with crampons.
#4. Microspikes
Attaching microspikes on your boot helps to have a good grip on snowy surfaces.
#5. Waterproof Coating
Some winter hiking boots have a waterproof coating which prevents the water from entering the boots.
You may also like Do Hiking Boots Work in Snow?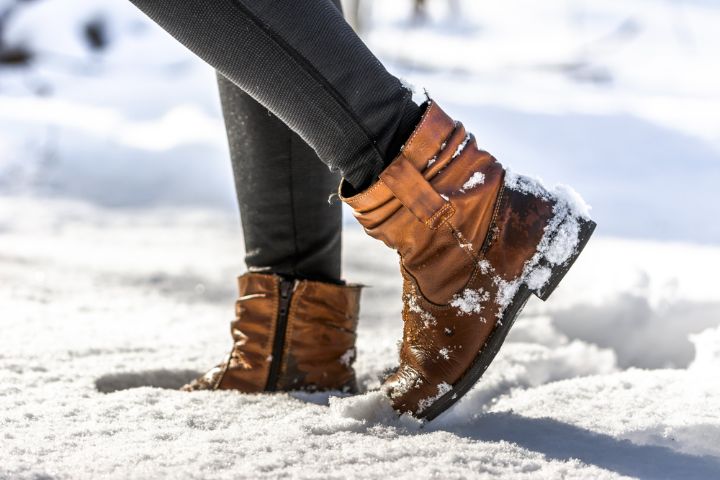 Frequently Asked Questions
#1. Do I need insulated boots for hiking?
Yes, you need insulated boots for hiking. Hiking can involve all types of temperature, and sudden changes in weather are quite common, especially in hilly areas. So it's good to have insulated boots to keep you warm.
#2. Do you need waterproof hiking shoes?
If you want to hike in the rainy season, on muddy paths, or snowy areas, you surely need waterproof shoes. But if you intend to hike only in dry areas, you may not require a waterproof hiking shoe.
#3. Are hiking shoes slip-resistant?
Yes, hiking shoes are slip-resistant. They have good traction on their sole, which helps the user to achieve a good grip on various surfaces like walking, climbing, and various others.
This is an important feature in hiking shoes. So you need to confirm with the manufacturer before purchasing. 
In some hiking shoes, you will find a non-slip stamp. Again you can also check the tread of the shoe. In a non-slip shoe, you will find a special design on the sole to prevent you from slipping on multiple surfaces.
#4. Can snow boots be walking boots?
You can use your snow boots for walking. But you will not feel comfortable if you wear them for a long time. You cannot walk long distances in them. You can choose hiking boots for walking instead, as it has a good traction and ankle support.
You may also like Are Timberlands Good for Hiking? (It Depends)
#5. What is the difference between hiking boots and snow boots?
Hiking boots may be insulated or non-insulated. But all snow boots are insulated.
Hiking boots have ankle support and good traction, but snow boots lack these two features.
Hiking boots are lightweight, but snow bulks are bulky.
#6. Why can't I use my regular hiking boots for winter hiking?
Almost all winter hiking boots are waterproof, which helps a user to keep his feet dry in various outdoor activities. The lower portion of the winter hiking boots consists of rubber by which you can hike easily in water. The rubber prevents the water from entering your feet. Again, they have insulation properly, which will keep your feet warm.
These two main features are lacking in regular hiking boots. If a regular hiking boot absorbs water, it has a high chance of freezing which can cause severe foot problems in users. Secondly the 
#7. How can you avoid getting blisters in winter hiking boots?
To avoid blisters in winter hiking boots, you need to do the following things like
Try to tie your shoelaces slightly lose not to avoid high pressure on the top portion of your feet.
You need to check various traction devices before wearing your winter hiking boots in various outdoor activities to identify the right spot on your boot, which will give your feet all types of comfort. Selecting the right place to attach microspikes or crampons can prevent rubbing problems.
Try to check different socks.
#8. What kind of crampons are compatible with insulated winter hiking boots?
An insulated winter hiking boot needs better traction on snowy surfaces. This is why they have crampons on them. But the crampons need to be flexible at the center and connect the front and rear spikes. They should not break while your boot bends.
#9. What is the most popular form of insulation in winter hiking boots?
Manufacturers usually use insulation in winter hiking boots to keep the user's feet warm in winter. The most popular insulation used in winter hiking boots is Thinsulate which consists of propylene fiber. You can use 200-gram Thinsulate winter hiking boots in the early winter or spring season, whereas you can use Thinsulate of 400-gram boots in freezing winter.
#10. How much insulation is good enough for winter boots?
The winter boots should have at least 200-gram insulation to walk outside of your town. But if you stay in freezing climates, you may require winter boots of more than 200-gram insulation.
You may also like Hiking in Converse, How Bad Is It Really?
#11. Are Gore-tex or waterproof winter boots important?
All the winter hiking boots are waterproof and breathable. Your feet are going to sweat while you perform various outdoor activities by wearing winter hiking boots. The sweat accumulates on your socks and boots, even if your boots are waterproof or breathable. That's Why insulation property is essential in winter boots, which can keep your feet warm even in perspiration.
#12. How are insulated winter hiking boots different from Pac boots?
Pac boots are winter boots whose lower portion consists of rubber, and the upper part consists of leather or synthetic fiber. You will find a waterproof and breathable membrane to keep your feet dry. But they are not suitable for walking because they are bulky and have inferior support near the ankle. But, the insulated winter hiking boots are pretty ideal for walking as they are lightweight.
#13. What are the differences between insulated, insulated winter hiking boots and mountaineering boots?
The insulated winter hiking boots have soft soles, but the mountaineering boots have stiff soles.
Most of the insulated winter hiking is lightweight and comfortable to walk. But, some varieties of mountaineering boots have less insulation and are pretty bulky. So they are not comfortable walking.
#14. Are mountaineering boots, insulated winter hiking boots, and pac boots compatible with snowshoes?
Yes, they are almost compatible with snowshoes. It mainly depends on the snowshoe size or volume of your boots. If I talk about mountaineering boots or pac boots, they require a bit of adjustment with snowshoes. Try to check it before moving outside in winter.
You may also like Can You Hike in Doc Martens?
Best Winter Hiking Boots
Danner boots are made from 100 percent leather with a Vibram sole. The heel of this boot measures approximately 4.5 inches. They have waterproof protection and 200 gram of prima loft gold insulation.
The sole of this boot is made from rubber. These boots have a waterproof breathable membrane to keep your feet dry and have 200 grams of insulation to keep warm. The toe caps in it protect your toes.
Salmon's hiking boots are made from 100 percent leather with rubber soles. The heel pad in it provides snow protection. The insulation in this boot gives you warmth during winter.
Xpeti Men's boots are designed for both daily work and outdoor activities. It uses a rubber sole and 200 grams of insulation to keep your feet warm. It has a rubber toe cap, molding TPU, and ankle support to protect your feet. Even these boots are waterproof to keep your feet dry in snowy or thick muddy paths.
This boot is waterproof to keep your feet dry in snow and rain. The 200-gram heatseeker insulation will keep your feet warm during winter. Again you can easily attach the gaiters of your choice to this boot.
This rugged boot is seam-sealed with waterproofing features. It has a 200 gram Thinsulate which will protect your feet in winter—the sole consists of rubber. 
You may also like Are Winter Boots Waterproof? It Depends
Wrap Up
Suitable footwear can make your day. So try to choose appropriate footwear during winter or various outdoor activities.
I hope this article has given you some idea regarding some footwear like snow boots, winter hiking boots, regular hiking boots, mountaineering boots, and pac boots which will help you purchase footwear from the market.
Please don't forget to share your suggestions for this article and tips and tricks on getting the right boots for hiking.
Happy Hiking!