Winter boots come in a variety of designs. What you choose will depend on personal preference, type of activity, and trail conditions. If you are hanging around camp or ice fishing, you'll want boots with more insulation. If you are moving a lot, you may be able to get away with less insulation, and some hikers even wear trail runners for winter hiking. For technical climbs, you'll want warmth and durability in the harsher conditions.
Pac Boots
Pac boots are boots typically with a soft insulated inner removable liner, called a pac. More recently, however, boots with rubber soles and upper leathers that are insulated are also called pac boots. They are considered to be very warm and can be a great option for light activity, such as standing outside, ice fishing, or even short hikes and shoveling driveways. If the liner gets wet, it can be removed and hung out to dry, or swapped for a dry pair. They tend not to be bulky and not fit well, which doesn't make them great for long hikes. Pac boots may have trouble being compatible with crampons and gators.
Best for: Staying warm during low activity
Winter Hiking Boots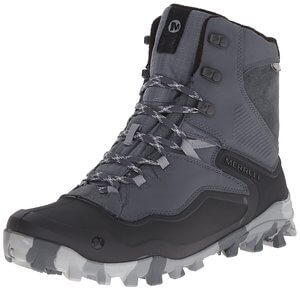 If you are doing general winter hiking on moderate trails and don't need crampons, consider an insulated hiking boot. These books are similar to a normal waterproof hiking boot, but are insulated and are made for the cold. Some of these boots come with a removable liner. Temperature ratings will also vary from boot to boot, and becomes more of an important factor if you are hiking above treeline. If are planning to use crampons or snowshoes with these boots, make sure the type of snowshoe and crampon you will be using is compatible with the boot.
Best for: Hiking and non-technical climbs
Mountaineering Boots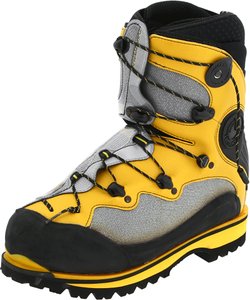 Mountaineering boots are heavier and sturdier boots made for technical climbs. All mountaineering boots are crampon compatible and are preferred when hiking steep slopes that require an ice axe. Generally, these boots are warmer than hiking boots but also come in varying temperature ratings. There are two types of mountaineering boots: single layer and double layer. Single layer boots are lightly and less clunky than the double layer boots. Double layer boots have two layers which are separable and are warmer. Outside layers are sometimes made of plastic. The inner layer can be removed and put into a sleeping bag to dry at night.
Best for: Technical climbing, warmth, and overnights.