Kahtoola Microspikes are footwear traction devices mainly made for hiking, ice fishing and trail running. They make hiking on icy surfaces a lot easier. To compare, if you are looking to walk the dog or shovel the driveway, there are a variety of other traction cleats that are less aggressive that are better for pavement, such as NANOspikes, ICETrekkers, Yaktraxs, and Stabilicers. If your mountaineering though, you'll most likely need crampons. If you do any kind of hiking where some areas can be slippery, including traversing frozen lakes and the like, Microspikes are intended to help you out.
Quick specs:
Size: 5″ x 3″ x 2″in their included tote sack
Weight: 11 to 13.5 ounces per pair
Spikes: 12 per foot, 8 at the front and 4 at the back
Spike length: 3/8″
Material: heat treated stainless steel
Color: Black and red
Usage: Hiking, ice fishing, and trail running
Microspikes Features
Aside from grip performance, we look at a variety of other factors, such as the ease of use, weight, price, and overall quality. Kahtoola Microspikes have seen some iterations and improvements over the years, and this review is about their latest version. Some retailers still ship the older versions due to old stock, which we will show you how you can recognize the different versions.
You may also like How To Choose Crampons
Grip
The grip is one of the most important factors in traction systems, especially if you like to climb challenging areas. Slips in the wilderness can be significant. Microspikes grip consists of twelve 3/8th inch stainless steel spikes, which will bite into ice, snow, and other slippery slopes. In some cases,  Microspikes provide traction on bare rock. The Microspike's traction is so good, that if you aren't used to lifting your feet properly while walking on sidewalks, you will learn to do so very quickly.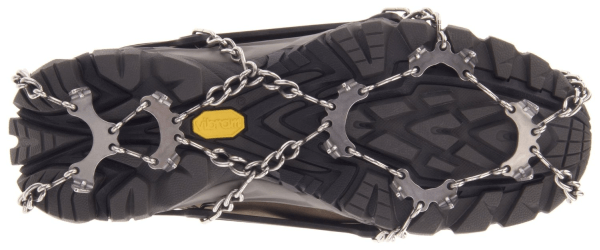 Ease of use
Microspikes are one of the easiest to use spikes on the market. Due to the elastic band and the stainless steel chain links, putting the spikes on and off can easily be done in just a few seconds. Kahtoola also includes a small tote bag in the latest edition. Because of the elastic band and stainless steel chain links, the Microspikes can be folded, and put in the small tote bag easily.
See the video on how to put on microspikes.
Band quality and Sizing
The bands are flexible and are able to fit almost any shoe or hiking boot. If you get a size that is too small, you may have a harder time stretching the band around the boot and make the band less durable. In older versions of Microspikes, the band was thicker in order to retain eyelet durability. The current model, however, has an integrated TPU reinforcement disc in each eyelet, which allows Kahtoola to reduce the size and weight of the elastomer band while improving its durability.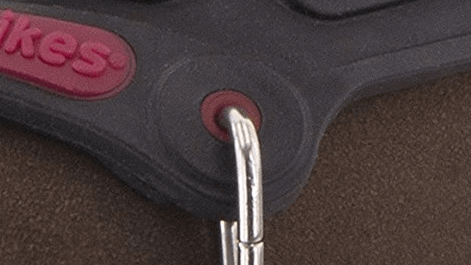 Check out the Microspikes sizing chart below.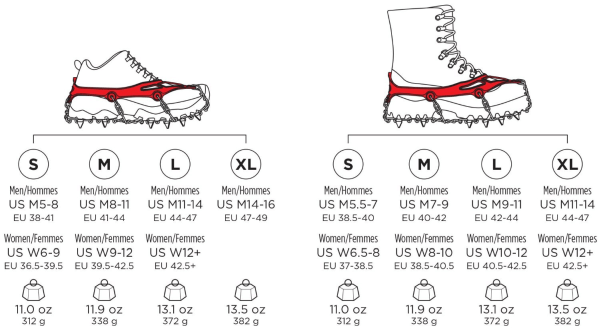 You may also like How to Pick the Right Snowshoes
Overall Review
Overall, Microspikes are one of the most popular traction devices on the market and are great for general hiking. Their durability is backed by a two-year warranty. Many hikers consider them to be a "don't leave home without it" item. The light weight and small size make them easy to add to your pack and slip on when needed. If you are hiking, ice fishing, or trail running during winter, Microspikes will provide the much-needed traction.