When Does Camping Season Start?
Camping in the warm weather is what a lot of people look forward to every year. But when does camping season start and when do campgrounds open?
Camping season starts in early May and extends to mid-October. The busiest time for campgrounds is during June and July. Campgrounds may be open year-round. Some campgrounds in colder climates are open during winter but will have limited amenities.
Keep in mind, that you can really go camping in any season. As some say, "There is no bad weather, only bad gear". This saying means that camping can be fun during any season as long as you have the proper gear and experience.
When Do Campgrounds Open?
Campgrounds are open either for 3 seasons (spring, summer, fall) or for 4 seasons (all year round). Three-season campgrounds typically open in early spring. The exact date varies from campground to campground.
To find when campgrounds open in your area, you'll want to search for 'campgrounds near me'. If you want to go dispersed camping, then you can go camping at any time during the year. Be sure to keep in mind the age requirements for camping.
Are Campgrounds Open in the Winter?
Yep! Some campgrounds are open during the winter, even in colder climates. You'll need to do some little extra work to find them, but they are out there. Your best bet is to call your local Ranger or Park And Recreation services and ask them which campgrounds are available.
If you are camping during the winter in colder climates, be aware that some campgrounds may offer limited amenities. Some state parks shut off their water in winter, close certain roads, and services in nearby towns may also be limited.
When Does Camping Season End?
For most people, camping season ends when campgrounds begin to close, which is typically around Columbus Day in mid-October.
But that doesn't mean all campgrounds are closed or that you can't go camping. You can go camping any time of year.
Camping in Spring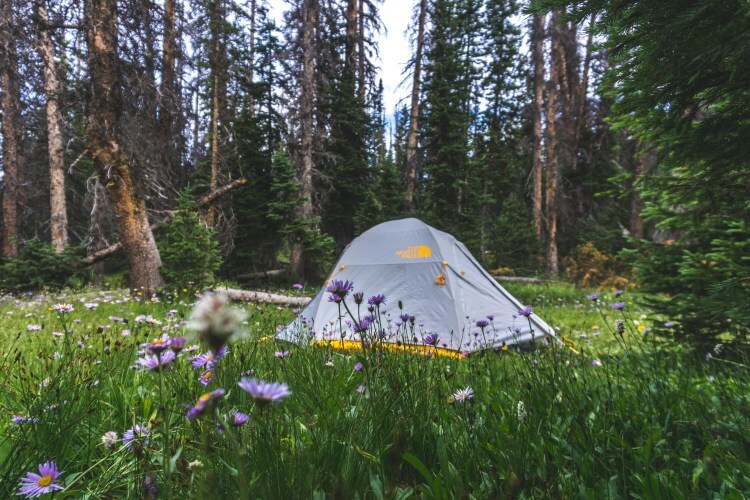 Spring is one of those tricky seasons to go camping in. While it could be warm during the day, it will get cooler at night. This time of year has the most weather fluctuations. If you're camping in April, you can expect rain, thunder, and even snowstorms. Yep, it's not uncommon for it to be still snowing in April in some places!
The good news is most people haven't started camping yet and it's still early enough to avoid the bugs.
You may also like When Does Camping Gear Go on Sale
Camping in Summer
The summer is when most people camp. The weather is warm, the water is nice, and it's summer vacation. You can stay up all night comfortably around a fire in just a T-shirt or a hoodie.
While summer is the favorite time of year for most people to camp, there are more crowds and the bugs are starting to bite. It can also be a great time to go cowboy camping (see all my cowboy camping tips).
If you do go camping during the summer, make sure you reserve your campsite early enough. At some campgrounds, you may even want to reserve your site a year in advance.
Camping in Fall
Fall is a beautiful time of year. The weather is cool and the forest shows its vibrant colors. Campgrounds are winding down for the year and many animals are getting ready for hibernation.
This time of year has many perks. It's quiet, campfires are more enjoyable, and the morning coffee is worth it. There are fewer bugs to bite, but the weather can change quickly. What could be warm one day could be cool the next.
You may also like Are National Parks Open in Winter?
Camping in Winter
Camping in winter? Yep! It's definitely not for everyone and it can be expensive when you have to make sure you have all the right gear and experience (see my tips for staying cozy winter camping), especially in northern climates. In colder climates, the lack of bugs and cooler temperatures could make it perfect for camping.