Camping is fricken awesome, and to make it better, why not bring a mini fridge camping? Or even put a mini fridge inside your tent! But is having a mini fridge inside your tent actually a good idea? And how do you power your fridge when camping? I'll cover all these questions and various power sources.
Yes, you can use a mini fridge for camping. However, most tent sites do not have electric hookups. The best way to power your fridge is to use a camping battery or generator. Your fridge should be kept in the shade and out of the rain as much as possible. Keeping the fridge inside a tent is not recommended due to heat and animals.
Can You Take a Mini Fridge Camping?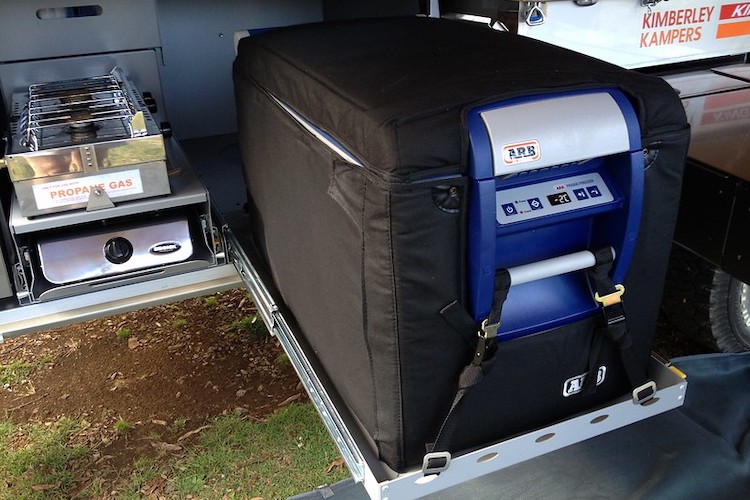 Yep, you can use a mini fridge for camping. While most camping trips last a couple of nights, having a fridge on extended trips is helpful.
I use a mini fridge with freezer in our tent full time without issue

Carl B
Mini fridges in some ways are more convenient than regular ice coolers since you don't need to constantly buy ice. You also don't have to worry about the ice melting and making your food all soggy. Another advantage mini-fridges have over coolers is that they sometimes have more room because ice isn't taking up space.
Depending on how cold your fridge can get, it might not be the best in super hot weather. Fridges also take time to get cold. But if your fridge works perfectly fine, it could be a good choice. It's best to test your fridge ahead of time and see how cold it can get.
Can You Put a Mini Fridge in a Tent?
You can put a mini-fridge in a tent, but it might not be the best idea. One, fridges produce heat. If you're camping in hot weather, you don't want to be adding an additional heat source inside your tent. Even if you have an air conditioner in your tent, the AC will have to work even harder.
The second reason why having a mini fridge in your tent might not be a smart choice is because of animals. If you are at a well-established campsite where there aren't many animals, this might be okay. If you are in bear country though, you don't want to be storing any food in your tent. I personally like to keep all my food inside my car.
And lastly, if your fridge making any humming noises, it could be harder to get a nice night's sleep. A lot of fridges are fairly silent though so this may not be an issue at all.
You may also like Best Reclining Camping Chairs
How to Power Your Mini Fridge
There are some drawbacks though to taking a fridge camping. The biggest drawback, of course, is that fridges require electricity.
If you have a normal tent site, you probably won't have electric hookups. And if you are able to get access to one, you might not be able to just connect your fridge to it without some kind of adapter. In this case you may have to consider other ways to keep your food cold while camping.
However, there are some campgrounds that do offer hookups for tent campers. KOA is one campground that offers "Premium Tent Sites with large, well-defined and comfy areas for your tent, along with ample parking and your own electric hookups for easy recharging".
It's not a bad idea to call your campground ahead of time and ask them if a fridge hookup is possible. They might even tell you which sites to reserver ahead of time.
If you have an RV, bringing a mini cooler should be a lot easier. However, if you don't, you'll need to use a battery or generator.
The Best Ways to Power a Camping Fridge
The best way to power your camping fridge is to get a generator. When most people think of generators, they think of these big heavy loud machines they have to haul around… but that's not the case with camping generators. There are some lightweight, quiet, and affordable camping generators that can easily power full-size fridges. They are definitely worth checking out.
Of course, generators require gas. Camping generators will need to be refilled from time to time, so expect to bring some extra fuel. If this isn't a good option, there are also camping batteries that can work. These have pros and cons and are also worth considering.
Camping batteries are also another fine choice for powering your mini fridge. These will come in different range capacities. Usually the more powerful the battery, the more expensive it will be. These types of batteries can power a mini fridge for a full day and recharge on solar. If your battery gets low, you can also recharge it with your car.
You may also like Best Tent Air Conditioners
Tips for Camping With Your Fridge
Here are a few tips for making the most when bringing your mini fridge camping:
Keep your fridge in a cool spot, preferably in the shade.

You can even use a tarp to keep the sun off.
Only open the fridge when you need to. Constantly opening the fridge will make the fridge work harder and use more power. This is why it's best to store drinks in a different cooler.
Pay attention to the weather. Electronics and rain don't mix well.
Be sure to thaw your fridge before you leave. Otherwise, your fridge may leak in your car on the way home.
Keep extension cords out of the way so they don't become a tripping hazard, especially at night.