If you find camping adventurous, camping without a car is even more fun. This could mean anything from hitchhiking across the country, going backpacking, bikepacking, or just needing a ride to a campsite.
Most people reading this though will probably want to go camping but simply don't drive or have a car. Regardless of the reason, getting to and from your campsite with your gear is going to be a challenge on its own.
Why Camp Without A Car?
While I love going car camping, I also love the adventure of good ol' cowboy camping (see my guide on how to go cowboy camping). While camping without a car doesn't need to be as rough, it's still a challenge.
There are benefits though for camping without a car. For one, it forces you to carry only what you need. While this may seem like a downside, the simplicity and experience that comes with it can be fun. Even hikers who thru-hike of the Appalachian Trail find themselves with fewer belongings than they started with upon completion. Some of them even get rid of their tent and stove! Items that you think you need are often luxuries that you could get away with. A little creativity and gratitude can go a long way when camping with less.
While there are mental and psychological benefits, camping without a car does offer some logistical benefits as well. There have been times when I've arrived at trailheads to go on overnight backpacking tips only to turn around because the parking lot was too full. For certain crowded sites and trailheads, not having to park is actually quite nice. And if you are doing a backpacking trip or a long trek, being able to snooze a little on the die home can be nice.
Having a car often means that you can take more stuff that you don't need or will use.
You may also like Sleeping In Your Car At A Campground
Downsides to Consider
Camping without a car can be fun, but there are some important things to consider. Aside from having to organize logistics (getting to and from your campsite) and needing to travel lighter, having a car for emergencies can be important.
If you are backpacking and getting dropped off at a certain location, not having a car to go back in case of emergencies can be dangerous.
I've been backpacking and road tripping through forests and deserts. Not having a car is one thing, but if you don't have cellphone service either, it's extra dangerous. Running out of food and water or supplies can also cut your trip short. And if you get lost or injured, it can be life-threatening. Some people suggest bringing a communication device like a SPOT finder. My recommendation is not to even put yourself in a situation where you would need one. Before your trip, always tell at least 2 people your travel plans and when you expect to be back.
You'll, of course, be carrying a lot fewer items. Camping can suck and not having certain items can make it less fun. Being able to use my 2 burner Coleman stove, for example, is quite convenient.
Getting to and From Your Campsite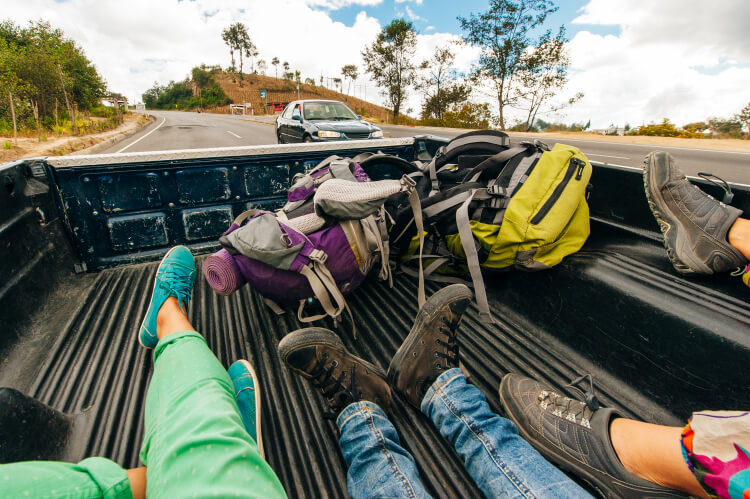 There's a bunch of ways to get to your site, even without a car. If you have a budget, the ridesharing apps like Uber can help. With Uber, you can expect to pay $2 per mile. If the campsite isn't nearby though, this can add up. Another option is car rentals. This option is nice because it's the same as having a regular car. You can carry all the items you normally would. While more convenient, this is even more expensive.
So what are your other options?
Depending on where you live, oftentimes trains and buses go directly to campsites and are relatively cheap. Even if you can't get directly to the site, using an uber or taxi or even just walking will help complete your journey.
When it comes to popular campgrounds, campgrounds in big cities, and national parks, they often bus services. While out camping at a park in Washington DC, there were busses and metros that went to the campsite. It was nice to be able to go in and out of the city without having to deal with traffic. Campgrounds in international cities are accessible by public transport as well. Gaasper Camping campground in Amsterdam, for example, is very easily accessible by metro. 
National parks often have shuttle services that run frequently throughout the day. For example, Yosemite National Park has the Yosemite Valley Shuttle System that stops at its campgrounds and is free.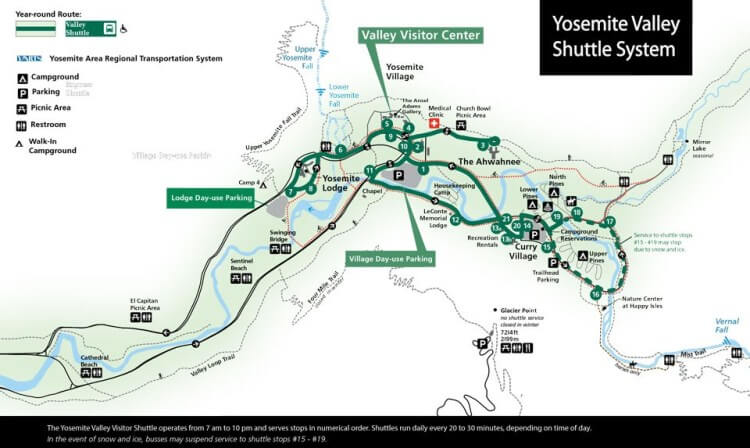 So when it comes to planning your trip, it's best to plan backward. The first thing you'll want to do is pick and start with your destination. It's a good idea to call the campground or park service and ask what the best place to get there is without a car. They will be familiar with the area, local transportation services, and the best way to get there. If they don't know, ask who else would be able to help.
Another option to explore is ridesharing, Facebook groups, and meetups. Asking friends and family who do have transportation can make the process a whole lot easier. Meetup.com also has groups full of campers who would be willing to help organize a ride for you. The same goes for Facebook groups. While planning a camping trip with a stranger isn't for everyone, it can work out.
You may also like Are National Parks Open in Winter?
Bike Packing (Camping With Bikes)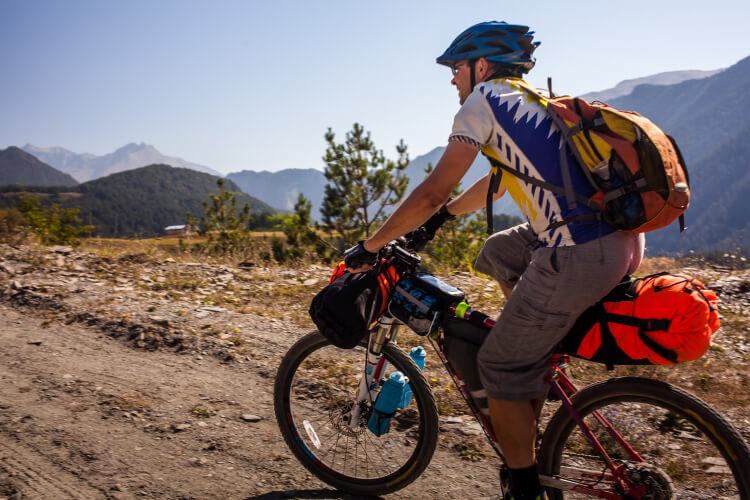 If you own a bike, you could totally ride to the campsite. This is a little tricky since weight distribution and pannier bags are new factors to consider. However, this can be super fun. You can even ride an electric bike. Some electric bikes like the Rad Rover have fat tires and can travel 45 miles on a charge. These Rad Bikes can go as fast as 25 miles per hour!
If you do bring a bike, make sure you have a weigh to keep it safe. Campgrounds are safer than cities, but theft can still happen.
How to Travel Light
If you are camping without a car and traveling by bus, train, or other public transport, you'll want to travel light. This isn't as hard as it seems. Lots of people go camping without a car on backpacking trips all the time. The trick to traveling light, of course, is having the right equipment.
You may also like 6 Ways to Camp Without a Tent
The Hammock is Your Friend
The first item I like to focus on is having a proper sleep system. If you own a big tent, you'll want to leave it at home. I personally love sleeping in my hammock. These are lightweight and can easily be packed. And if needed, they can easily hang outside your pack too. Not only are they easily packable, but they are comfy to sleep in. Some of the best sleep I get is in my hammock.
I have an ENO hammock (REI, Amazon) with a bug net and rainfly. Depending on the weather and where you live, you could just get away with just a hammock. Only carrying the hammock with straps will lighten and make lots of room in your pack.
Keep in mind that hammocks only work with trees or other secure items to hang from. If a hammock won't do, a compact tent can still work. Having a tent of some sort does have it's advantages. You'll have a place to keep your gear and let other's know you've claimed the site. I once had a hammock stolen when I set it up and walked away with nothing else to stake my claim.
Sleeping Bag and Pad
If it's a warm climate, a hammock might all you actually need. On a humid night, I'll just sleep in my hammock with nothing else. But chances are, you'll need some type of sleeping bag or blanket. Even though it can get warm during the day, it'll get cold at night.
Summer sleeping bags are a lot more compact than winter sleeping bags and cheaper. You don't need a whole lot for summer as you can also layer up with clothes. Sometimes a sheet or sleeping bag liner is enough. I put together a list of what to use instead of a sleeping bag.
A sleeping pad will also help. Again, you can't need anything fancy for this. You can either bring an inflatable sleeping pad of a closed cell foam pad. These are the ones that roll or fold up and require no inflation. They are nice because they are cheap and can last a very long time.
You may also like Most Efficient Camping Stoves (Buying Guide & Reviews)
Cooking Equipment
When it comes to cooking equipment, you'll want some type of heat source. Either you're using a campfire or you are bringing some type of fuel. If you have a campfire, binging a skillet or pan to cook over the fire might be all you need. Pans can be a little bulky, but you can strap them using bungee cords on your pack.
If you're going backpacking though, you'll most want some type of stove. This isn't always required though. Eating oatmeal, canned tuna, beef jerky, peanut butter jelly, granola, and trail mix are just a few items you can eat without cooking. There are even some people who hike the entire Appalachian Trail without a stove.
So what are your stove options? The lightest and one of the easiest stoves to use are the piezo ignition backpacking stoves. These fold to the size of your fist and will fit anywhere. You'll want to carry some fuel for it, which can be found at places like Walmart and Target for under 10 bucks.
Other Essentials
Carrying an extra pair of clothes is always good. You don't want to be staying in the smelly dirty clothes for days – though some of us don't always mind it. You can even bring a pillowcase to shove your clothes in to make a pillow.
Headlamps (preferable two) are a must. Chances are you'll need to get up to pee at night or get something in the dark.
An extra phone charger and even a battery pack are quite useful if you're going to be out for a few days.
Mapbooks of the area can be quite handy if you are traveling a lot. Smartphones do have GPS, but I find having a mapbook to be helpful for being able to see the whole map.
You may also like Best Headlamps For Camping
Renting Gear
Another option is renting gear. If you are traveling a long-distance and don't want to haul all your gear, you can rent gear at recreational stores. I know REI and EMS outlets allow you to rent all kinds of gear, for fairly cheap too. Everything from backpacks, to sleeping bags and stoves. It's a great way to save money if you don't go camping a lot (or shop during camping sales).
It's best to call ahead and see if you can reserve what you want. Not all stores will rent certain gear and will have a limited amount in stock. Call ahead and ask.