Camping is one of the best ways to get outside and have adventures in the great outdoors. There are not many better ways to spend time with family and friends, be active and see the wonders of nature at the same time. 
Although we love to camp, it can be difficult and irritating trying to pack up all of your essentials into a backpack or truck. It is also hard to narrow down what things you may need on your trip.
Number one on your list should always be a great tent. Having the best tent will make or break your camping experience. 
If you have a tent that is super easy to set up, you do not have to waste time worrying about fighting with poles and stakes and you can get back to having adventures, fun and an amazing camping quest.
Without a doubt, the easiest tents to set up by yourself are instant or pop up tents. These tents do everything it says on the label. You just open the bag and they pop up! 
We know how much of a drag it is to go looking for the perfect essentials for your next camping trip, so we have done all of the research for you. Be sure to have a great simple experience with the easiest tents to set up yourself. This way you can get back to inhaling the open air and trekking through the woods on your next great venture.
Feel the call of the wild with our guide of the easiest tents that you need to use on your camping trip:
Easiest Tents to Set Up by Yourself
For all in-tents and purposes, the Coleman Cabin Instant Tent is the perfect addition to your camping trip, with a quick set up time of under 60 seconds! With sizes available in 4, 6 and 10 person tents, it can fit any camping companions you may have.  
You're sure to be a happy camper with this easy to use tent. With enhanced ventilation, durable taped seams, welded corners and inverted seams to prevent any water from leaking into your tent.
This tent has a powerful integrated rainfly for added weather protection. The best features of this easy to set up tent is its blackout technology and 90% sunlight protection to assure that you are never woken up by those bright early mornings! 
What is even more convenient is the storage, with an included carry bag and lightweight design, this tent even comes with preassembled poles to save your precious adventure time. 
The Coleman Cabin Tent is built to last with durable and double-thick fabric that stands the test of time against the elements, season after season.
Coleman Cabin Tent with Instant Set up
Highlights: Set-up in under 60 seconds! Available in 4, 6, and 10 person sizes.
Where to Buy: amazon.com
The easiest tent to set up by yourself is the Coleman Cabin Tent with Instant Set Up technology. This impressive tent sets up in under 60 seconds! It is available for purchase in 4, 6 and 10 person sizes, to fit any of your camping companions. 
This tent is made of polyester, with durable taped seams, welded corners and inverted seams keep all water from getting in. Sleep easy knowing that you are protected from rain, mud and any seepage from the weather conditions. 
This tent is built to last as long as you do in the great outdoors. With durable, long-lasting and double-thick fabric, this tent stands the test of time against all of the elements, season after season.
The ventilation is greatly enhanced, with an integrated rainfly that offers optimal weather protection and sufficient airflow within. 
We love the instant set up feature that can work in as fast as one minute. You can even fit 2 queen sized air beds in this tent. 
The Coleman Cabin Tent is highly useful for camping trips as it works to block 90% of sunlight and reduces heat from entering in high temperature locations. In addition, this easy to pitch tent utilizes blackout technology which means the sun will not wake you before you want to.
Convenience is key with this tent, with a carry bag included, and preassembled poles to save your precious time for adventuring. 
PROS:
60 second set up
Preassembled poles included
Blocks 90% of sunlight
Blackout technology
Fits 2 queen sized air mattresses
Durable
High quality materials
CONS: 
Big Agnes Copper Spur 2 Man Tent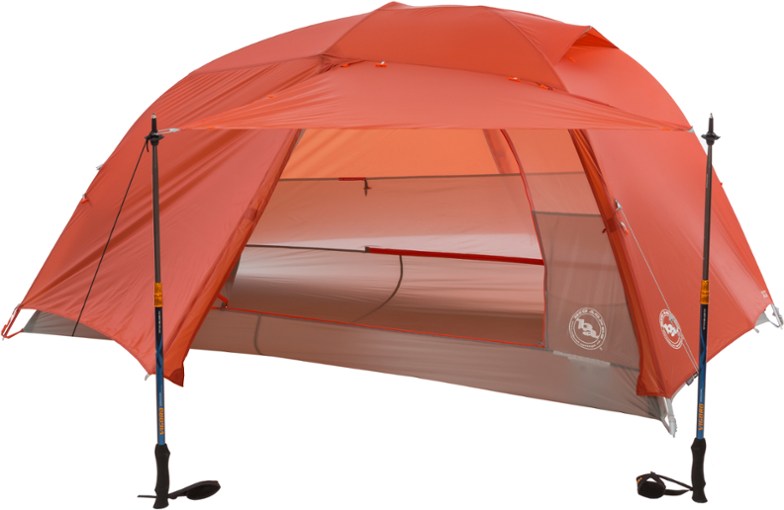 Highlights: Convenient interior loops to attach camping gear or lights.
Where to Buy: REI.com or amazon.com
Big Agnes make their tents with the strongest and most lightweight materials while providing the easiest set up for your camping experience. The Big Agnes Copper Spur Tent features awning style vestibules that can expand your camping living space but also provide ample drizzle and sun protection. 
The hook-and-loop closure tabs connect your fly to pole structure and gives you perfect pitch and stability in all weather conditions. Additionally, all seams are taped and waterproof with durable zippers and a storm flap. 
What we love about this tent is the multiple interior loops to attach your gear or camp lights and make your tent feel just like home while on the road. 
Its dual zipper doors are smooth-closing and allow easy access and exit. The tent has great airflow and reduced condensation build up, no matter what the weather. This product is made from a nylon and polyester combination, with 2 doors and a spacious design for your next camping trip. 
PROS:
Strong materials
Lightweight
Awning style vestibules
Sun protection
Taped seams
Durable zippers
Includes storm flap
Easy access
CONS:
Prone to leakage- always use a tarp
Coleman Sundome Tent
Highlights: This tent takes waterproofing to the next level. Made from polyester taffeta with a 70 denier flysheet, and has welded corners for total waterpoofing!
Where to Buy: amazon.com
The Coleman Sundome Tent is a number 1 bestseller. It is available in 2, 3, 4, and 6 persons sized tents. Made from polyester taffeta with a 75 denier flysheet, this tent is completely weatherproof, with welded corners and inverted seams to keep any water from entering the tent. 
Even better, Coleman includes a rainfly for extra weather protection. This impressive small tent is wind and rain tested, with a strong and durable frame that can withstand 35+ mph winds. 
With great ventilation and large windows to enhance airflow, you will be sure to have a great camping experience with this easy to set up tent. 
It only takes 10 minutes out of your day and you are set up and ready to go. What we love about this tent is the E-port which makes it simple to bring electrical power into your tent.
Coleman also offers a 1 year warranty if you are not happy. But with shock-corded fiberglass poles engineered to withstand stormy weather, mesh ventilation, extremely waterproof technology and lightweight materials, we can't see why you would not be.
PROS:
Weatherproof and waterproof
Includes rainfly
Inverted seams
Includes E-port
1 year warranty
Lightweight
Set up in under 10 minutes
Can withstand 35 mph winds
CONS:
Made of cheap materials
Can leak after extensive use
The North Face Stormbreak 2 Tent
Highlights: Easy setup by yourself in minutes, and is spacious for tall people.
Where to Buy: rei.com
For durable products and a brand you can rely on, try The North Face Stormbreak Tent. With large doors and 2 multi-configuration vestibules, this North Face Stormbreak tent offers easy access, easy set up and great views of the outdoors for 2 happy campers for the seasons to come! 
This tent has a 69 denier polyester fabric with a 75 denier polyester taffeta canopy. With a fully seam-taped canopy and floor blocking technology, you have great protection. This tent also has 2 doors, 2 twin zip and mesh pockets. 
In addition, it has great ventilation and allows efficient airflow. With an easy-pitch design you are sure to set up this tent by yourself in a matter of minutes. This useful tent is super lightweight and even a great size for tall people too. 
When staked out properly this tent can withstand wind, snow and plenty of rain with ease. The North Face Stormbreak Tent is a great all-rounder for camping or backpacking in the wild. It is so easy to pitch, that it is perfect for first time campers. 
PROS:
2 vestibules for extra gear storage
2 doors and mesh pockets
Easy-pitch design
Durable materials
Can be pitched yourself in under 5 minutes
Can withstand wind, snow and rain
Good ventilation and air flow
CONS:
Weak poles
Not long laster after extensive use
Not very spacious
Moon Lence Instant Pop Up Tent
Highlights: Incredibly lightweight, with a pop up mechanism for setup in under a minute.
Where to Buy: amazon.com
For easy set up, Moon Lence offers their automatic set up waterproof and windproof tent for 4-5 persons. 
This tent comes in green, blue and orange to suit any happy camper. The roomy, spacious design remains incredibly lightweight and easy to carry around everywhere you go with its own carry bag. 
The tent includes 4 large mesh windows and dual zippers on the door for better ventilation. This tent never loses its high wind resistance and maximum security for all round protection in difficult weather conditions. 
The instant pop up mechanism makes this tent easy to set up by yourself in under a minute. Save your time and energy for your camping adventures with this useful tent.
PROS:
Automatic set up in under 1 minute
Pop up tent 
Comes with own carry bag
Lightweight
Includes 4 mesh windows and 1 door
Great ventilation
High wind resistance
CONS:
Does not have a rainfly
Cheaply made
Flimsy
Finding the easiest and best tent to set up on your next camping trip can be almost as difficult as setting up a regular tent by yourself.
We have put together an extensive buying guide to help you pick the right one for your travels. In addition, we have a handy frequently asked questions section to help you get started on your next adventure.
Easiest Tents to Set Up by Yourself – Buyer's Guide
How to find the easiest tents to set up by yourself
Finding the right tent for your camping trip is essential to your experience. Before purchasing a new tent you should consider what you want to use it for, when you want to use it and where. This way you can ensure that your tent has all of the necessary capabilities for your next camping adventure.
The easiest tents to set up by yourself often have the quickest and most efficient set up time. These tents are most likely pop up tents or instant tents. These tents can be carried easily in their own carry bag, packed into your vehicle and you are away to go! 
You need a tent that can reduce your set up time so that you can focus on spending time in the great outdoors. In this sense, it may be beneficial to look for a tent with a carry bag so that you know you can take it wherever the road takes you.
You will also need to purchase a tent that is lightweight enough that you can carry it on your travels with ease and comfort. 
You should always consider what materials your tents are made from. This way you can gauge which ones are suitable for what type of weather conditions or environment you may be expecting on your trip.
You will need a durable tent for tough weather conditions, and you may possibly need a cover if you are expecting some rain or a downpour.
One of the most important factors that you need to consider when purchasing a new tent is the size capacity. You need to make sure that the tent will fit whoever is joining you on your camping journey. 
Easiest Tents to Set Up by Yourself – Frequently Asked Questions
How long does it take to set up a tent by yourself?
This is a very broad question, and one that depends entirely on the size and specifications of your tent.
Generally speaking, the average tent will take about 20 minutes to a half hour to erect by yourself.
However it can be a very frustrating task, and if you definitely have no one to help you out, then it can be far more beneficial to buy a pop up or an instant tent to save you time. 
How do you set up a pop up tent?
A pop up or instant tent is the easiest type of tent to pitch by yourself. These tents often come in their own carry bag, are lightweight and easy to take on any camping trip with you.
These tents are super easy to set up, you simply open the bag, pull it out and pitch it in your favorite spot. They require minimal pole assembly and pegging. 
Should you put tarp under a tent?
It is not entirely necessary to use a tarp under your tent, but we do advise that you do. By adding or putting some sort of tarp or ground cover underneath your tent, you can ensure its ability to stay warm and dry. 
By having a tarp under your tent, you can reduce water and mud seepage from entering your tent and making you uncomfortable. Using a tarp beneath your tent can also aid the prevention of punctures to the bottom of your tent, and ensure that you can use it time and time again.
We recommend that you buy a tarp that is slightly smaller than the size of your tent. This way, when rain falls from the top of your tent and runs down the sides, it will not seep into an oversized tarp and find its way inside. 
An oversized tarp will tend to pool any water that falls, and you may be sitting in a tent bath by the end of a storm. Pick a tarp that is 2-3 inches smaller than the exterior dimensions of your tent.
In general, tarps provide an extra layer of protections between you and the ground. This way you can stay warmer, drier and more comfortable for longer.
What is the best waterproofing for tents?
Most quality tents already come equipped with waterproofing properties for protection from harsh weather conditions.
However, after extensive use, your tent's waterproof coating can wear away or become less protecting. If this has happened to you, you may not need to purchase a brand new tent, but simply a waterproofing spray.
We recommend the Kiwi Camp Dry Heavy Duty Water Repellent or Nikwax Tent and Gear Waterproofing spray for reinforcing the waterproofing on your tent.
Pick a dry day, set up your tent and make sure you clean it before applying a spray. Make sure you apply the waterproofing spray well and coat all of the seams of your tent.
Can I use a pop up canopy in the wind?
It is a well known tale that pop up canopies cannot withstand windy weather conditions. This is not always the case.
It is true that some pop up canopy tents do not cope well in the wind, however, most are designed to cope just fine. So, at the slightest breath of wind, do not cancel that trip just yet.