If you're like me who hates sleeping on the ground when camping, you want to make sure you can sleep well and not wake up with a sore back and hips. Cots and sleeping pads are two pieces of gear that can make a huge difference. So when it comes to a cot vs sleeping pad, which gives you a better night's sleep?
Which is better, a cot or a sleeping pad? Cots and sleeping pads should be used together to provide insulation from the cold. In warm weather, a cot can be used by itself and can be more comfortable. A sleeping pad is beneficial because it is lightweight and portable.
Why You Should Use a Sleeping Pad with a Cot
Ideally, a cot with some type of sleeping pad or mattress is best. This is because a sleeping pad not only provides comfort from the hard ground but also acts as insulation. When you sleep on the cold ground, you lose body heat through conduction which a sleeping pad prevents. But, in a cot, instead of sleeping on the ground, you'll lose body heat from the cold air underneath.
This is why using a sleeping pad together with a cot provides the best of both worlds. You will be off the ground and still get the insulation you need from the cold air underneath. In warmer weather, you can get away without using a sleeping pad and not using one can help cool you down. This is because the cooler air can circulate underneath. Keep in mind though, even during the summer, it can still get chilly at night.
If you're looking for the best setup, then a cot with a foam mattress will be super comfortable. You'll get all the benefits of a cot and the comfort of a mattress. If you do want to go this route, be sure to measure your cot and find a matching mattress. Many cots like Coleman and others are 25″ wide making them a perfect match for 4″ mattresses like the Olee Sleep Topper Tri-Folding Memory Foam Mattress.
You may also like How To Make Your Winter Sleep System
Why Sleeping Pads Are Better Than Cots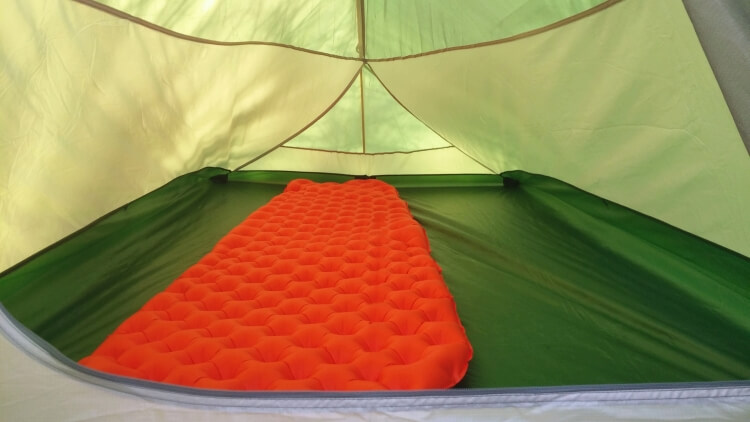 If you did have to choose between the two, a sleeping pad will probably make more sense than a cot. Sleeping pads aren't always required (see my sleeping pad alternatives), but they are highly recommended.
The reason why sleeping pads are better than cots is that they will offer more insulation from the cold. At night, the cold ground or air will circulate underneath you and suck away your body heat. A good sleeping pad will prevent this heat loss from happening.
Another advantage of sleeping pads over cots is that sleeping pads are much lighter and compact. You can bring them hiking and even use them as sit pads. They can also be used in hammocks, cars, and even places like airports when traveling.
Closed-cell foam pads are especially rugged and won't pop, though they are tougher to sleep on compared to open-cell and air pads. If you are doing any traveling, a good sleeping pad will be your best bet.
Why Cots Are Better Than Sleeping Pads
There are some occasions when a cot will be better than a sleeping pad. A cot can be more comfortable in warmer weather or if you are using it indoors. A narrow twin mattress can be placed on top to make the cot even more comfortable.
In some cases, cots can be a lot more practical. For one, cots are elevated. They aren't so close to the ground and feel more like a bed. And because cots are higher up, they are easier to sit down on, making it easier to put your clothes, tie your shoes, and offer a place to organize your gear. It's also easier to keep your tent organized when you can store gear underneath.
Unlike some sleeping pads, cots will never pop or leak and don't require to be inflated. They are more "permanent" than sleeping pads and can be made much cozier. Cots can be uncomfortable though if you are a bigger person sleeping on a small cot. The sides of the cot might press up against you during the night if you don't have a mattress or pad on top.
You may also like How to Attach Sleeping Pad to Backpack
Other Sleeping Options
Besides cots and sleeping pads, there are other sleeping options to consider too. Two other popular sleep systems for camping are foam mattresses, air mattresses, and hammocks. Let's take a look at each.
Foam Mattress
If your car camping or looking for an extra guest bed, then foam mattresses are your best friend. These mattresses will never deflate and take zero time to set up. Best of all, they are super comfortable so be careful – you might just want to replace your regular mattress!
A lot of these mattresses come with a combination of comfort foam and memory foam to be thick enough and provide all the comfort you'll want. They'll last you a long time and because they don't leak, they better than air mattresses.
Many of these mattresses are 25″ wide. So if you do have a cot, you can place a foam mattress right on top to make the perfect camping bed. One of the most popular foldable mattresses that you can use for camping or for indoors is the Olee Sleep Topper Tri-Folding Memory Foam Mattress.
Air Mattress
Air mattresses are best for car camping or when you'll be indoors. I've used air matresses in 45F weather and they aren't too bad. One common problem is that they tend to deflate, which is probably the most annoying part. They also require to be blown up and bigger air mattresses can be quite heavy to lug around.
Air mattresses can be decently comfortable and they can be a lot roomier depending on the size you get.
Hammock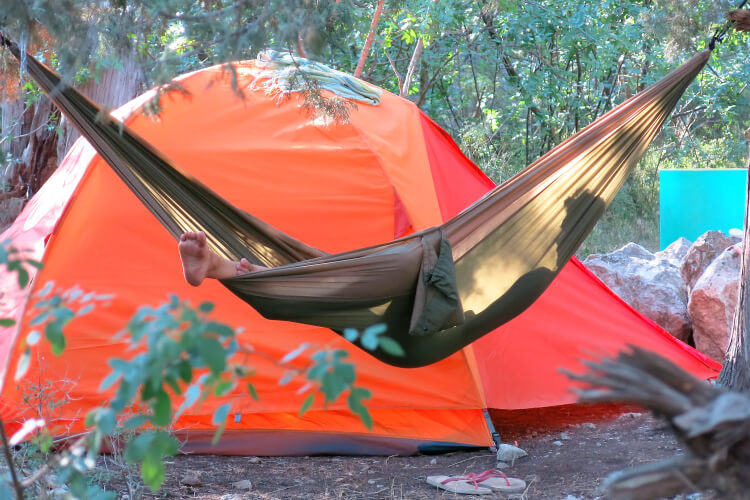 Hammocks are my all-time favorite. In the summer, you don't always need a sleeping pad with a hammock if it's warm enough. When it does get cooler at night, you'll want a sleeping pad to prevent the cold air from stealing your body heat.
Hammocks, for the most part, require trees so they won't work in every location. And if it's buggy or rainy, you'll also want a bug net and a rain fly, which takes a little bit extra time to setup.
I currently own two ENO Hammocks, but if you want a better deal with straps included, be sure to check out the Wise Owl Outfitters Hammock. These are much cheaper than ENO hammocks and have a higher weight capacity at 500lbs.
You may also like Yoga Mat as a Sleeping Pad – Can It Work?
Conclusion
When you're thinking about cots vs sleeping pads, the best setup is going to be a cot with a foam mattress on top. Cots off a lot of benefits like keeping you off the ground and helping to keep your tent organized. Sleeping pads have a lot of advantages as well, mainly for their insulation and portability. You can use them in hammocks, cars, and being them hiking. And lastly, foam mattresses by themselves are another great option that can be folded up and stored away when not in use.