So your boyfriend just proposed that you go camping with him. Super great idea if you love nature, adventure and wilderness. But being the first time camping with your boyfriend, you don't know what to pack for your trip. Well, I totally get you. I mean, how do you look good and still not look all dressed up for camping?
How do you even look sexy for your lover when you have to deal with the varying temperatures, bug bites, rocky terrain, monsoonal rain- name it. 
Don't fret though. I got you.
Here is a quick guide on what to wear while camping with your boyfriend. This should help you a great deal with your packing list.
Innerwear
We will start right from the innerwear. I am talking panties and bra, basically, the clothes you wear closest to your skin. Now for this, I always advise going for simple and comfortable however much you would want to impress your boyfriend with something sexy. Comfort is key when camping, so remember this even as we move to the other clothing items.
Any type of panties is fine, but the best for camping are full-cut briefs, boy shorts (boxer briefs) and hipster briefs. Bikinis too and a good pair of thongs for an intimate night are advisable.
Only make sure that they are made of merino wool or synthetics like nylon and polyester. This is because these fabrics are moisture-wicking, they will wick away any sweat from your body to keep you dry. They also don't keep odors and dry pretty fast. If you're doing any hiking, you won't get uncomfortable with wet clingy undies or chafing. That being said, many hikers do go hiking commando.
Wool is most preferred as it is perfect for all seasons. During the cool season, it will keep you warm and during the hot season, it will keep you cool.
Silk is also another great fabric choice for your undies. Whichever fabric works for you is fine, so long as it dries fast, supports you, and is breathable. 
For bras, if you can get a good set of sports bras that would be perfect. Sports bras come in a range of constructions, strap types, designs, and other comfortable features. They are most preferred because they are functional and stylish.
Here is a great guide on choosing sports bras that I am sure will be of help to you. If you are unsure of your size, check bra sizing here.
A couple of tips when choosing underwear for camping:
Go for tagless innerwear. You need to focus on your hike and your boyfriend and not a tag scratching your skin
Go for a fabric that is odor resistant. Camping is a sweaty affair as is but that is no reason to be smelly. If you are the very sweaty type, go for merino wool briefs. Wool is naturally an odor-resistant fabric. A few suggestions are the Ridge Merino Wool Women's Ridge Boy Short or the Icebreaker Siren Bikini Underwear for a sexy look.
Go for a perfectly fitting waistband. One that sits comfortably on your skin.
Tees
For the shirts, it's a good idea to combine thermals, t-shirts, and tank tops. Thermals will come in handy in the early mornings and nighttime, especially if you are camping in the early or late camping seasons. What I love about thermal shirts is that you won't need to layer up with a sweater unless it is super cold.
During the day depending on the temperature, you can adorn mid-sleeve or short sleeve shirts. Remember to carry a jacket with you if you are in a place where the weather changes drastically.
For the t-shirts and tank tops, I would recommend cotton fabric or wool. Keep off polyester unless for thermals. You can get some really fashionable tank tops at REI.
You may also like The Definitive Guide to Climbing Skins
Jacket/ Coat/ Vest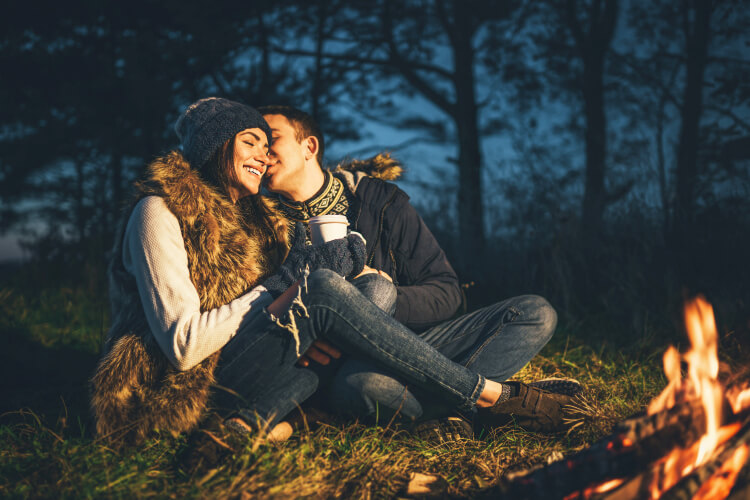 Even on warm summer days, early mornings and late nights can be chilly forcing you to layer up. A jacket or vest comes in handy for such times. And they don't have to be very thick. Even a thin one works great as long as it has an insulating layer.
Fleece jackets and vests, sweatshirts with hoodies, or nylon jackets are most ideal. They are stylish and still very functional for a cool night. Of course, if you are camping during the winter you would need a thicker jacket.
Pants
While it's hot camping in summer, pants will still help. At night, it gets cool and they definitely help keep the bugs off you so you don't hate your camping trip.
If you are hitting the trail, both shorts and pants for hiking will work. Leggings are also an option as well. There are even leggings for hiking that have pockets for carrying your cellphone. Hiking in jeans is an option for short hikes, but I would advise against them for anything strenuous.
When you are moving, you'll want a pant that is free-flowing and is not extra long else you risk tripping over yourself. A good pant should also be stretchy, have an adjustable waist, and a gusseted crotch to give you more legroom. Even better if the knee and seat area is reinforced.
Don't forget to pack sweatpants in place for pajamas for nighttime and early morning. They are warmer than regular pajamas.
You may also like Can You Hike in Running Shoes?
Shorts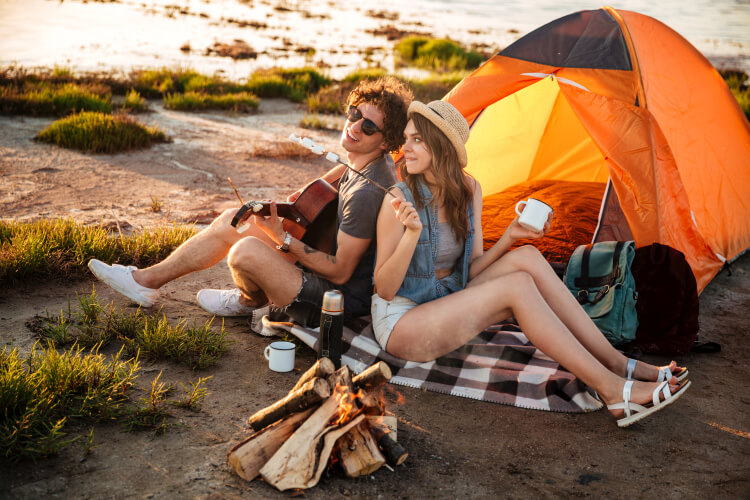 If you have been looking for a chance to show some skin, shorts are your best bet. There is no limit to the length so long as you are comfortable. You can wear them when going for short hikes or lounging around the campsite. Columbia Women's shorts are hands-down comfy, stylish and functional. They have a wide selection too, I am certain you won't miss your preference.
Footwear
If there is one place you need to consider functionality more than fashion, it is footwear. If your boyfriend is a regular camper he would advise you the same. No heels, no wedges, no flats or fancy sandals but proper hiking boots. Boots will protect your feet and stay dry.
And if you must do sandals, the Platform Tevas are a great option. They will give you the height you desire while still maintaining comfort. The most important things to consider are the grip the boot will offer and the comfort.
You can carry flip flops for when hanging out on the campsite or even going to the bathroom. And don't forget a good pair of woolen socks. Your socks should fit snugly but not too tight.
Makeup Kit
Last but not least, you will need your make-up kit. Since you can't go all out on dressing, adding up makeup to your look is the best way to go from simple to gorgeous.
The first thing you need in your make-up kit is sunscreen. And here you need to go for quality sunscreen. You will be spending a lot of time outdoors so you need maximum protection. Go for sunscreen with an SPF of 30+. The  L'OReal Sublime Sunscreen SPF50+ is a perfect option. It is oil-free and comes in a small travel size.
Remember to also pack up some makeup wipes, moisturizer, deodorant, and an SPF-rated lip balm.
You may also like How to Hike in Yoga Pants
Conclusion
Dressing up for camping is more about safety, comfort, and convenience rather than fashion. Don't be too caught up in trying to impress your boyfriend that you don't enjoy your trip. You will have plenty of time to show off your latest trends once you get home. What will impress your boyfriend the most is that you came prepared and can handle the tip.