How To Attach A Sleeping Pad To A Backpack Properly
In this article, I will share some ideas on how to attach a sleeping pad to a backpack. I will also look at possible positions and tips to locate a sleeping pad on the backpack. 
What You Will Learn About In This Article
After a day spent trekking, you will be eager to get back to your sleeping pad. A good night's sleep after a hard day is undoubtedly worth it. To enjoy this kind of rest, you will need a sleeping pad.
While setting up a sleeping pad can be bulky, it is a necessity that you should not overlook. It may not be easy, but by thoughtfully analyzing a few pointers and buying a few little extras online, you can make your trek comfortable. 
Sleeping pads are either self-inflating or closed-cell foam. They can get bulky and so can't just be stuffed anywhere in the bag. If you want to know how mountaineers attach sleeping pads to their backpacks, keep reading. 
How To Attach A Sleeping Pad To A Backpack & Distribution of weight
The way you distribute weight on your back largely shapes how comfortable your backpacking trip is going to be. While packing, you should keep all articles that you will require at the end of the day (such as a sleeping bag), at the farthest end of the bag. 
You should pack your luggage wisely because not finding what you need can quickly become frustrating. When hiking for the first time, it is always advisable to be well prepared. 
Now, you can broadly divide a backpack into three areas: the bottom, core, and top. Let's see which items should go in which section.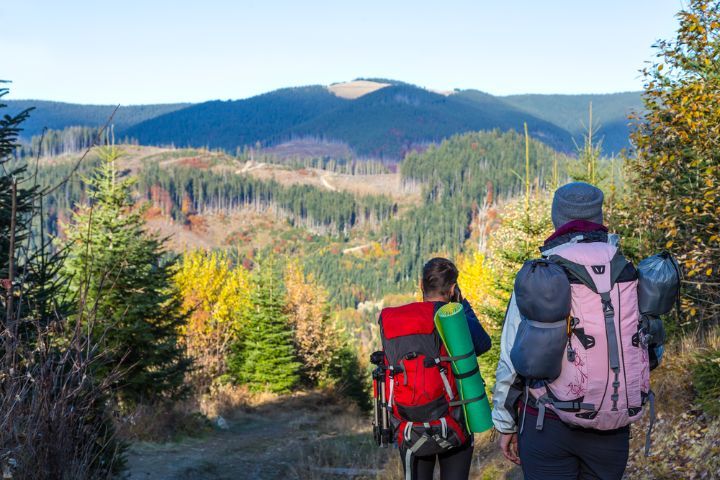 The Bottom Zone
The bottom zone is a great place to store items you'll need only to set up camp. This is the ideal place to keep your sleeping bag. 
The Core Zone
Food. Your second most approachable thing on the journey must be food. When you are carrying snacks, you shouldn't stuff them so deep that you have to spend fifteen minutes trying to get your hands on them while also unpacking almost half of your belongings from the backpack during the climb uphill. 
The Top Zone
You know what you need most, a hand towel, GPS, camera, medicine, and water. Keeping the most necessary items easy to access at all times will ensure that someone needs to get something from your bag to you; the process will be as quick and easy as possible. 
You may also like Complete Guide to Backpacking Snow Shovels
How To Attach A Sleeping Pad To A Backpack & Saving Space
Well, your bag is different from mine and mine from yours. Observe yours closely. Observe the backpack attachment straps, loose upper fly, side mesh. Side compression straps may not be present on all backpacks but, you can quickly call for ones of your choice from any online store. 
Consider the key features of your travel bag, its weight capacity, and the location of existing straps before you decide what to place where. In addition, if you do not own a mountaineering bag already, you will learn the key features the bag you buy must possess.
While some tips and tricks are reasonably evident and omnipresent, you know how you can easily tuck less bulky articles below straps. So let us look at some information, attachments that might come in handy in your packing. 
Put your Sleeping Pad inside the Sleeping Bag
A sleeping pad stuffed into a sleeping bag makes for an efficient storage hack. However, it's not a good idea to roll your pillow into this combo, too, since that becomes way too bulky, which we are trying to avoid. 
Does your backpack have Daisy Chains?
External pockets are handy when traveling. However, you'll need enough spots on your bag if you choose to suspend items in outer pockets. Therefore, you should choose a backpack with daisy chains for hanging your external pockets and other belongings so that they are easily accessible.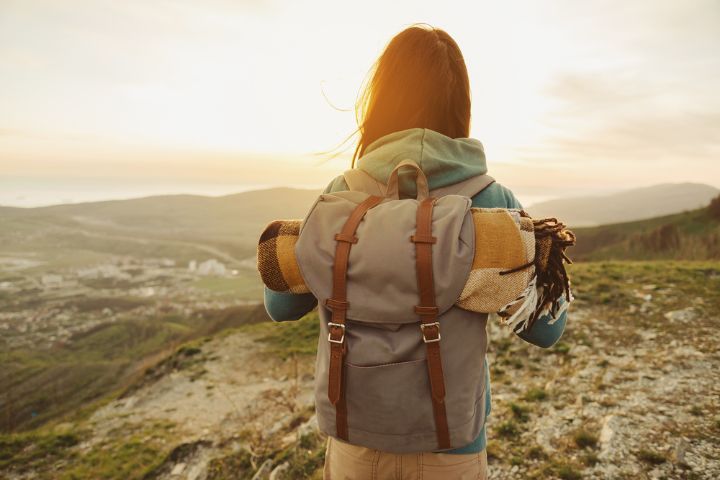 Shovel Pockets for wet gear
Camping is one of those activities where you're sure to encounter rain once in a while. Therefore, it would be best if you were prepared for this scenario. When such a situation arises, a sleeping bag comes in handy. It forms a layer of protection from rain and moisture. 
As of right now, let me introduce you to shovel pockets. Shovel pockets are open pockets for storing all your gear that got wet due to the rain or otherwise. You can use it to keep items such as pointy gear, shoes, and other things. They are capable of withstanding harsh conditions due to their ruggedness.
Does your bag have floating lids?
The floating lids are not sewed to the back panel. Their name derives from this fact. Instead, four webbing straps attach them to the backpack. Why do you need floating lids anyway? They compress anything bulky, like sleeping pads, tents, and so on. 
Sleeping Pad Straps for your Sleeping Pad
It is convenient to hang lightweight items such as sleeping pads, wet tents, and other items at the bottom of the bag. However, if the bag you own may not have a convenient place to hang your sleeping pad, you need to use the rear sleeping pad straps. 
You may also like Hiking Without a Backpack: 3 Pack Alternatives
How To Attach A Sleeping Pad To A Backpack various Combinations 
Don't worry if you don't get your packing right the first time. Fall seven times, stand up eight. Don't be afraid to experiment with permutations and combinations to find out what works best for you. 
If you position all the other items that go into your bag appropriately, positioning the sleeping pad will become a breeze. 
Go and see a Seasoned Backpacker
Is this your first time? Are you clueless about what to do? You don't have to worry. Nothing beats an in-person conversation. Please go and see a seasoned backpacker, open up all your worries and doubts to them. Once you are done, you will find yourself more confident and ready for the camp. 
You may also like How to Attach and Use the Bungee Cord on Your Backpack
Inside the Bag or Outside the Bag?
Outside the Bag
Any item you own that can hang outside should be hung. One main reason for fastening the sleeping bag outside the backpack is that it won't interfere with any of your packing or unpacking at any stage of the journey. For example, here are some possible places to attach a sleeping pad to the outside of a backpack.
Do you see those side compression straps on the sides of your bag? Secure it with a rope, bungee cord, or backpack attachment straps if you don't like where they are located. You will be good to go! 
Do you see those loops on your mountaineering bag's lower part? Do you know how to use backpack loops? You can use them to dry your sleeping gear and anything else you want to dry while marching. Keep your sleeping pad from hanging too low, as it could bang you on the back of the knees when you move. 
Do you see that loose fly on top of your bag? Under your bag's open fly, fasten your rolled sleeping pad. 

Inside the Bag
Depending on how big your sleeping pad is, it might not fit in your backpack. While you have already hung wet articles on the outside of your bag to dry, you must keep your sleeping pad in the bag.  
Roll your mattress and place it vertically in the center of your backpack. Even weight distribution prevents any side of the bag from being heavier than the other. Positioning it like so also reduces the possibility of the load becoming longer. Place other belongings inside the sleeping pad and tuck the sleeping pad well.  
If your mattress is self-inflating, fold it in half along its length. Then, roll it up and carefully place it in the compression bag that comes along with it. You can now fit your mat into your backpack. 
How To Attach A Sleeping Pad To A Backpack & Style Quotient
Whenever we go on a hike, we like to take these 'cliche pictures of our backpacks and the beautiful scenery. But, let's face it, we all do it for the gram. So here are two tried-and-tested sleeping pad placements that will make your Instagram feed pop. 
A sleeping pad might be placed atop your bag, under the loose fly, or at the lower end in a hanging fashion. But, again, you can modify these as per your liking. 
You may also like How to Cowboy Camp the Right Way
How To Attach A Sleeping Pad To A Backpack Wrap Up
You are on a trek; if you balance the weights in your backpack well, you can tackle the journey without feeling like carrying stones on your back. In the end, it is worth every second to take a sleeping pad and to invest time and effort in positioning it. You will find yourself saying this when setting up your camp at night and enjoying a peaceful sleep. Don't forget the pictures, too. Each time you look at them, you will cherish these memories for the rest of your life.   
Did you like what you just read? If you did, give us a shout-out in the comments below. Also, do not forget to share this article with someone who would benefit from it.